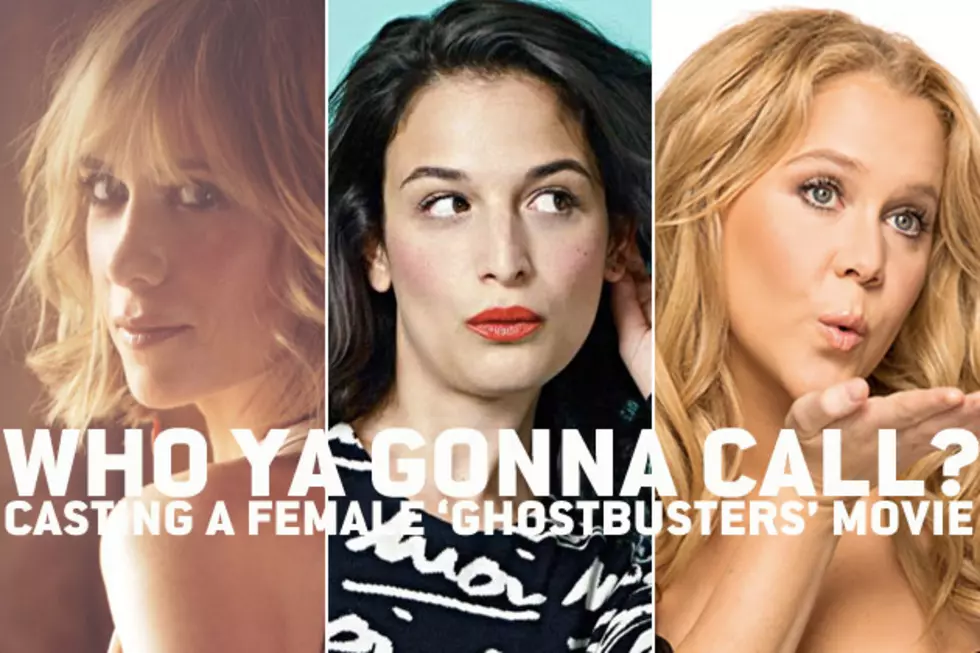 'Ghostbusters 3′: Here's Who We Think Should Star in a Female Version
Getty Images/Comedy Central
Over the weekend it was announced that Paul Feig is in negotiations to direct an all-female version of 'Ghostbusters 3,' which is the first bit of news to get us seriously interested since Phil Lord and Chris Miller's names were briefly attached earlier this year. Feig, who also brought us 'Bridesmaids' and 'The Heat,' has given us some hilarious and truly great female-driven films. By making the new 'Ghostbusters' women, this project has so much more potential because there are so many insanely funny and talented women out there. We couldn't help but put together a list of who we think should star in an all-female 'Ghostbusters 3.'
This is an obvious choice, as Kristen Wiig previously starred in (and co-wrote) Feig's 'Bridesmaids.' She's been taking some chances and stretching her legs since leaving 'SNL,' but nothing has impressed us quite like her work with Feig. Wiig is a versatile talent who can play both funny and dramatic, and has a penchant for coming up with quirky characters.

Another former 'SNL' star, Jenny Slate is one of the funniest women working today. She's becoming more and more prevalent between recurring roles on 'Parks and Recreation' and 'Kroll Show,' as well as the new FX series 'Married.' And she totally helped revitalize the rom-com this summer with the hilarious and touching indie 'Obvious Child.' Slate is another incredibly versatile talent with a knack for coming up with some truly wonderful characters, but she's also great when she's playing low key.

One of the best additions to 'SNL' over the last few years has been Aidy Bryant, who absolutely slays us on a weekly basis. Just watch her parts in the fake CVS Valentine's Day commercial, the music video for "(Do It On My) Twin Bed," and sketches like "Peter Pan" and "Dance of the Snowflakes" -- and that's just naming a few. She's charming, wacky, and terribly funny.

Sure, she's known mostly for her dramatic roles, but let's not forget her hilarious role as Emma Stone's mom in 'Easy A,' or her appearance in the Lonely Island video for "Motherlover," or her guest-starring role on 'Parks and Recreation' as Tammy One. Clarkson definitely has the comedic chops and some real range to boot.

You know Samira Wiley best as Poussey Washington on 'Orange Is the New Black,' where she's showcased an intense amount of talent and managed to stand out among a very diverse cast of incredibly strong women. While Wiley has given us some great dramatic moments on 'OITNB,' she's also super funny and delightful, and she's shown that she can be tough when she needs to be. We could see her strapping on a proton pack to take down some nasty ghosts in a heartbeat.

Peretti has been cracking us up for a while, and now even more people are aware of her immense talents thanks to roles on 'Brooklyn Nine-Nine' and 'Kroll Show.' She can deliver some real knockout characters that outshine her male peers, and we'd love to see her strong attitude in the mix, rubbing elbows with some other funny ladies.

Speaking of funny ladies... Amy Schumer is killing it with her show on Comedy Central, and we're so stoked about 'Trainwreck,' her upcoming film with Judd Apatow. Schumer is another strong voice in a sea of strong female voices, and whether she's coming up with hilarious and relatable skits or delivering funny and heartwarming speeches, we adore her.

Until this summer, most people knew Jillian Bell from her role on the Comedy Central series 'Workaholics,' and then '22 Jump Street' hit theaters and she totally stole the entire movie with her deadpan insult humor. You may have also seen her on the final season of 'Eastbound and Down,' where she was wonderfully paired with Tim Heidecker as his wife. She continues to excite and surprise us.

Listen, we all know Lupita Nyong'o is ridiculously talented. She won an Oscar the first time she was nominated, she proved she could hang with the action in 'Non-Stop,' and she's going to be super fierce in 'Star Wars: Episode 7.' But we think she also might be harboring a solid funny bone, and we would love to see her get in on something like this. She's a queen. She can do anything.

Lapkus played a sweet and kind of naive correctional officer on 'Orange Is the New Black,' but she's also one hell of a funny lady and her star is definitely on the rise. She's a regular on the 'Comedy Bang! Bang!' podcast, where she's come up with some seriously awesome characters. Plus she has that sort of relatable, nerdy allure that could fit right in with a team of paranormal scientists.

She's definitely one of those "Oh, it's that lady!" actresses. You've cracked up at her characters on 'Burning Love,' the Adult Swim series 'NTSF:SD:SUV::,' and with her occasional guest spots on 'New Girl.' Raphael is also a frequent collaborator with former 'SNL' star Casey Wilson, and we're ready for her to break out big time.

Yup. How could we bring up June Diane Raphael without mentioning Casey Wilson? Wilson's stint on 'SNL' was far too short-lived, but she's done amazing things since with roles on 'Happy Endings' and in 'Ass Backwards,' the film she made with June Diane Raphael. She's one goofy lady, and we want to see more of her.

Maria Bamford should just be in more movies and TV shows, period. Her comedy is quirky and weird, but also very, very personal. She's not afraid of going to some dark places, and she'll get laughs all the way there. We especially loved he turn on 'Arrested Development' season 4 as recovering addict Debrie Bardeaux.

Notaro is known well for her stand-up comedy and her recurring role on 'The Sarah Silverman Program,' but she's also been venturing into film with roles in 'In a World...' and 'Walk of Shame.' She's really good at taking tragedy and turning it into comedy, which could come in handy, and she has this laid back, almost deadpan style that would make her a great fit.

An all-female 'Ghostbusters 3' has to have Sigourney Weaver, right? While she's busy making like, eight more 'Avatar' movies with James Cameron, she could still pop in for at least a cameo as Dana from the original films, or maybe as someone who helps guide these new lady Ghostbusters.