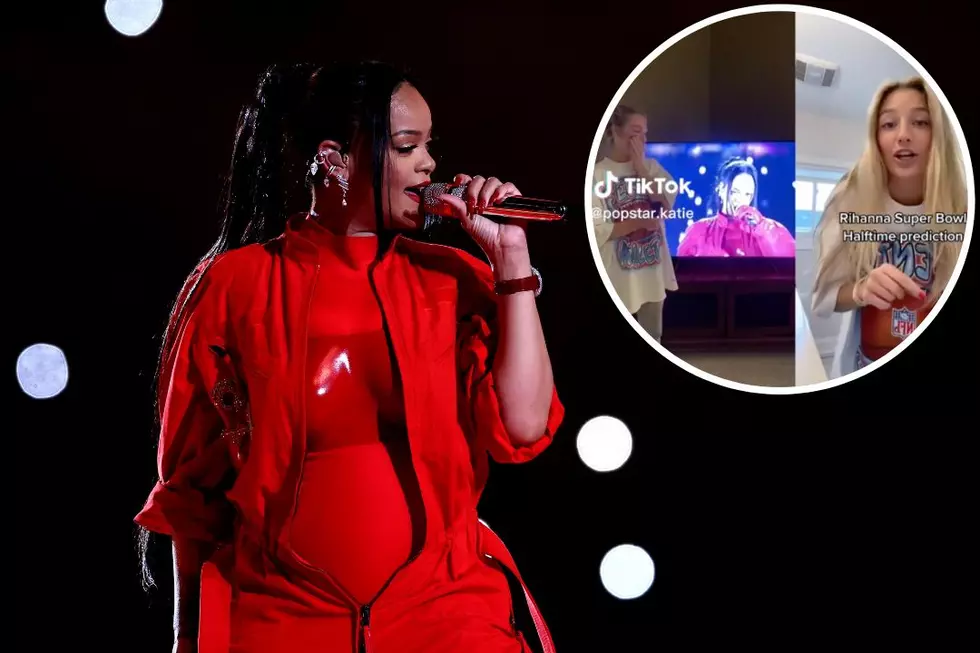 This TikTok User Predicted Rihanna's Halftime Show Intro: WATCH
Gregory Shamus, Getty Images / @popstar.katie via TikTok
A TikTok user's accurate prediction about Rihanna's 2023 Super Bowl Halftime Show performance is gaining millions of views.
Ahead of Rih's highly-anticipated Halftime Show, TikTok users tried to predict what song the pop star might open her set with — but one user nailed it.
Hours before the Super Bowl kicked off Sunday (Feb. 12), TikTok user @popstar.katie posted a video in which she predicted Rihanna would start her set with "Bitch Better Have My Money."
"Okay, everybody's predicting how they think Rihanna's gonna start the Halftime Show, so I'm gonna do not necessarily what I think she will do, but what I think she should do," she said, explaining her vision even down to the lighting cues and dramatic pauses.
Following the Halftime Show, @popstar.katie posted a side-by-side duet reacting to her accurate prediction.
Watch below:
In the comments section, viewers marveled at the TikTok user's accurate prediction.
"I think Rihanna scrolled through each of y'all's videos and liked your intro the best," one viewer commented.
"Rihanna scrolling through TikTok before rehearsal: I like that one," someone else joked.
"Convinced you're either [psychic] or Rihanna is your bestie and told you she was gonna do this..." another wrote.
"As soon as it came on, I screamed, 'the TikTok girl was right!'" someone else commented.
In a follow-up video, @popstar.katie said she wished "you could see my reaction when I heard the opening notes."
Rihanna's performance made major waves thanks to its sleek stage design, captivating dancers and a set list full of hits.
With moving platforms that hung above the main stage, viewers in the stadium and at home were awestruck as Rih appeared in a striking red ensemble amid a sea of dancers wearing white puffer jackets.
The iconic singer and makeup mogul performed fan favorites including "Rude Boy" and "Work." During the performance, she stopped to check her makeup using a Fenty Beauty compact. She also hinted at — and later confirmed — her second pregnancy with boyfriend A$AP Rocky.
According to reports, Rihanna even briefly broke the internet when Twitter failed to load for a few minutes after the Halftime Show.
Rihanna's 2023 Super Bowl Halftime Show Performance
See photos of Rihanna performing during the 2023 Super Bowl Halftime Show on Feb. 12, 2023.