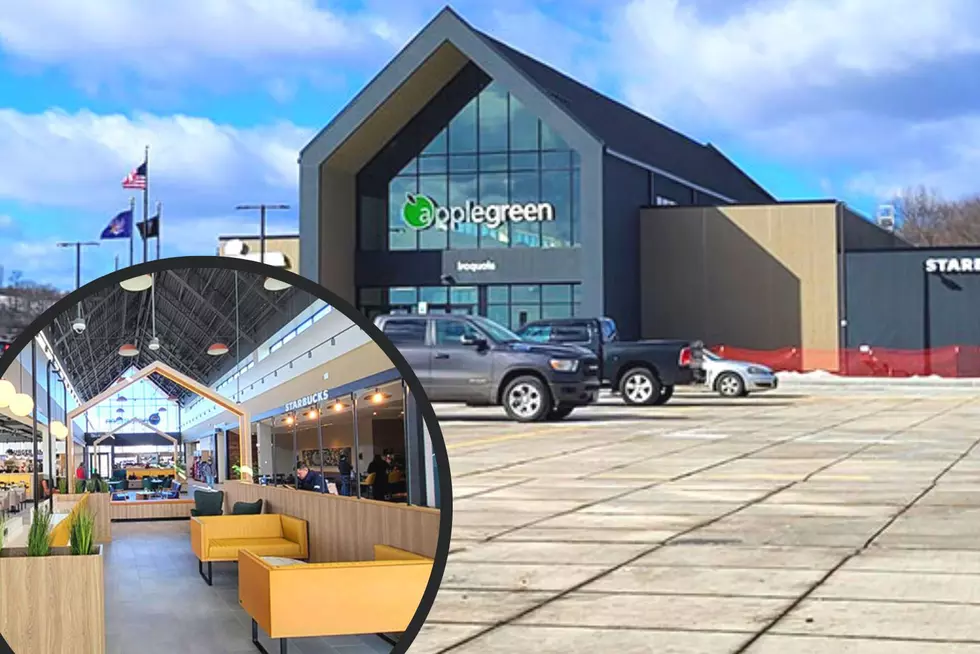 Look Inside Fourth NYS Thruway Service Center Finally Open in Little Falls
Credit - NYS Thruway Authority
Take a look inside the newest service center that just opened on the New York State Thruway.
The Iroquois Service Area in Little Falls is finally open. It's the fourth location to open on I-90 and is nearly triple the size of the first three.
Refuel
The new service center features a Burger King, a Starbucks, an Applegreen Market Store, and a Chick-fil-A coming soon. There is also a Mobile gas station so you can refuel your car and your stomach.
Rest & Recharge
There are plenty of seating areas and places to plug in your phone or other electronic devices.
$450 Million Thruway Project
The newest service center is part of a $450 million private investment plan with Empire State Thruway Partners. The first three opened in Indian Castle, Chittenango, and Junius Ponds last year.
When the project is complete, 17 of the Thruway's 27 service areas will be nearly triple the size or larger. Many locations will have significantly larger buildings, greater seating capacity, and larger restroom accommodations.
23 of the 27 will be rebuilt with significant renovations and upgrades to the remaining four. Other amenities will include Taste NY markets, modern restaurant concepts, outdoor seating, food trucks, playgrounds, and pet walking areas, among other things.
Schuyler Service Area Closed
Now that the Iroquois Service Area is open, the Schuyler location at milepost 227 is now closed for construction. You can still get gas. Fuel services will remain available at all service areas during construction.
Another New York Thruway Rest Area is Complete w/ Shake Shack! Take a Look!
There has been a lot of construction being done on the New York State Thruway Rest Areas and finally, we are starting to see some of the rest stops being completed. Although another rest area is open, this is one of the smaller versions of what the other ones will look like. Junius Ponds rest area about 2 hours from Albany heading west joins the Indian Castle rest area just 90 minutes west of Albany. Junius Ponds features a Starbucks and a Shake Shack. Both boast a Starbucks drive-thru and a convenience store featuring a variety of New York state products.