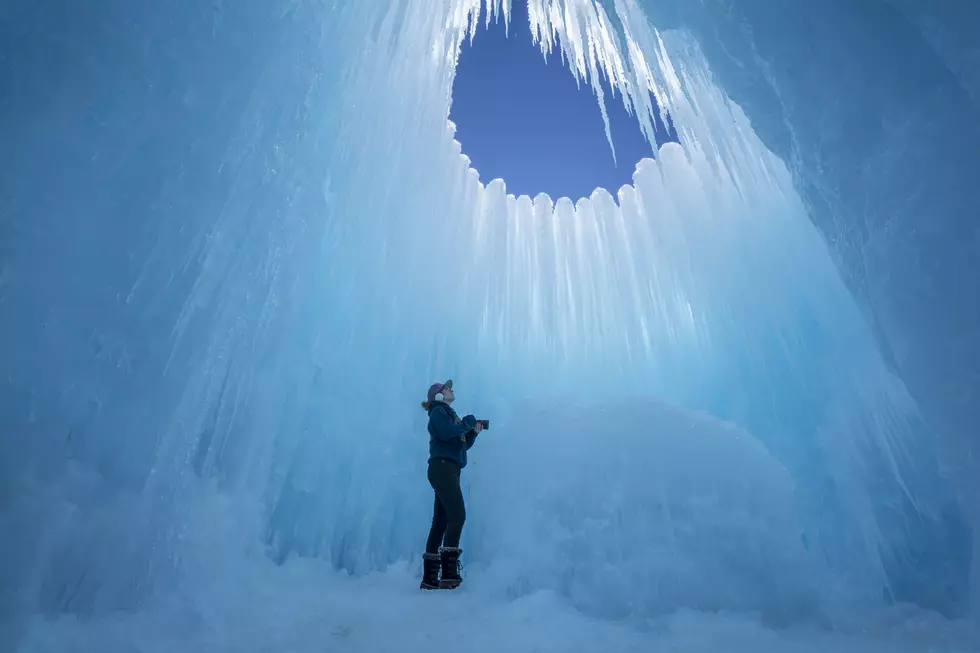 They're Melting! Mother Nature May Delay Ice Castles in Lake George
Photo Credit - Aj.Mellor via Ice Castles
They're melting. They're melting. Mother Nature is causing problems for the Ice Castles in Upstate New York and may delay the opening date.
Unfortunately, the recent warm weather and rain have hindered progress on building the magical experience in Lake George. Most of the ice and snow in December has already melted. With more warm temperatures and wet weather on the way, rebuilding will have to wait, which could delay the Ice Castle opening date.
Ice Castle Delay
In 2022, the Ice Castles opened on Sunday, January 23. This year, it may not be until sometime in February before the magical castles are ready.
We spoke with Melissa Smuzynski, Marketing and Public Relations for Ice Castles, to get an update on the Ice Castle progress and what we can expect when they finally do open.
Q: How Everyone is Handling the Delay?
A: Many of those who have purchased tickets are anxiously watching the weather, just as we are, hopeful and yet worried at the same time. Our dedicated crews who work so diligently to create the experience each season are a bit dismayed to see their hard work melt away. But this season has reminded us that part of the beauty of Ice Castles is that it isn't permanent. The hardships that come with creating the event make it that much more special for those who get to experience it.
Q: How Long Do Ice Castles Take to Finish?
A: Once we get sustained cold temperatures, we will be able to build the experience in roughly 3 weeks. If needed, we will fly in crews from other locations to get the New York location open and ready for guests. We just need those winter temperatures to arrive and stick around.
Q: How Ice Castles Are Coming Along in Other States?
A: It has been a strange season at all of our locations. Our New Hampshire and Wisconsin locations are facing the same issues and delays we are experiencing in New York. While our Utah and Minnesota locations both opened earlier than they have in a decade. However, within a few days of opening in Utah, we experienced unprecedented winter rain that forced a three-day closure. The castles can often survive a few days of warm temperatures, but when the warmth is coupled with rain, it destroys the ice very quickly and can create significant setbacks.
Q: When Lake George Ice Castles Expected to Open?
A: We are still hopeful that we will still be able to open the last weekend in January, as planned, but the reality is the opening date could be delayed due to the unseasonable temperatures and rain that we have experienced this winter. Unfortunately, we have no control over Mother Nature, so our opening date will be solely dependent on what the weather allows us to do.
Q: Does Recent Warm Weather Affect Decision to Return in 2024?
A: Weather will always play a significant role in our decisions as a company. Because our building process and the length of our season are both 100% dependent on the weather, it is the number one factor we must consider when determining whether a location will be suitable for an attraction such as Ice Castles. We love the Lake George community and believe Ice Castles fits well with the overall winter experience of the region. What we will need to determine is whether this season's warm temperatures and rain are a chance occurrence or a continual pattern. Right now, we don't know the answer to that.
Q: What Happens With Tickets Sold Before Opening Date?
A: In that situation, we would give ticket holders the option of rescheduling for a later date or receiving a refund for their tickets.
Magical LED-Lit Ice Castles Returns to Lake George For Cool Winter Walk Through
Take a virtual walk-thru of the Ice Castles and make plans to enjoy the magical experience when it opens in Lake George again this winter.
22 Things You'll Never Understand Until You Survive a CNY Winter
Here's 22 things you'll never understand until you've survived a Central New York winter.
19 Things You Need to Experience During a New York Winter Before You Die
There are plenty of things to do to enjoy a New York winter. Here's a list of experiences you need to try before you die.