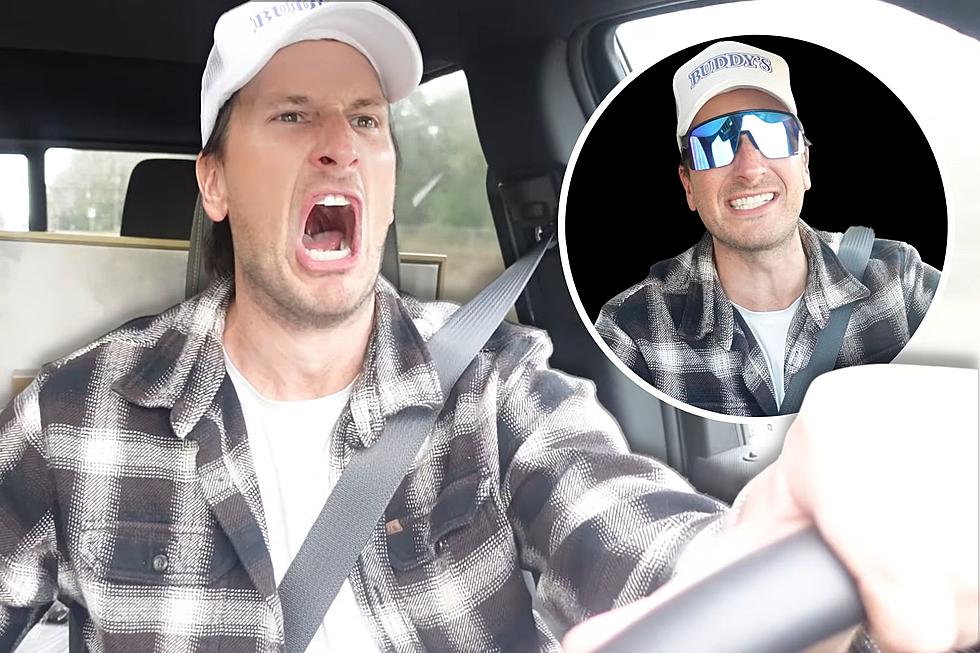 FrogFest Headliner Russell Dickerson Shares Hilarious 7 Hour Carpool Karaoke Video
Credit - Russell Dickerson via YouTube
If you're in for a good laugh and want to see just a fraction of Russell Dickerson's energy, then this video is for you!
We all know when we deserve a vacation. Sure, it can't be ALL the time... But when our social and work meter has run out, it's certainly time for a weekend or week-long getaway.
For Russell Dickerson and his family, it's no different.
Coming off a much needed month vacation with his wife Kailey and son Remington, Russell was in charge of driving the family vehicle back home. Since the ride was 7 hours long, he thought why not hit record and do some carpool karaoke with his fans.
To say we learned a lot about RD is an understatement. From being in a screamo band in high school to his great Mayday Parade impersonations, the entire video was incredibly entertaining.
Want to know something even better? This is only a SNIPPIT of the energy Russell Dickerson brings to the stage. If you've anyone who's attended his concert's, they'd say his stage presence is what always brings them back time and time again.
FrogFest 34 with Russell Dickerson
Get ready to party! Russell Dickerson is making his way to the Herkimer County Fairgrounds on June 17th for FrogFest 34, presented by Curtis Lumber.
Dickerson will end a day filled with live music from Central New York's favorite local bands and new talent from Nashville. Mike Gossin, formerly of Gloriana, and a New Hartford native, will perform his first solo concert before a hometown crowd.
Russell Dickerson
Mike Gossin (former of Gloriana)
Mark Taylor
Alyssa Trahan
Whiskey Creek
Broken Rule
Grizzly Ridge Band
Grit N Grace
FROGFEST TICKETS
$70 VIP (Include a private cash bar, food, private bathrooms, FrogFest T-Shirt, and special seating)
$30 General Admission
Kids 10 and under FREE with General Admission $40 at the gate
Looking Back at More Than Three Decades of FrogFest Concerts
FrogFest started on a slab of concrete over three decades ago. It's grown into an all-day festival with top-notch Nashville talent. Take a look back at FrogFest concerts in Central New York.
5 Reasons You Need VIP Tickets For FrogFest 35
Why buy VIP for FrogFest 34? There's more than one reason. Here's five.
Did We Catch You at FrogFest 33?
FrogFest 33 started with clouds, sprinkling rain, and county music fans wrapped in blankets and hoodies while in their lawn chairs. The weather, however, did not stop the crowd from having a good time.
Gates at the Herkimer County Fairgrounds opened at 11:30 AM on Saturday, June 18 for FrogFest 33, presented by Curtis Lumber.
Also, keep scrolling to see who was able to meet FrogFest 33 headliner, Dylan Scott
FrogFest 33 Headliner Dylan Scott "Hooked" The FrogFest Crowd
Performing his two top #1 singles, "My Girl" and "Nobody", as well as "Hooked", see photos from Dylan Scott's performance at FrogFest 33 at the Herkimer County Fairgrounds on Saturday, June 18th.
See The Country Music Fans Who Met FrogFest 33 Headliner Dylan Scott Before The Show
See who was able to meet FrogFest 33's headline performer, Dylan Scott backstage before he performed his debut at FrogFest.