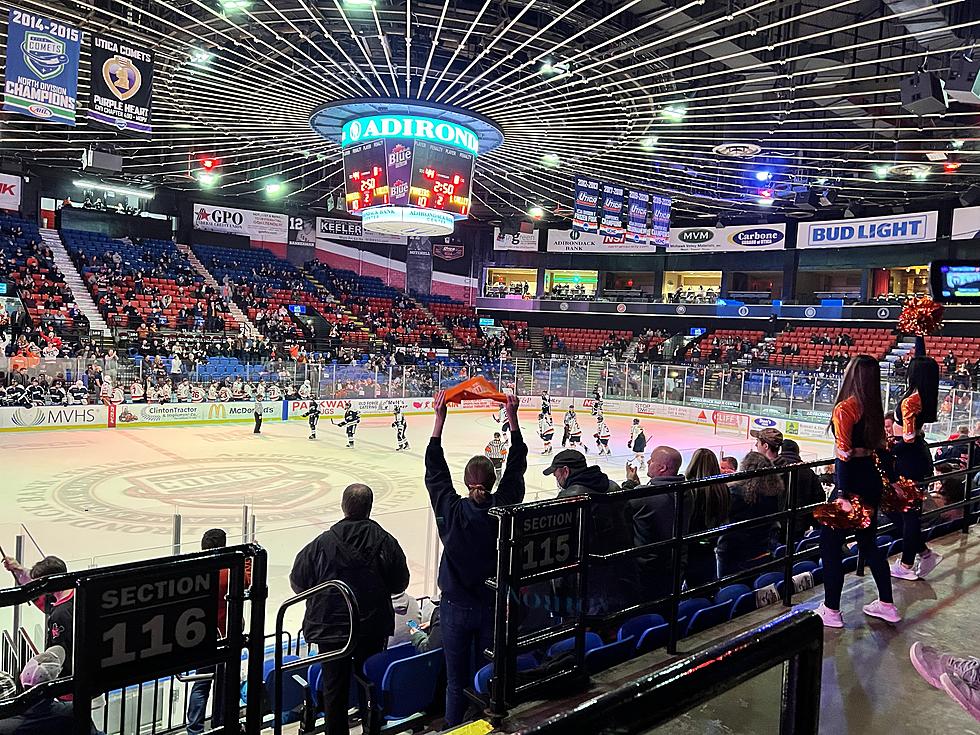 Utica Men's Hockey Gets NCAA Top Seed, When is Their Next Game?
Utica College men's Hockey. Photo by Bill Keeler / WIBX
The Utica University Pioneers men's hockey team will have an extra week to prepare for the NCAA Division III hockey championship tournament after receiving a bye during Monday's selection show. That means Heenan's Pioneers won't play until the quarterfinals at home on March 18th.
Utica, ranked #1 in the nation in Division III, will play the winner of this Saturday's game between Plymouth State and University of New England. Last year, UNE upset Utica 2-0 at home and ended the Pioneers season in the quarterfinals. Plymouth State and UNE play Saturday at 7 PM at the University of New England.
Utica's path to a national championship might cross #4 seed Adrian, which picked off Utica twice in early-season games back in October. Those were Utica's only losses of the season. Endicott and Hobart are the other top four seeded teams.
Where are the teams that received automatic berths into the tournament after winning their conference tournament.
Commonwealth Coast Conference: Endicott College (22-2-2)
Massachusetts State Collegiate Athletic Conference: Plymouth State University (23-3-1)
Minnesota Intercollegiate Athletic Conference: Augsburg University (16-9-2)
New England Hockey Conference: Hobart College (26-2-0)
New England Small College Athletic Conference: Bowdoin College (15-9-3)
Northern Collegiate Hockey Association: Adrian College (23-4-2)
State University of New York Athletic Conference: SUNY Plattsburgh (20-5-2)
United Collegiate Hockey Conference: Utica College (25-2-1)
Wisconsin Intercollegiate Athletic Conference: University of Wisconsin, Stevens Point (19-5-4)
Three at-large teams were added into the tournament during the selection show on Monday.
Curry College (21-5-1), the University of New England (19-6-2) and Norwich University (19-6-2).
Here are the current national rankings for Division III according to the NCAA.
Former Winter Olympians From New York
New York State has been represented well in the Winter Olympic Games, from Remsen's Erln Hamlin to Val Bialas of Utica. Here are seven former Olympians with New York ties
37 Photos from the 9/11 the Museum adjacent to One World Trade Center in New York City
I recently visited the 9/11 Museum just prior to the 20th anniversary of the 9/11 attacks. These photos are just some of the powerful and impactful moments we witnessed during our walk through.
Check Out These Bizarre Moments Caught on CNY Ring Doorbells
More and more people are switching out their old doorbells for RING or other video doorbell systems. It is truly incredible what this new technology can do. Video and audio quality on these devices is so good, in some cases footage captured has helped police solve crimes. These images are from bizarre moments captured by RING users.