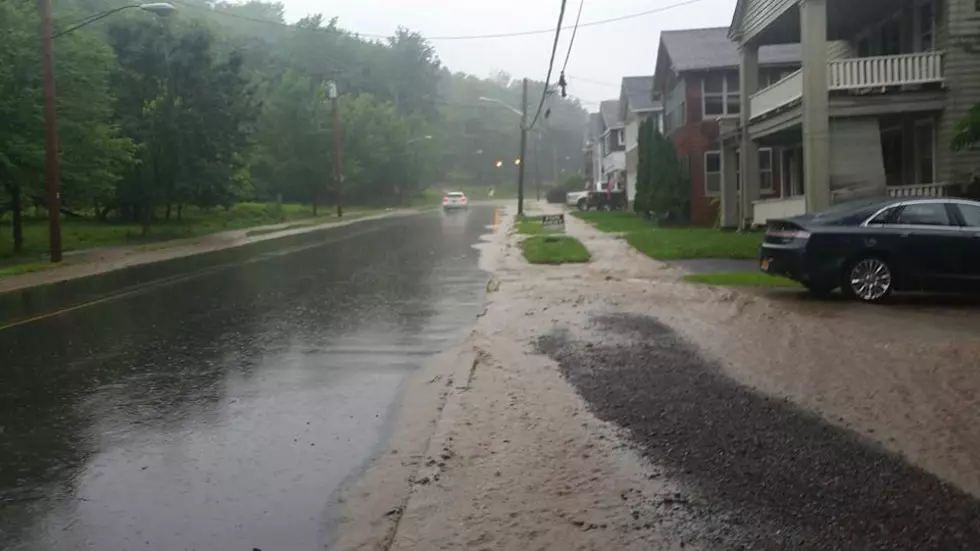 Travel Advisory In Oneida County Due To Flooding [UPDATE]
Stacy Brown
UPDATE: 8:00 P.M. 7/1/17: The following release was issued by the county executives office on Saturday evening
Oneida County Executive Anthony J. Picente Jr. has lifted the travel advisory he issued earlier today that requested no unnecessary travel, but is urging residents to remain cautious as some roads are still flooded and many are damaged throughout the region.

While the weather pattern of heavy rain had moved out of the area for the foreseeable future, Picente still advises extreme caution while traveling in Utica and its surrounding areas, and asks drivers to heed emergency crews' instructions on road closures and conditions. Especially with decreased visibility as night falls.

Picente also advises residents to stay out of areas of standing water as they could contain contaminant
UPDATED 7/2 3:34 p.m. Oneida County Executive Anthony J. Picente Jr. has declared a state of emergency in Oneida County due to the damage caused by yesterday's flooding.
There is currently no imminent danger due to rain fall, however, in order to begin the process of potentially securing state and federal funds to deal with the damage and aftermath of Saturday's flooding, a state of emergency is being declared retroactively.
While travel is not restricted, Picente continues to urge drivers to use extreme caution when traveling in and about the Utica-area, as several roads are still compromised. Residents should also continue to avoid areas of standing water as they could contain contaminants.
The Utica Police Department is asking people to refrain from traveling. They've had several reports of flooding and road closures to include:
*Route 5/8/12 northbound,
*Ramps onto the arterial from Oriskany Street,
*Lincoln Avenue where it intersects with Sunset Avenue, Notes Street and Oswego Street.
*Leland Avenue and Wurz Avenue