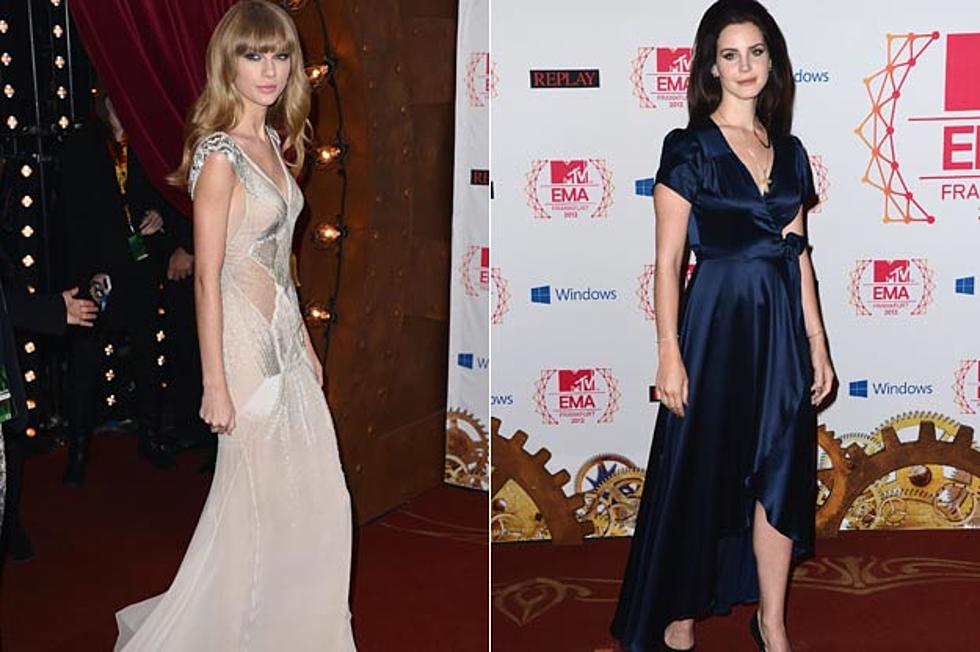 2012 MTV EMA Red Carpet Pictures
Ian Gavan (2), Getty Images
The 2012 MTV EMAs took place tonight (Nov. 11) in Frankfurt, Germany, with pop music's A-list, like Taylor Swift, Lana Del Rey, Carly Rae Jepsen and more, coming out to walk the red carpet, to accept awards and to perform. The EMAs are essentially the European equivalent of the VMAs, only with more European artists and scenesters, like Pixie Geldof, in attendance.
Swift, Del Rey and Rita Ora made the biggest and most beautiful splashes on the carpet, each in entirely different ways. They all made us do double takes while we tried to catch our breath. Va-va-va-voom was the reaction that all three elicited.
Then there was the Jonas Brothers, who dressed down, like they weren't at a major industry event. Events like the EMAs are prime time for pop stars to play dress up. In fact, they are expected to, with gowns and tuxes being the norm and the standard. Anything less looks unpolished and almost careless. Sorry, Jo Bros. Not your best fashion foot forward.
We're split right down the middle with 'Call Me Maybe' cutie CRJ. The singer dressed her age -- she's 26 and will be 27 later this month -- in a strapless, silvery sheath, but her hair was too dark, her bangs too long, her makeup too porcelain and her lips too red. It was too much extremity in one look. But we're just glad she wasn't wearing platform sneakers and a plaid, schoolgirl skirt, so we'll take it!
Alicia Keys' green dress displayed her bangin' bod but it was much too casual for this event. The girl on fire should have gone with red, like Ora, who absolutely bloomed in her gorgeous, crimson gown.
Psy and Pitbull had the good sense to go tailored. Kim Kardashian wore a trashbag for a train while Geldof's skin-hugging, strippled number was just plain ugly.