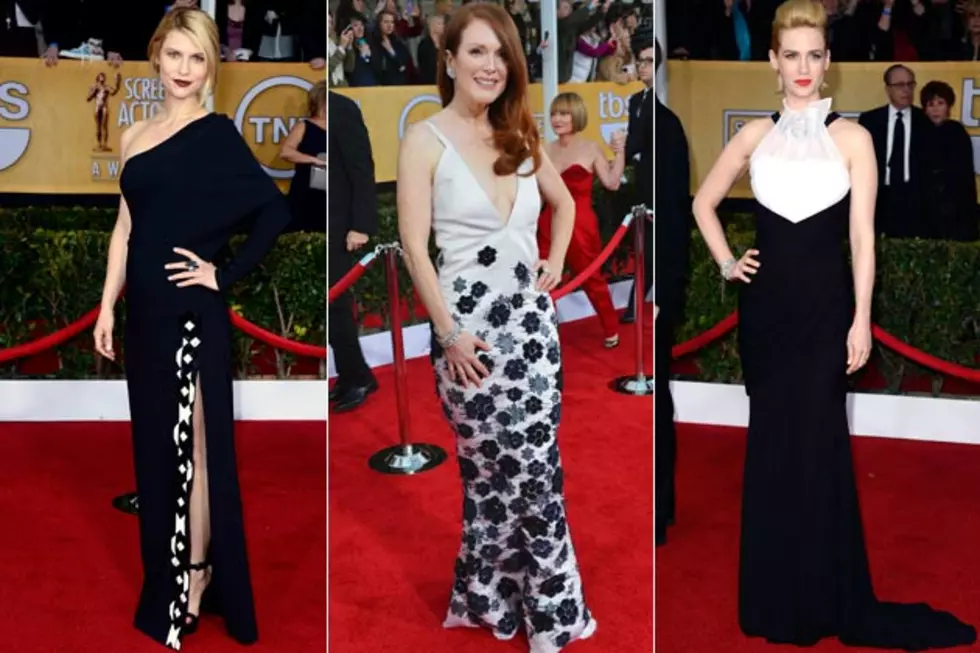 2013 SAG Awards Red Carpet Fashion – Worst Dressed [PHOTOS]
Frazer Harrison / Alberto E. Rodriguez / Frazer Harrison, Getty Images
The 2013 SAG Awards featured lots of dark dresses, and while there were plenty of hits, there were also some high-profile misses. It's hard to mess up basic black -- but several of our favorite stars did just that.
Meanwhile, January Jones was trying to be fashion-forward, but fell flat. And Rose Byrne looked like a 1980s-era bridesmaid. She was the only one of the bunch who went with a totally light hue -- and even she failed epically.
And that's just a sampling of our picks of the SAGs worst dressed.
Claire Danes
The actress, a favorite for her work in 'Homeland,' donned a one-shouldered, drapey and dark Givenchy dress with a major slit. But there was some white detailing around that very slit that detracted from her leg, defeating the purpose altogether. Her lips were also wine-stained and way too dark. It was a severe look, and we were expecting more from the new mom.
January Jones
The blonde 'Mad Men' actress wore a Prabal Gurung gown with a black column bottom and a white upper half, but the pouf of fabric on her chest felt like it didn't belong there. It was an attempt to stand out and be different, but it wasn't really that edgy. It was as though it was sewn on as an afterthought. If we were her, we'd have been fidgeting with that court jester collar all night.
Julianne Moore
Moore is a stunner, and a damned fine actress, but she's been making fashion mistakes left and right on the carpet this year. She needs to fire her stylist like yesterday, because this white Chanel gown with black flowers had too low of a neckline for a woman her age. It wasn't flattering and without any sort of support, she wound up with serious pancake boobs.
Rose Byrne
Byrne wore a fluffy, frilly, extra-girly pink concoction by Valentino with Southern belle sleeves and too much volume around her pretty face. The only thing missing is a huge floppy nylon hat in the same fabric as the dress.
Sigourney Weaver
The veteran actress wore a black dress with a ruffled top in a shiny, sort of satin-meets-leather-type fabric that was too young for her. Hell, it was too young for a 20-year-old. The styling wasn't chic, either. Overall, she looked cheap. A poor showing from a terrific entertainer.
Julianna Margulies
The actress wore a black and white Chado Ralph Rucci gown with an asymmetrical hem, which was shorter in the front and showed off distracting cage-like heels. The styling and the shape was all wrong -- there was just nothing fashionable about this swath of fabrics. Colorblocking is best reserved for short and more casual dresses, too.
Julie Bowen
The super-fit 'Modern Family' star did the impossible: She made leather seem unsexy! That's super hard to do. She wore a Johanna Johnson dress that swept the floor with its hem and was too long and incredibly shapeless. Leather works with short sheaths, not floor-length gowns. There are few people who can pull off leather in gown-length. (In fact, the only one who comes to mind is Angelina Jolie.)
Justin Timberlake
We hate doing this since JT is usually as stylish as they come on the dude end of things, but his plaid suit was too busy and distracting. He's such a handsome devil that he did himself a disservice by turning a pair of old man golf pants into a full-blown suit. He may have brought sexy back, but it won't stick around long once it sees this.