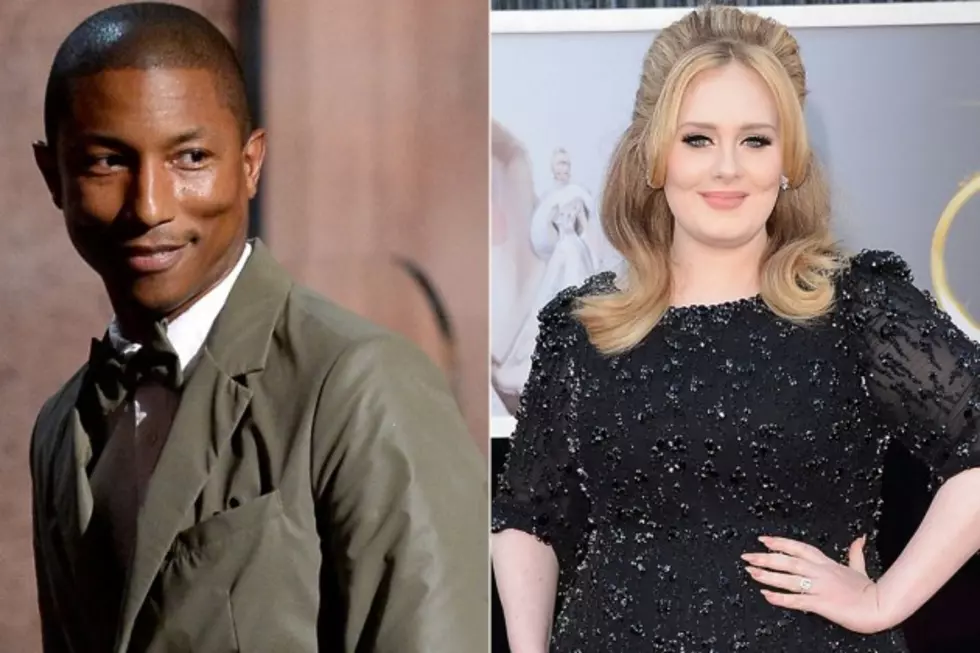 Pharrell Says Adele Is Really, Truly Working on New Music
Bradley Kanaris / Jason Merritt, Getty Images
The music world has been sadly Adele-free for the past four-and-a-half years, with the exception of her Academy Award-winning theme for James Bond film Skyfall. But Pharrell claims to have it on good authority that the British singer-songwriter IS taking active steps toward a follow-up to 2011's 21.
The "Happy" singer and producer recently spoke to Ryan Seacrest at the Cannes Lions International Festival of Creativity (quotes via UK Mirror), a festival and awards show for communications professionals. Aptly enough, their chat turned to the subject of creativity — Adele's creativity, specifically, and when we can expect 25. Her third album is reportedly due sometime later this year, but apart from that, details have been borderline nonexistent.
"I've seen her recently. She's kinda like, 'OK guys, I'm gonna open my diary for 20 minutes'. So it's like, OK, you have 20 minutes, or 32 minutes really," Pharrell said. So there's your official confirmation that the producer is one of her collaborators.
He continued, "Then she gives it to you and closes it up and disappears, and she's off with her beautiful boy – and that's what it's all about." The "beautiful boy" in question would be Adele's two-year-old son, Angelo. See, she hasn't just been hanging around dressing up like George Michael in her musical hiatus. Adele's a mom too, and that's a time-consuming creative endeavor in itself.
Thankfully, Pharrell is confident that her new work is on track. "She is a masterful writer. You listen to her albums and the intention is living and breathes." Agreed on all counts, and it sounds like 25 (if that is, in fact, still the album's actual name) will be worth the wait.
20 Inspirational Celebrity Quotes From Adele and More