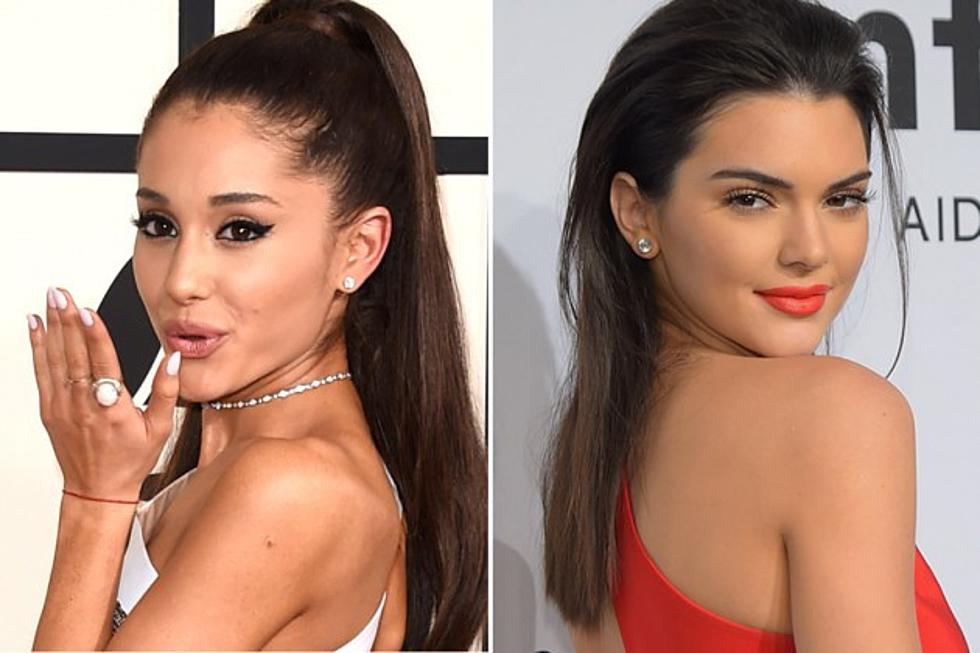 Ariana Grande, Kendall Jenner Make FHM's 2015 Sexiest Women in the World List
Jason Merritt / Michael Loccisano, Getty Images
Congratulations to Ariana Grande and Kendall Jenner! The brunette bombshells cracked the Top 10 of FHM's Sexiest Women in the World list. To quote Jim Carrey in The Mask (in 2015, because why not), "Smokin'!"
The sultry list — which also included known hotties Jennifer Lawrence, Selena Gomez, Emma Stone, Rita Ora, Jessie J and the official Sexiest Woman in the World, British soap star Michelle Keegan — features Ari in sixth place. Kendall nabs the runner-up spot, coming in at number two.
The British men's mag, which refers to Ariana as "everybody's favorite walking, talking ponytail," commends her for her "massive year — but it all pales in comparison to this: her first ever appearance in the FHM 100 Sexiest." Well, we wouldn't go that far, but to be named one of the sexiest women in the entire world certainly doesn't hurt (and this is after appearing on PEOPLE's Most Beautiful list).
As for Kendall Jenner, well, she managed to beat older sisters Kourtney, Kim and Khloe for second place.
"The votes have been coming in thick and fast for the LA model, and Kendall has even managed to surpass her famous sisters in the race for the 100 Sexiest crown," the mag notes. "Not too shabby."
And as for the Sexiest champ, well, that honor goes to Michelle Keegan — she may not be that well-known here in the States, but she certainly dominates across the pond.
"[Michelle]'s one of the most mind-bendingly sexy women ever to step foot on British telly, and the votes proved it," the mag writes.
Check out the full list of winners over at FHM!
See Ariana Grande + More Celebs' Sexiest Selfies