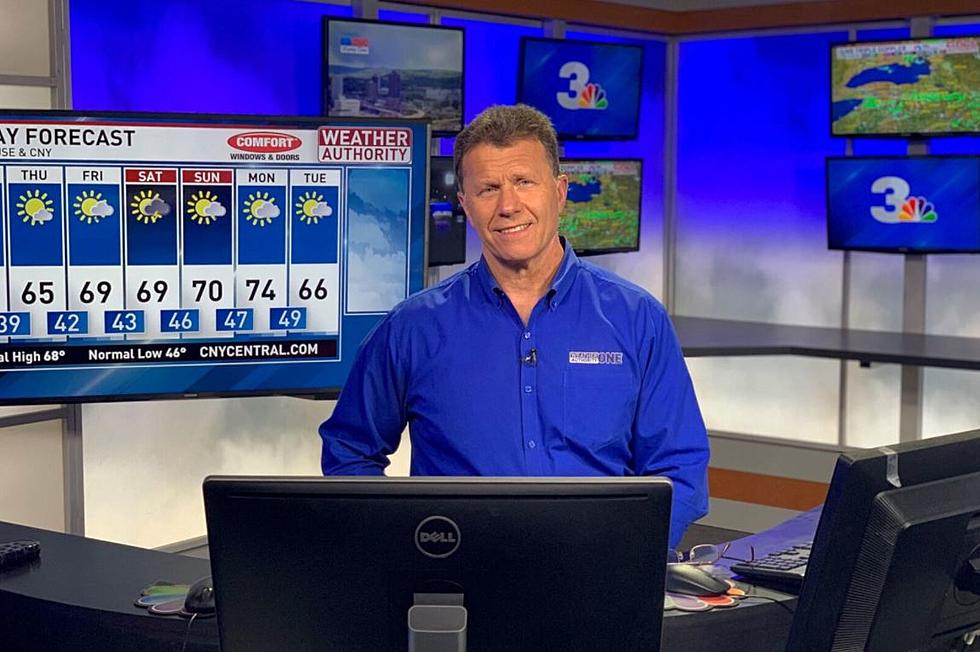 Syracuse's Wayne Mahar Set To Retire After 36 Years Of Forecasting Weather
Photo via CNY Central
Chief Meteorologist Wayne Mahar has announced plans to retire after more than 35-years serving the Central New York Community at CNY Central.
According to CNY Central, Mahar joined CNY Central back in 1985. According to a written announcement, Mahar will stay with the TV stations until December.
He was among the first TV meteorologists to commit to broadcasting the weather outdoors on CNY Central's own Weather Deck. As one of the first full-time meteorologists in one of the snowiest cities in the country, Mahar was among the industry leaders who led local news broadcast teams to prioritize severe weather."
Mahar made the announcement live from the New York State Fair. Mahar said between his TV work, running a private forecasting business, along with a charity and other obligations, he's been "working about 80 hours a week since I was a teenager." He then added, "I'm 65, about to be 66," and he has decided "it's time to back down a bit."
Wayne is a huge animal lover. The Mahar's 2021 Canine Carnival is scheduled to be held on September 18th from 10AM to 3PM at Jamesville Beach Park. You can read more on that event online here.
Mahar's love of animals led him to adopt a stray cat that once wandered onto the Weather Deck and incorporate him into his daily forecasts. The legend of "Doppler the Weather Cat" was born and remains a memorable chapter in Syracuse television history.
Mahar is set to be inducted into the New York State Broadcasters Association Hall of Fame this fall. CNY Central, Sinclair Broadcast Group's Central New York television stations are WSTM NBC3, WTVH CB5, and CW6.
Best of luck to a legend, and we hope you enjoy your retirement.
CNY Man Pulls Three Drivers From Flood in His Underwear
Flooding Washes Out Roads, Homes & Businesses in CNY
Strongest Tornados To Ever Touch Down In New York State
Generally speaking, tornadoes aren't a common occurrence in New York state. Tornados do still happen. Here's a look at some of the strongest storms:
Tropical Storm Fred Floods Fort Rickey
Tropical Storm Fred left Fort Rickey under several feet of water. Thankfully the animals are all safe.
Tropical Storm Fred Floods Yards, Homes, Roads All Across Central New York
Tropical Storm Fred dumped several inches of rain all across Central New York, flooding yards, homes and roads.
Torrential Rains Cause Devastating Flooding in Rensselaer County
State of Emergency declared in Rensselaer County after devastating flooding Wednesday, July 14.