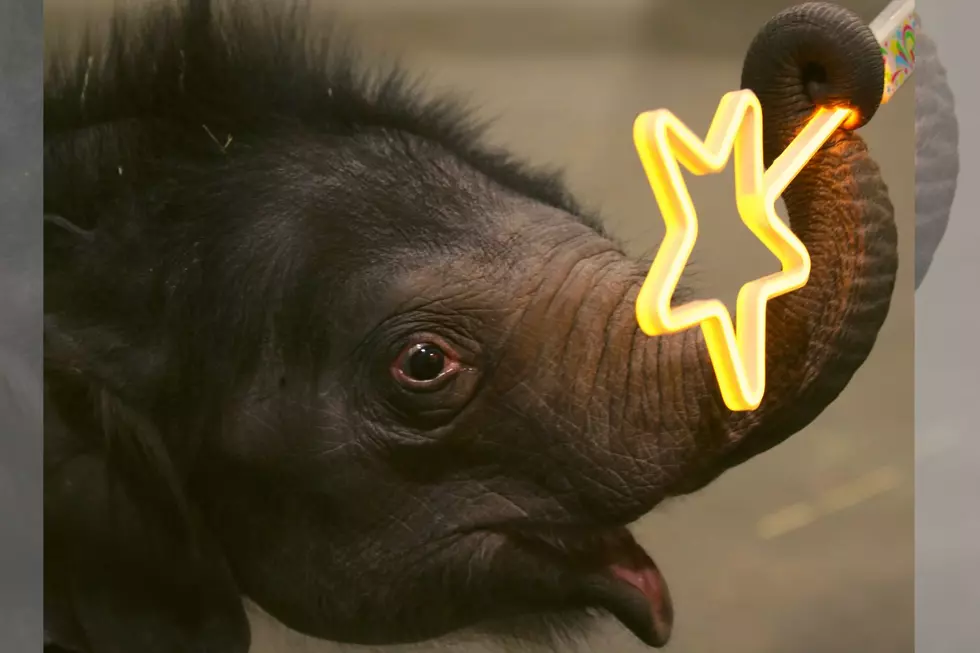 Watch as Cute Baby Elephants Light the New Year at This Central NY Zoo
Credit - Rosamond Gifford Zoo via Facebook
We've seen so many pictures of cute animals... but this one has to top your list!
Like everyone else, the Rosamond Gifford Zoo is thrilled to kick-off the New Year and get ready for what's in store for 2023. Not only are the employees excited, but so are the animals.
Especially these two little babies!
The Syracuse Zoo recently welcomed two baby elephants in 2022, who have caught nearly everyone's attention in Central New York. Since they are just babies, this is also their first time celebrating New Year's Eve at the zoo.
Zoo keepers handed each of the #EleTwins a special toy to help celebrate. Under careful supervision, the twins grabbed the glowing star and were fascinated by its glow.
You can't help but smile looking at these photos!
Rosamond Gifford Zoo #EleTwins Light Up the New Year with Special Glow Rods
There's no way you're more excited for 2023 than these two baby elephants! Look at how much fun they are having with these two glow sticks.
The Rosamond Gifford Zoo actually offers multiple opportunities to see their elephants. Not only can you go see them walking about their exhibit, but they have also been featured in their catering events too.
A Trunk-tastic Time Eating with Elephants at the Rosamond Gifford Zoo
The Elephantastic Eats Gourmet Dinner was a success at the Rosamond Gifford Zoo. Not only was there an amazing turnout, but the food and entertainment were incredible as well.
If that isn't fun enough for you, here are all the other zoo's in Upstate New York you need to check out for yourself!
'Lions and Tigers and Bears (Oh My)' at These 15 Great Upstate New York Zoos
This is a list of many Upstate zoos, animal sanctuaries, animal rescue farms, and adventure parks where the whole family can visit and get close to nature and mingle with some of the most impressive animals anywhere.
Baby Animals Born At The Buffalo Zoo
Abandoned Warner Bros. Zoo Discovered by Hikers
Back in the 1970s there was a Warner Bros. zoo and theme park near Greenwood Lake, and its ruins can still be found rotting away in the woods.