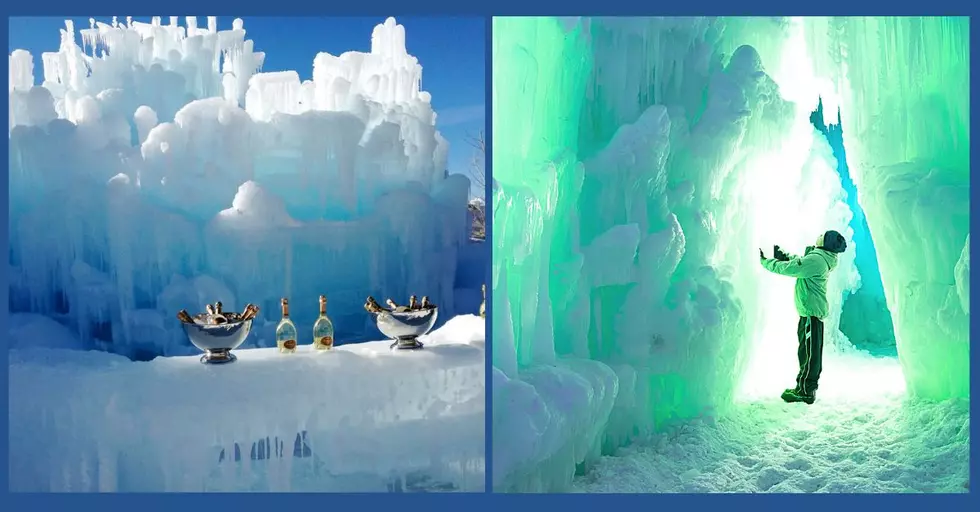 Ice Castles Delayed Again But Ice Bar & Light Walk Opening Early! And It's Free
Credit - Ice Castles
Mother Nature is really causing problems for the Ice Castles in Upstate New York. The unseasonably warm temperatures have delayed the opening yet again in Lake George. But all is not lost. The light walk and Polar Pub will be opening early and it's free.
It's been a challenging season for anyone in the business of winter activities. But the staff at Ice Castles have been persevering, and this year's structure is progressing thanks to recent cold weather.
Plans were to be ready by the end of January. But now plans have been pushed back to open on Friday, February 3.
Read More: Mother Nature Delays Ice Castles
Light Walk & Polar Pub
The Mystic Light Walk and Polar Pub will be open Friday, January 27 from 6 PM to 10 PM and Saturday, January 28 from 4 PM to 10 PM. The light walk is free and drinks will be available at the bar.
Read More: Cool Ice Bar One of Several Additions to Ice Castles
Hopefully, the rest of the Ice Castles will be ready at Festival Commons in Lake George by February 3. It all depends on Mother Nature,
"Once we get sustained cold temperatures, we will be able to build the experience in roughly 3 weeks. If needed, we will fly in crews from other locations to get the New York location open and ready for guests," Melissa Smuzynski, Marketing and Public Relations for Ice Castles said.
Anyone who purchased a ticket for January can either rebook for a later date or get a refund. Get more details at IceCastles.com.
Magical LED-Lit Ice Castles Returns to Lake George For Cool Winter Walk Through
Take a virtual walk-thru of the Ice Castles and make plans to enjoy the magical experience when it opens in Lake George again this winter.
22 Things You'll Never Understand Until You Survive a CNY Winter
Here's 22 things you'll never understand until you've survived a Central New York winter.
19 Things You Need to Experience During a New York Winter Before You Die
There are plenty of things to do to enjoy a New York winter. Here's a list of experiences you need to try before you die.