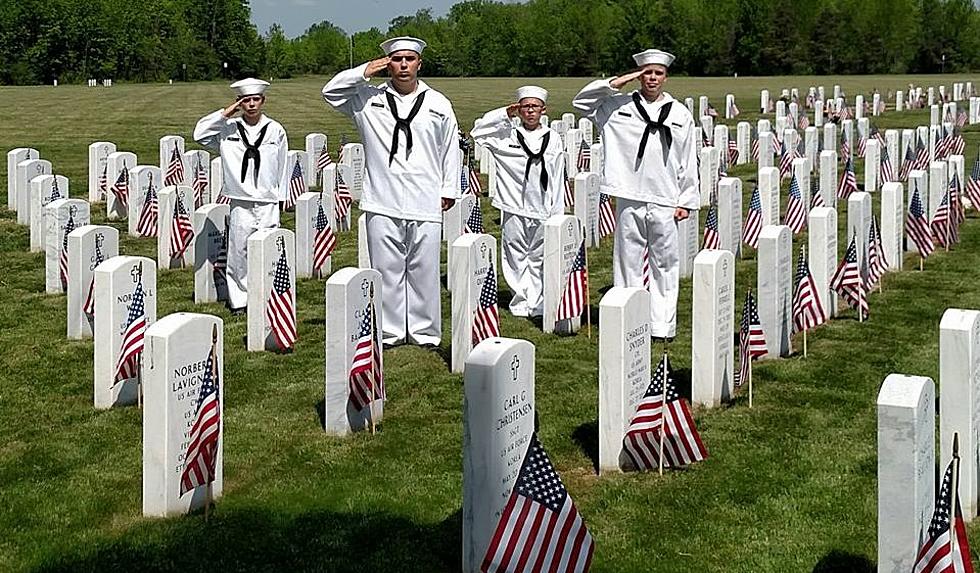 First of it's Kind NY State Veterans Cemetery Honors Fallen Heroes
Credit - Sampson Veterans Memorial Cemetery via Facebook
New York is home to the first-ever State Veterans Cemetery that will honor our fallen heroes.
Sampson Veterans Memorial Cemetery has been renamed the New York State Veterans Cemetery – Finger Lakes. It will ensure the State can provide dignified burial options for New York's veterans and their families.
Honored Resting Place for Generations
The New York State Veterans Cemetery – Finger Lakes sits on 162 acres along Seneca Lake in Romulus, Seneca County. Another 147 acres of land is available for development and construction projects, making sure it's an honored resting place for generations to come.
Steeped in History
The Cemetery is steeped in history. It was once home to the Sampson Naval Training Station and Sampson Air Force Base. Hundreds of thousands of service members trained there during World War II and the Korean War. The site is now surrounded by Persian Gulf Avenue, Korean Avenue, and WWII Blvd.
The site was later used as a temporary college and a separation center for service members being discharged. It officially closed in 2000.
First State-Owned Cemetery
New York is home to nearly three-quarters of a million veterans and was one of just a handful of states across the country that did not have a federally recognized state-owned and operated veterans' cemetery.
"Our veterans have sacrificed more than many could ever imagine, and New York is proud to establish its first State Veterans Cemetery to honor their legacies and ensure they can rest in peace," Governor Hochul said. "There is no better place for this first-of-its-kind cemetery than a location steeped in military history."
Veterans, service members, and military families who need help can contact the New York State Division of Veterans' Services at 888-838-7697 or its website veterans.ny.gov to meet — in person or virtually — with an accredited Veterans Benefits Advisor to address their needs and gain the full measure of benefits that they have earned.
Have You Seen the Military Memorial on this Hudson Valley Hiking Trail?
At the top of the Popolopen Torne trail, in Orange County, you'll be greeted with a breathtaking military memorial.