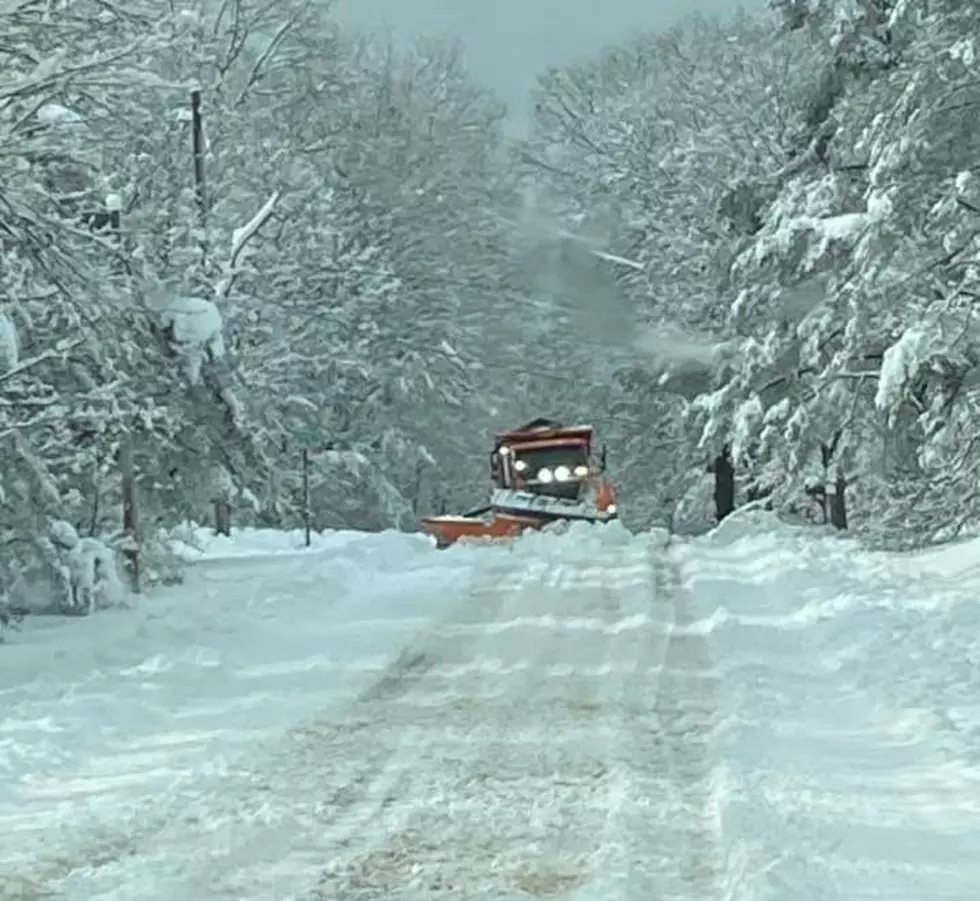 Late Season Winter Storm Could Dump More Than a Foot of Heavy Snow in Mohawk Valley
Credit - Tammy Ellis
Old Man Winter may be saving the best for last. The latest storm could bring the most snow Central New York and the Mohawk Valley has seen all season, a week before the first day of Spring.
The National Weather Service has issued a Winter Storm Watch from Monday, March 13 to Wednesday, March 15. Some areas could see more than a foot of heavy snow.
Winter Storm Watch
Travel could be very difficult to impossible from Monday afternoon through Wednesday morning in Northern Oneida, Onondaga, Madison, Southern Oneida, Cortland, Chenango, and Broome counties. 8 to 14 inches of heavy snow is expected along with 40 MPH wind gusts.
Heavy wet snow and gusty winds could cause scattered to numerous power outages. The highest snow amounts will likely be over the higher elevations south of the NY Thruway.
1 to 2 Inches Per Hour
Prolonged snow of 1 to 2 inches per hour is possible Monday night into Tuesday morning. The higher terrain south of Syracuse and the Mohawk Valley is expected to see the heaviest snow where a foot or more could fall.
Warmer air and less terrain effects in the Syracuse metro area will help limit the snow totals for the city to the lower-end forecast amounts.
Possible Power Outages
The heavy snow, mixed with high wind gusts will not only cause problems on the roads, but power outages may also be a concern.
You can get up to information on power outages throughout Central New York; where it's out and when it'll be restored with National Grid's Power Outage Map.
National Grid also offers text alerts on the latest efforts to restore power.
To receive free text message alerts and updates, text the word STORM to NGRID (64743). E-mail alerts are available to customers who create an online profile on the company's website. All alert services can be started and stopped at the customer's request.
Power Outage Preparation:
*Keep your cell phone charged and make sure you know where your backup power supply is.
*Make sure all your flashlights have fresh batteries.
*Fill your gas tank. You can use your car to keep warm and recharge devices.
*Have some food available that you don't need to cook.
Long Range CNY Forecast
Monday: Snow showers likely before 11 AM, then scattered rain and snow showers between 11 AM and 1 PM, then periods of rain showers after 1 PM. High near 40. Little or no snow accumulation is expected.
Monday Night: Periods of rain before midnight, then snow, possibly mixed with rain. Low around 31. New snow accumulation of around 2 inches.
Tuesday: Snow before noon, then snow, possibly mixed with rain between noon and 3 PM, then snow after 3 PM. The snow could be heavy at times. High near 35.
Tuesday Night: Snow, possibly mixed with rain, becoming all snow after 9 PM. The snow could be heavy at times. Low around 29.
Wednesday: A chance of snow before 3 PM. Cloudy, with a high near 35.
Wednesday Night: Mostly cloudy, with a low of around 24.
Thursday: Partly sunny, with a high near 43.
Thursday Night: Mostly cloudy, with a low of around 32.
Friday: A chance of showers. Cloudy, with a high near 47.
Friday Night: A chance of showers. Cloudy, with a low of around 35.
Saturday: A chance of rain and snow showers. Cloudy, with a high near 42.
11 Of The Worst Roads To Drive On During A Central NY Snowstorm
Creative New Yorker Takes Snow Sculpting to a Whole New Level
Why build a snowman when you can build interactive snow sculptures? One New Yorker is taking playing in the snow to a whole new level.
9 Places to Go Snow Tubing in New York
If you're too uncoordinated to ski, try snow tubing. There are plenty of hills in New York for winter fund.