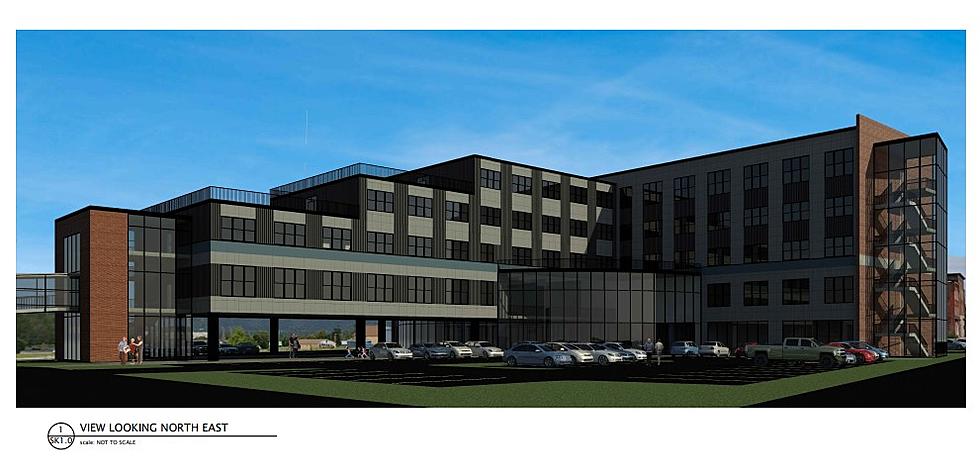 Latest Multi-Million Dollar Investment Downtown Utica
Artist rendering of latest edition to downtown Utica, - via the City of Utica
With the dust barely settled after completion of the Utica University Nexus Center in downtown Utica, the next multi-million-dollar project in the city is already on its way.
Mayor Robert Palmieri says the city's Urban Renewal Agency has accepted an offer from Mohawk Valley Garden to purchase parcels of land on Liberty Street adjacent to the Nexus Center to construct a $25-million multi-level, multi-use building that would include retail space and apartments.
Mohawk Valley Garden Corporation CEO Rob Esche says the new building will include an over-road bridge connecting it with Nexus.
The parcels to be purchases total approximately 90,000 square-feet and the addition to downtown will further the redevelopment of Bagg's Square as a major destination for sports and entertainment, officials said.
The project is the latest addition to Bagg's Square, which has become the city's major destination for sports and entertainment activities.
"This project proves that the incredible growth and opportunities we have seen are just the beginning of an exciting future for the City of Utica. We're fortunate to have partners with the vision and capabilities to continue to invest and drive new opportunities. Mohawk Valley Garden has been an essential component of the city's rejuvenation and will be one of the anchors for years to come," Mayor Palmieri said.
World's Largest Dish of Pasta, and a Wedding - Utica, NY, Feb 14, 2004
The Guinness Book of World Records affirmed in 2004, that the World's Largest Dish of Pasta was made in Utica, NY with the Keeler Show. Now with WIBX, Keeler worked with Tony's Pizzeria and other to create a dish of pasta weighing over 7,000 lbs. and the event included an actual wedding. The dish of pasta weighed 7,355 lbs. (3,336 kg) and lasted in the Guinness Book for several years. The dish was assembled and the wedding was held at Sangertown Square in New Hartford, when Keeler was hosting a 6 night a week television show, The Keeler Show, on FOX 33 TV in Utica and FOX 68 in Syracuse.
New Photos of the new Downtown Utica Wynn Hospital (February 2023)
Just eight months before it's scheduled to open, MVHS officials took WIBX's Bill Keeler and Jeff Monaski, along with Photo Journalist Nancy L. Ford through the new Wynn Hospital in Utica. The new downtown hospital is expected to open in November.
AquaVino Restaurant and Bar Opens in New Hartford. Check Out These Amazing Dishes
One of Utica's most popular restaurants has just moved into the former Outback Steakhouse in New Hartford. The new restaurant has an awesome menu featuring great food and drink. Check out these dishes we enjoyed during the soft opening.