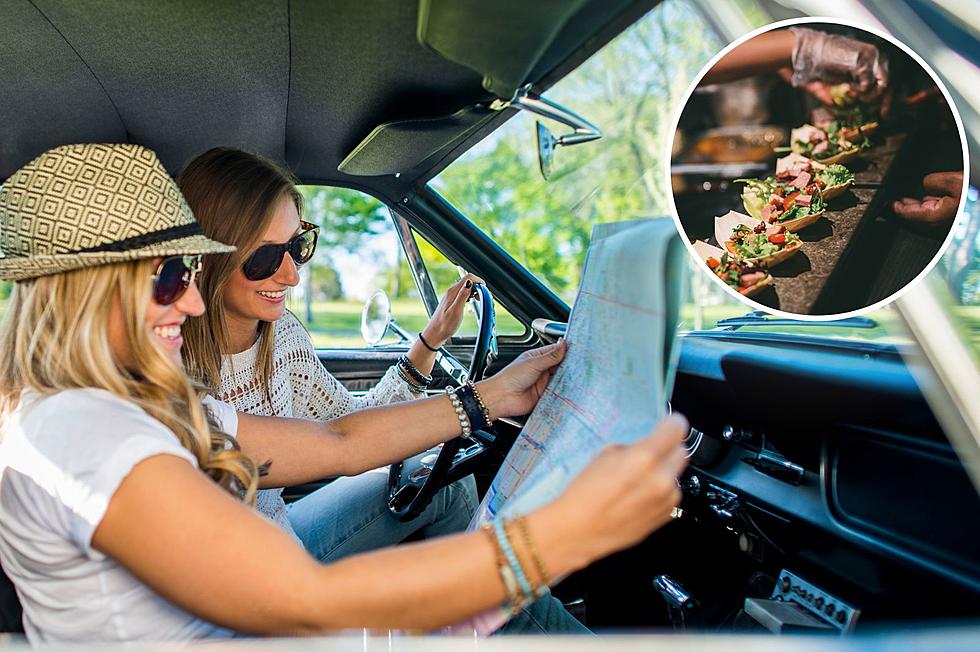 10 Divine (and Delicious!) Upstate New York Food Tours
Canva
You and your friends or you and your other half have been talking for ages about getting a sitter and doing a weekend getaway, but you're kind of tapped out on ideas.
We've got you covered - and it's something no matter who is going will enjoy. Have you ever considered going on a food tour? Yes, food tours are actual things and there are several places in Upstate New York where you can go on one.
Really, the only thing you'll have to figure out is the logistics of planning multiple weekend getaways because each of these food tours looks too good to skip over!
Go on Buffalo's Original 'Buffalo Wing Trail'
With 13 stops along the "Buffalo Wing Trail," you and your friends will weave in and out of dozens of bars, restaurants, and pubs tasting the food that has helped to put Buffalo on the food map!
Wind Through Upstate on the Upstate Eats Trail
The Upstate Eats Trail is a big one and it spans 225 miles through Buffalo, Rochester, Syracuse, and Binghamton. You'll visit restaurants, roadside stands, taverns, diners, ice cream parlors, and other fun locations.
Learn About Oswego and Take a History Tour
Located on the Great Lakes Ontario, Oswego is filled with eateries, delicious food, and history. On this tour, you'll taste incredible food and learn about the history of Oswego.
The Roaming Table: Lewiston-Niagara Food Tours
The Village of Lewiston is situated just south of Niagra Falls and has a really fantastic food tour that features food and drinks that have been featured on Food Network and The Travel Channel.
Saratoga Springs Food Tour
Did you know that Saratoga has "healing waters?" It's true, and you'll learn about them as part of your food tour which will take you to the Farmer's Market and other local eateries.
Finger Lakes Food Tour
Most everyone knows that the Finger Lakes are famous for wine, but the food is also incredible. This food tour will take you through Uptown Canandaigua where you'll sample food from local restaurants and will learn about the incredible history of the area that the Seneca Iroquois called "The Chosen Spot."
Rochester Flower City Food Tour
Take a walking tour of Rochester while noshing on local food and learning about the history and architecture and about the famous Erie Canal!
Hudson Valley Food and Farm Tour
This tour is exactly as it sounds - a farm-to-table food tour through the Hudson Valley. You'll enjoy visiting Farmers' Markets, wine tasting, and more. Oh, and you'll also get to tour George Washington's longest-running Revolutionary War Headquarters.
Beacon Bites and Beverages Food Tour
Beacon is located very close to the Culinary Institute and you know what that means - innovative food and beverages definitely wait for you on this tour!
Catskill Food Tour
You'll ride in a comfortable van to visit with local farmers so that you can tour their farms, learn their history, and taste some of the best farm fresh foods.
Check Out This 12-Pack of Great Upstate New York Cideries
On the heels of the craft beer explosion in Upstate New York, here come the cideries! Hard cider venues are the fastest growing small agri-business in the region. For those who like a sweeter experience than craft beer, we have offered up a list of a dozen great cideries to get your taste buds buzzing in the spring and summer.
Read More: "Order Up!" 26 Of the Best Diners in New York State
From the tip of Long Island to the tip of Western New York, the Empire State has no shortage of excellent diners. Some have been around for a decade or so, and some have been around for five decades or so. Most are mom-and pop diners that have been in the family for a couple of generations. It is always fun to eat at a diner and we submit that these 26 are just too good to pass up! Twenty-five of them are in Upstate New York but we had to put in a great and historic diner from New York City. They do have some great diners in the Big Apple!