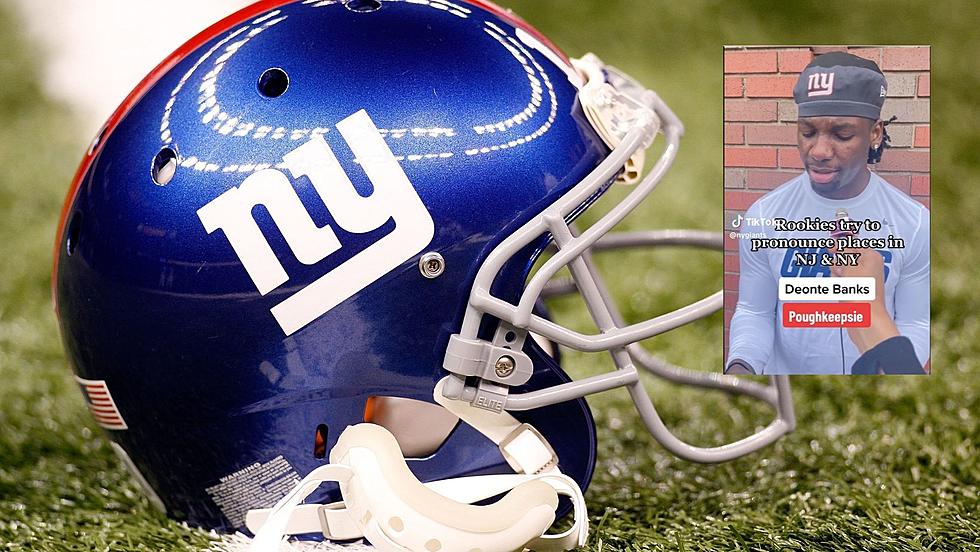 Watch New York Giants Rookies Struggle Through NY Town Names
Getty Images/TikTok
Let's hope this is the only struggle the New York Football Giants will have this season.
While we're just getting into the thick of baseball season, and basketball and hockey seasons are wrapping up, it seems like the perfect time to start getting ready for some football!
Back in April, the New York Giants drafted 7 rookies for the 2023 season and in the first round they picked up one of the best college cornerbacks Deonte Banks from Maryland. The 6 other rookies include OL John Michael Schmitz, WR Jalin Hyatt, RB Eric Gray, CB Tre Hawkins III, DL Jordon Riley, and DB Gervarrius Owens.
Deonte Banks vs Poughkeepsie, NY
Well, it looks like the rookies are getting some reps in and hitting the gym before pre-season training camp starts later this summer. What better time to test the boys on their knowledge of their new surroundings?
So, The New York Giants' social media team challenged the rookies to pronounce New York and New Jersey town, street, and bridge names. Yeah, it was all over the board. Right off the bat, they hit the rookies with Poughkeepsie.
Is it really that hard to pronounce!? Turns out, not really. Deonte Banks handled it flawlessly.  It was actually Houston Street in New York City that tripped up the newbies and Westcher's Greenwich Village seemed to be a bit difficult as well. You can watch the TikTok below:
Who Will The New York Giants Play During the 2023 Season?
Earlier this week the Giants shared who they would be battling on the field in 2023. Giants.com writes:
The Giants will host the Rams, Seahawks, Patriots, Jets, and the third-place team in the NFC North (Packers). The Giants will go on the road to face the Cardinals, 49ers, Bills, Dolphins, Raiders and the third-place team in the NFC South (Saints).
With that being said, the NFL will announce its full official schedule for the 2023 season on May 11th, 2023.
12 Hudson Valley Street Names That Makes us Laugh
The Hudson Valley street names are really funny...to most....LOL!
10 Most Bizarre Town Names In New York State
The weirdest town names in New York State.
Are These the 5 Rudest Hudson Valley Towns?
Five towns that have been nominated as the rudest!