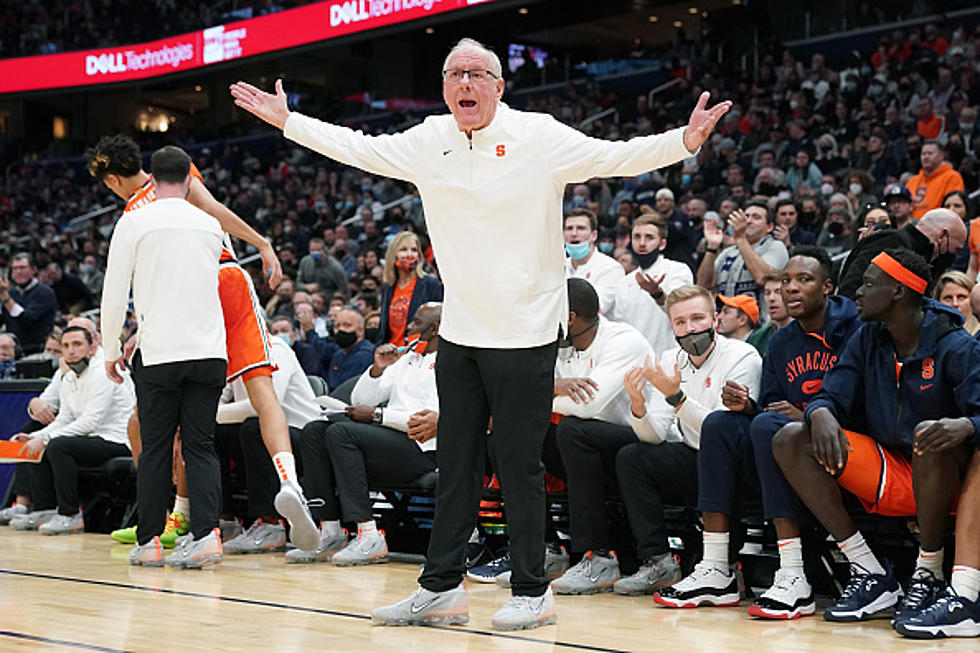 Can Jim Boeheim And Syracuse Still Make The 2023 NCAA Tourney?
Getty Images
The Syracuse men's basketball team is in real danger of missing the 2023 NCAA March Madness Tournament.  They currently sit at 14-10 overall and 7-6 in conference play.  They are tied for 8th in an ACC conference that is relatively weak this year.  It has been one of the premier conferences in college basketball in recent years, but this year it just isn't as the BIG 12 is by far the best conference.
Jim Boeheim has been at Syracuse seemingly forever now and doesn't have many more years left you would think as their head coach.  He has been in the news more recently and not in the best light as he first was rude and unprofessional to a student reporter, who only asked a simple question that was not offensive or too far, about Benny Williams being absent from the game.  Boeheim proceeded to talk down to him and claim it was classic Syracuse media.
In another recent post game press conference, Boeheim accused fellow ACC rivals and schools Wake Forest, Pitt, and Miami all of buying their players with NIL deals.  The schools all obviously denied claiming they were false allegations with no base whatsoever.  Coach Boeheim has since issued an apology.  As far as the team is concerned, they have to essentially win out or at least win most of their remaining ACC conference tournament games to have a real chance of making 2023 March Madness.
We had on a long time friend of Big Board Sports earlier in Mike DeCourcey, a college basketball writer for the Sporting News.  Mike thinks it might be over for Syracuse this season, below is our full interview with him.
Now I consider Jim Boeheim a good friend and he has been a guest on my show for many years, but I hope he focuses on his team and they can somehow make this year's NCAA Tournament.
New York Colleges That Made The Top 50 Most Expensive In America
CBSNEWS.com did a Top 50 Most Expensive Colleges and Universities in America. Let's see which New York colleges made the list.
Forbes: These 12 New York Colleges are Among the Country's Top 100
School is in-session in New York, and a recent report from Forbes has identified these Empire State universities as some of the best in the country.