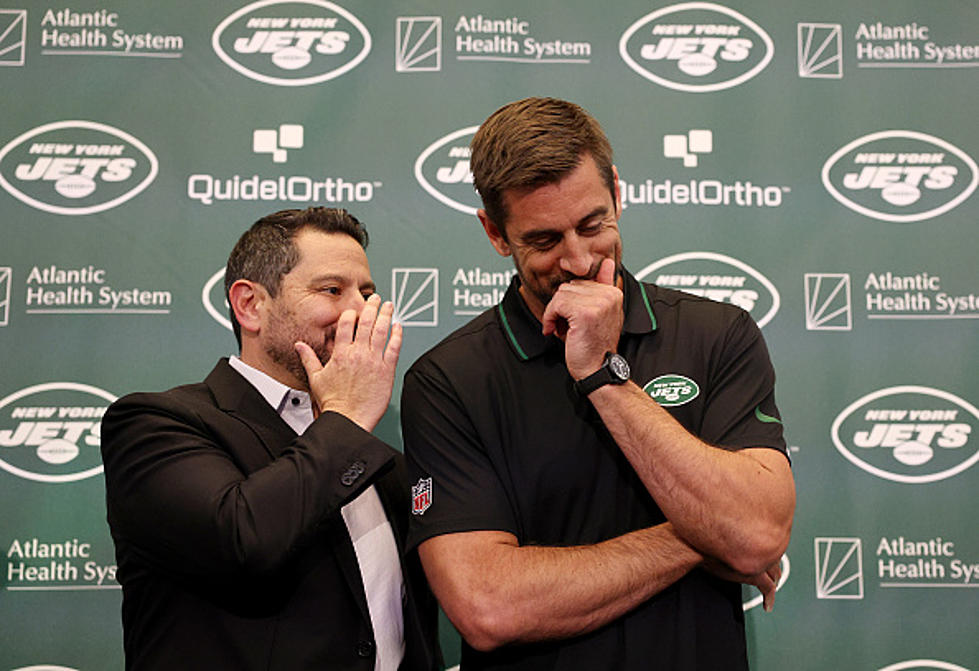 Is The Aaron Rodgers Joke On The New York Jets Or The Packers?
Getty Images
The first week of the "Aaron Rodgers New York Jets" has gone better than anyone, even owner Woody Johnson, could have ever imagined. But, is this just the honeymoon period or is Rodgers seizing the opportunity to expand his brand in the advertising capital of the world, with a team with a more talented roster than he had in Green Bay? Let's remember that no games have been played yet.
For the past week, New Yorkers have watched Aaron Rodgers bond with his teammates at Madison Square Garden for a Rangers and two Knicks playoffs games, on top of his picture being plastered on every New York media website. Maybe the Jets new QB is just getting a feel for a playoff atmosphere in New York.
The former Green Bay quarterback was seen playing to the camera with Defensive Rookie of the Year, Sauce Gardner on the massive scoreboard, sending Knicks fans into a frenzy. Is this an act or is this what Aaron Rodgers really can bring to the table for a stumbling organization?
The simple answer is the Jets needed a veteran quarterback to stabilize a young and talented offense. There were none available better than Rodgers. There's a catch. Rodgers, who is weeks removed from his "darkness retreat," is anything but simple. The 39-year old can bring a professionalism and a confidence that the Jets haven't had at quarterback. Ever. Period. Not one New York Jets quarterback in history could match the back of Aaron Rodgers' football card. In addition, Rodgers will and has attracted other NFL talent to join his Super Bowl quest with the Jets, just like Tom Brady did in Tampa.
That said, Rodgers has become less predictable over the last few seasons with Green Bay. Packers GM Brian Gutekunst got so frustrated, he basically ran the future Hall of Fame quarterback out of town. What happens if the things go wrong and the Jets lose key players to injury. Does Aaron Rodgers pack it in? Does he join the Jets in another kick at the can next year? Hard to say. What you can say is that his start is considerably better than most expected.
Aaron Rodgers is practicing with his new team in May, something he hasn't done with his old team in years. Rodgers says it's to get to know his new teammates. He commented that his new teammates are responding to his "energy." All things coaches and general managers love to hear from their star quarterback. However, Aaron Rodgers proved that he is willing to say whatever is good for Aaron Rodgers, even if it is less than truthful. Long and short, if the Jets go to the playoffs and win a game, then it appears that joke was on the Green Bay Packers. If they don't make the playoffs and Aaron Rodgers walks away, then it's just the Jets being the Jets and the joke is always on them.
[NOT DONE]Can't Miss Top 10 Country Shows Coming to Upstate New York in 2023
Let's Go Camping! Check Out These Updated Upstate NY Campgrounds
It's camping season in Upstate New York. If you plan on going camping, there are many campgrounds across the state that are being upgraded with makeovers and improvements. for the 2023 season. These include actual campsites, swimming pools, campgrounds, and the addition of EV chargers according to
newyorkupstate.com
. Check out to see if the campground you go to is making improvements this season.
The Capital Region's 30 Best Outdoor Restaurants
When it comes to having an outdoor cocktail or meal in the 518, these are the best of the best to enjoy the great outdoors this spring and summer.