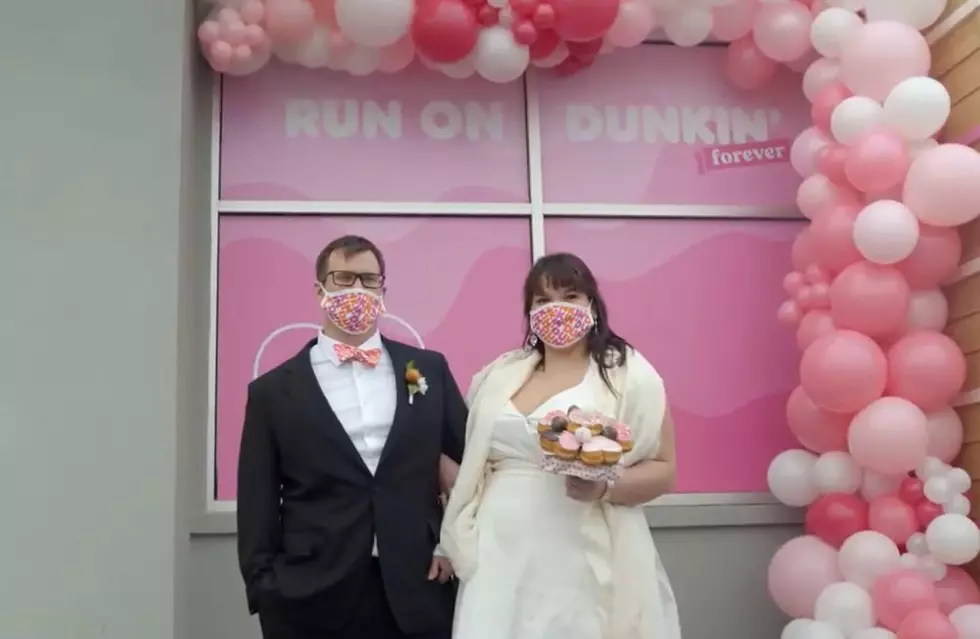 Niskayuna Couple Says 'I Do' in the Dunkin' Drive-Thru
Albany Times-Union via YouTube
For one Capital Region couple, their latest trip to Dunkin' Donuts was far from ordinary.
Niskayuna residents Selena Stallmer and Brian Dinsmore said 'I do' in the Dunkin' drive-thru last Friday after they won the coffee and donut shop's "Marriage is on the Menu" contest.
Stallmer, a direct support professional who helps people with disabilities, and Dinsmore, an electrician, sent in a submission for the contest with two hours to spare. The pair of essential workers were supposed to get married this June, but decided to postpone their wedding because of the pandemic.
"Being able to get our coffee every morning has added a little bit of normalcy throughout the crazy past year," Stallmer wrote in their submission on Instagram. "Dunkin' has become a staple in our household so what better way to get married than in your drive-thru?!"
Stallmer and Dinsmore told the Times-Union that that Stallmer worked for a few hours Friday morning, and after a quick car wash and a trip down to the designated Dunkin' location in Middletown, they were ready to be wed in their Honda Civic.
Their ceremony was full of Dunkin'-themed items, from a bow tie and socks for him and a veil and bouquet for her. Dunkin' also gave newlyweds a professional photoshoot, a check for $500 and a wedding they'll never forget.
Although their friends and family weren't able to attend their nuptials, Stallmer and Dinsmore were able to broadcast the ceremony over Zoom, and they're still scheduled to have their big wedding in May of 2022.
Swimply Modern Oasis Pool Rental