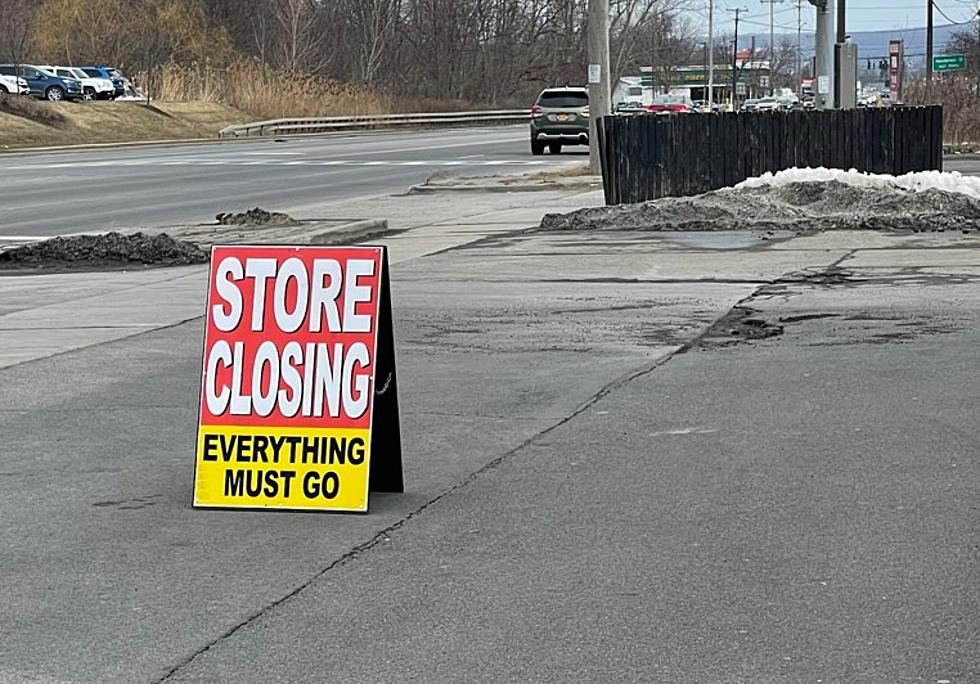 It looks Like One Classic Central New York Sports Store Is Closing
TSM
One Central New York sports store is officially closing it's doors for good.
Play It Again Sports in New Hartford is closing it's doors for good. According to WKTV, the owners of the Commercial Drive location are planning to retire. Currently they are holding a going-out-of-business sale. Signs in the store windows say "everything must go."
There is no closing date yet, and nothing is posted on Facebook about it. Play It Again Sports is a chain, and the company is looking for new owners to franchise the location in New Hartford. If you're interested in buying the New Hartford location, you can call 1-800-592-8049.
Through the years, Play It Again Sports has helped the following teams fundraise and get equipment: Hamilton Softball League, New Hartford Youth Hockey, Clinton Figure Skating Club, Whitestown Youth Hockey, Clinton Comets Youth Hockey, Utica Comets, Rome Youth Hockey, New Hartford AYSO, Utica AYSO, Clinton AYSO, and Whitestown AYSO.
No word on when a closing date will take place.
For Those That Don't Know, What Is Play It Again Sports?
Play It Again Sports focuses on the sales of new and used sporting equipment:
We buy, sell, and trade used and new sports equipment and fitness gear and pass along the savings to you! We want your quality used sports and fitness gear. Get cash or trade for your equipment. We're currently looking for fitness, hockey, baseball, golf, football, and soccer gear."
The New Hartford store is for sale. You can call 1-800-592-8049, or email franchisedevelopment@winmarkcorporation.com.
Great opportunity! Call today to be your own boss and continue to bring resale for everyone to the great community of New Hartford!"
We will update you when we learn of a closing date for the store.
25 Restaurants 'Diners, Drive-Ins and Dives' Should Visit In Upstate New York
We've been taking trips to Flavortown with "
Diners, Drive Ins and Dives
" since November of 2006. Wouldn't it be nice if Guy Fieri made more tips to Upstate New York?
Guy has traveled to over 37 restaurants in New York State alone. We asked "If Food Network's "Diners,Drive Ins & Dives" could visit the Mohawk Valley and Central New York, where should they go?" on social media. The responses were well into the hundreds. What we wanted to do was take the Top 25 suggestions. Here's that list for you to enjoy:
13 Places You'll Find The Most Delicious Prime Rib In Upstate New York
Are you looking to enjoy prime rib right here in Central New York, the Mohawk Valley, and Upstate New York? Here's 13 places that need to go on your radar.
On the
315 Menus Facebook group
, the question was asked where to find the best in our region. Here are the Top 13 choices:
New York Lottery Scratch Off Tickets With The Most Number One Jackpots Remaining
Here in New York, the time is now to start searching for some amazing jackpots. There are all sorts of different kinds of Scratch-Off tickets offered by the New York Lottery.
While looking at the latest weekly roundup for grand prizes, we counted 59 different tickets that have their grand prizes still on the market. The report was last updated on February 21st 2023, as we publish this article.