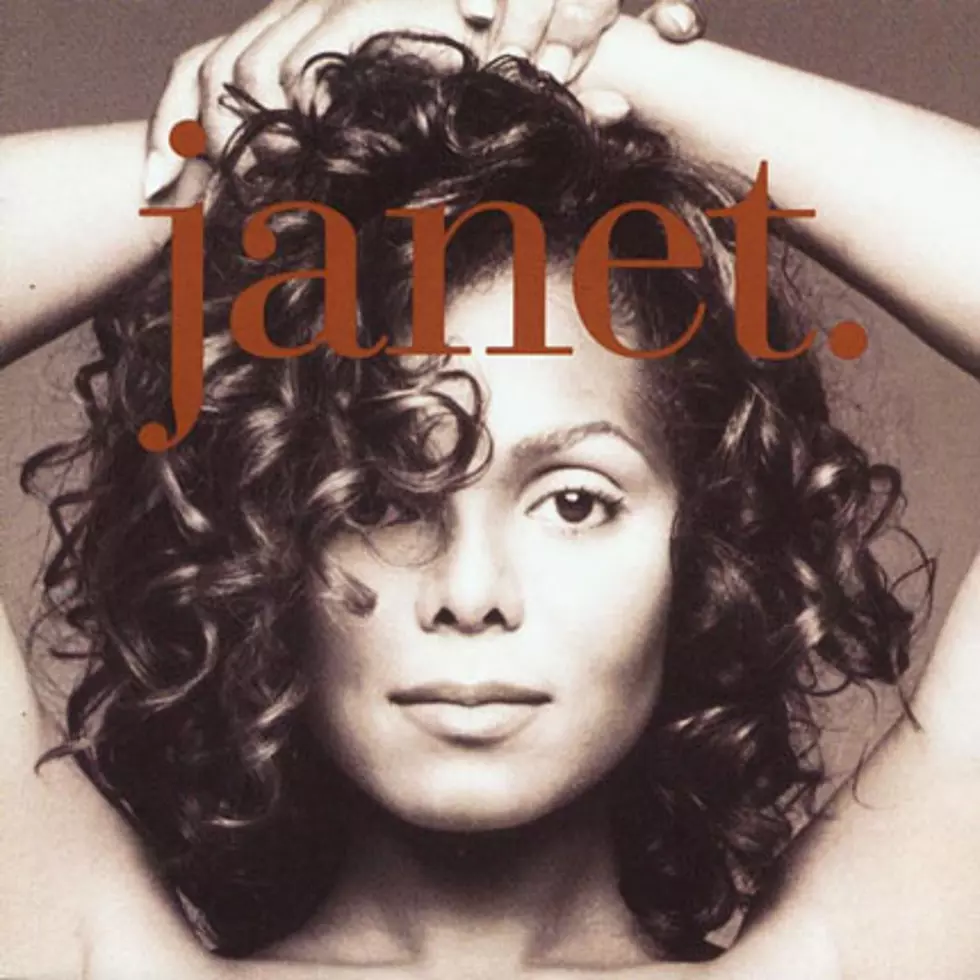 15 Facts You Didn't Know About Janet Jackson's 'Janet.' Album
Virgin
The year 1993 was glorious for anyone who considers themselves a music fan at the time, with something for any and everybody, regardless of demographic, preference or background. Although all of the music genres were introducing new stars and dominated by artists inching towards legendary status, R&B was at the center of it all, with its stable of talented female acts camping out at the top of the Billboard charts and blurring the lines between what constitutes a pop star and an R&B diva.
One of the artists who played a pivotal role in this changing of the guard was Janet Jackson, who would make a statement with janet., her first album of the '90s and one that would complete her evolution from the clean-cut girl-next-door to a sex symbol and a poster-girl for sexual liberation.
Making her musical debut in the '80s, Jackson released the marginally successful albums Janet Jackson and Dream Street before coming into her own with 1986's Control. Control would pair her with songwriting/production duo Jimmy Jam & Terry Lewis, who would usher the sound of the album, as well as her multi-platinum 1989 effort, Janet Jackson's Rhythm Nation 1814. After jumping ship from A&M Records in 1991 and inking a deal with Virgin Records, Jackson would look to further establish her brand and make a run for the title of the Queen of Pop. By doing this, the singer was pitted against the likes of Whitney Houston and Mariah Carey, both of whom had proven themselves to be some of the most bankable acts in music.
However, Janet Jackson would rise to the occasion with janet., her highly-anticipated follow-up to Janet Jackson's Rhythm Nation 1814 and her first album released on Virgin. The album, which would be a wild success and validate all of her success and fanfare, is one of the legend's most critically acclaimed efforts and is regarded as her definitive work to date.
To commemorate the 25th anniversary of this classic, The Boombox shares 15 facts about janet. that the average fan may not know.
1

"That's The Way Love Goes" Won A Grammy

Janet Jackson would be snubbed in the "Album of the Year," "Record of the Year" and "Song of the Year" categories at the 1994 Grammy Awards. However, she would take home a Grammy for "Best R&B Song" for her single "That's The Way Love Goes," beating out the likes of Luther Vandross ("Little Miracles (Happen Every Day)," "Heaven Knows"), Tevin Campbell ("Can We Talk"), and Tony! Toni! Tone! ("Anniversary").

2

'janet.' Was Janet Jackson's Album To Debut Atop The Charts

After her previous album, Janet Jackson's Rhythm Nation 1814, debuted at No. 28 on the Billboard 200 in 1989, Janet Jackson would score her first No. 1 album with the release of janet. on May 18, 1993. The record would also stay atop the charts for six consecutive weeks, the second album from a female to achieve that feat in history.

3

'janet.' Produced Six Top-Ten Hits

Janet Jackson would dominate the Billboard charts with a succession of smash hits in 1993. Singles like "That's The Way Love Goes," "If," "Again," "Because of Love," Any Time, Any Place," and "You Want This."  all reached the Top 10 of the Hot 100. Of the six singles, "That's The Way Love Goes" and "Again" would be the most successful, with both peaking at No. 1 on the charts and reaching platinum certification.

4

All of the Lyrics on 'janet.' Were Written By Janet Jackson

In spite of Janet Jackson's success during the latter half of the '80s, some critics speculated that her music was more of a byproduct of Jimmy Jam & Terry Lewis' productions than her ability as an artist. In light of these remarks, Jackson would take it upon herself to pen the majority of the lyrics on janet., which she revealed in a 1993 interview following the release of the album. "All my records are personal, and janet. is the most personal of them all," Jackson shared. "That's why this time around it was important for me to write all the lyrics and half of the melodies."

5

"If" Was Originally Intended To Be The First Single

Before the release of janet., the singer and her new label, Virgin Records, had differing opinions about which song from the album should be the lead single. While Virgin preferred "If," Janet Jackson would opt to go with "That's The Way Love Goes" instead, resulting in "If" being released at the second single from janet. "There was pressure to kick off the album with a more spectacular song," Jackson said about "That's the Way Love Goes." "But I wanted to go the other way. I didn't want to break down the door, just slip in through the side. We thought this easy-to-get-with groove – real gentle but real sexy – would be a warm way of kicking things off.

6

'janet.' Set A Record For The Highest First Week Sales For A Female Artist

Upon its release, janet. sold 350,000 copies in its first week of release, setting a record for the highest first-week sales for a female artist in music history at the time. This record has since been broken numerous times, including twice by Jackson herself, with 2001's All for You (605, 128) and 2004's Damita Jo (381,000) both posting superior figures during the opening week.

7

Why She Chose The Album Title 'janet.'

In an attempt to further step out on her own and outside of the Jackson family name, Janet made a statement with the title of her fifth studio album, which spoke to her evolution and growth professionally. "Certain people feel I'm just riding on my last name," Jackson told USA Today during an interview. "That's why I just put my first name on janet. and why I never asked my brothers to write or produce music for me."

8

The Story Behind The Album Cover

Among Janet Jackson's many album covers, janet. is arguably the most iconic and remains a testament to the art of simplicity. However, it would be Jackson's Rolling Stone cover, which revealed the full version of the photo, which would prove even more historic. Appearing topless, with then-husband René Elizondo, Jr. covering her breasts, the picture made Janet Jackson's arrival as a bonafide sex symbol was all but complete.

9

"Again" Appeared As The Closing Song in the 1993 Film 'Poetic Justice'

1993 was a busy year for Janet Jackson, as the release of her new album and appearance in the film Poetic Justice would keep her in the public eye in a significant way. "Again," the third single released from janet., would appear in Poetic Justice as the closing song, leading it to receive nominations from the Golden Globe's and Academy Awards for "Best Original Song," but would ultimately lose to Bruce Springsteen's "Streets of Philadelphia."

10

'janet.' Was Partially Inspired By Maya Angelou

Before the recording of janet., the singer would make her feature film debut in the film Poetic Justice, which was released in summer 1993. During the filming of the movie, Jackson would become inspired by the work of iconic poet Maya Angelou, which would influence her creative approach on her fifth studio album. "My concepts are never bright ideas; they're never notions I think will sell or be trendy or attract new fans," Jackson shared in a 1993 interview. "I don't think that way. All I can do is sing from my life. When I wrote the album, I was still in a poetic frame of mind, inspired by Maya's beautiful language. You can hear that inspiration on the interludes and especially on the song 'New Agenda' This time I felt much freer expressing myself."

11

Janet Jackson Was The World's Highest Paid Female Performer At The Time of 'janet.'s Release

In 1991, after fulfilling her contractual obligation to A&M Records, Janet Jackson would make history by inking a $40 million contract with Virgin Records, making her the highest paid female recording artist in history at the time of janet.'s release. The record has since been broken by Whitney Houston, Madonna, Mariah Carey and Adele.

12

"If" Was Written During A Label Meeting

According to Janet Jackson, "If," the second single released from janet., was written in a conference room during a label meeting out of boredom and spontaneity. The song would peak at No. 4 on the Billboard Hot 100, and its accompanying music video would be critically acclaimed. The music video for "If" went on to win "Best Female Video" and "Best Dance Video" at the MTV Video Music Awards, as well as a Billboard Award for "Dance Clip of the Year," the video is one of the most influential music videos of all-time.

13

Jennifer Lopez Appears In The "That's the Way Love Goes" Music Video

Jennifer Lopez's first big break may have come as a member of In Living Color's Fly Girl's dance collective, but it would be her cameo in a music video that would really help put her on the national radar. Appearing in the music video for "That's The Way Love Goes" after becoming a backup dancer for Jackson, Lopez decline an offer to join the singer on her world tour, instead opting to jumpstart what has translated into a wildly successful career in her own right.

14

The Album Includes An Appearance From Chuck D

One wrinkle from janet. that is sure to catch listeners by surprise is Public Enemy member Chuck D's appearance on "New Agenda," an up-tempo deep cut from the album that marries hip-hop and New Jack Swing for one of its harder tracks.

15

'janet.' Is Janet Jackson's Most Successful Album

Janet Jackson would reach the pinnacle of her music career with janet., an album that would shatter various records and confirm her as one of the biggest superstars in all of music. In addition to becoming the first album from a female artist to debut atop the charts during the Soundscan era, janet. would also end 1993 as the second best selling album of the year and has sold more than 14 million copies to date. Twenty-five years after its release, janet. remains one of the most influential albums of the '90s and a magnum opus of the highest respects.