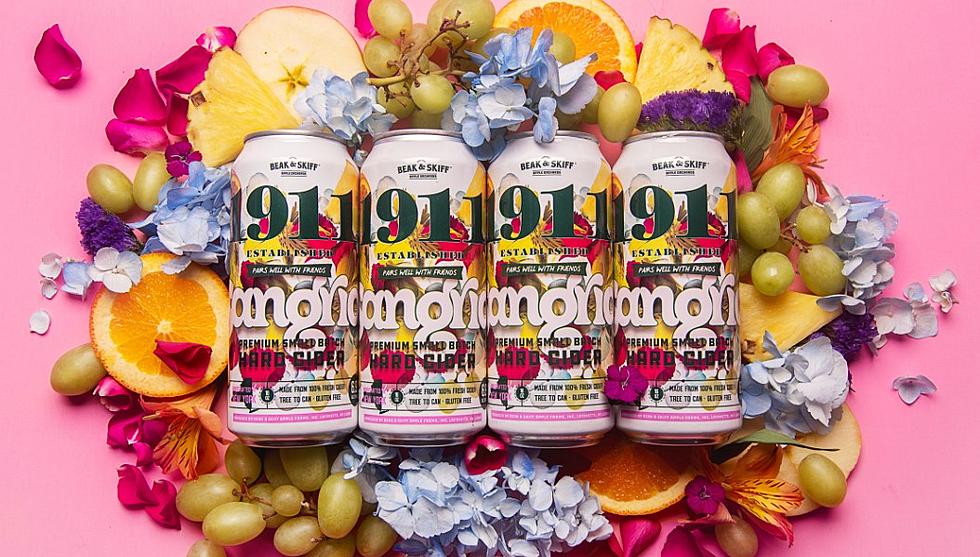 Get Ready New York- We Have An All New Hard Cider To Enjoy
1911
Get ready for the taste of summer in Upstate New York. We have an all new hard cider to enjoy and drink.
1911 Established Distillery has released an all new cider just in time for warmer weather. They have released a new line of Sangria Hard Cider:
The fruits of our labor have come to life! Introducing 1911established Sangria Hard Cider. Evening skies and breakfast drinks, with blues, purples, oranges and pinks. Sweet vineyard air with fruit at the end, this drink pairs best with a couple of friends!"
According to their website, It has a sweetness scale of 3 out of 6, an 6.9 % alcohol by volume, and it's available in 16oz cans. You can learn more online here. It definitely could be the summer drink of 2023.
About 1911 And Beak And Skiff
Founded in 1911 by Andrew Beak and George Skiff, Beak & Skiff Apple Orchards is located among the rolling hills and valleys of Lafayette. Here's where 1911 was born:
For over 100 years, they have cultivated their family orchard into one of New York's most prestigious apple growers and have taken their commitment of quality and innovation to their line of premium small batch 1911 Spirits."
Almost all 1911 spirits begin with fresh pressed apple cider right from the Beak & Skiff Cider Mill. You will find the distillery located along Route 20, among the hills of the apple orchard, and you'll find their drinks in liquor stores all throughout the Central New York region. Let us know if you try the new sangria by texting us on our station app.
21 Restaurants In Upstate New York That ChatGPT Recommends You Try
Have you ever heard of ChatGPT? It's an artificial intelligence chatbot that's taking the world by storm. What restaurants would ChatGPT recommend you try here in Upstate New York?
We decided to ask ChatGPT for 21 different restaurants to check out across Upstate New York, The Mohawk Valley, and Central New York. We also asked it to provide a signature dish to try out. Here's those choices based of entirely of ChatGPT. We didn't influence this list whatsoever:
26 Restaurants In Utica New York You Need To Try At Least Once
This following list is a great resource if you're looking for some new places to try, or if you're just looking for some place to start. This list is strictly restaurants in Utica New York. Not the Utica area or surrounding towns, but Utica New York. We took submissions from all over social media to build this list. We will have other lists for other parts of our region to showcase next. But right now, let's focus on Utica:
25 Restaurants 'Diners, Drive-Ins and Dives' Should Visit In Upstate New York
We've been taking trips to Flavortown with "
Diners, Drive Ins and Dives
" since November of 2006. Wouldn't it be nice if Guy Fieri made more tips to Upstate New York?
Guy has traveled to over 37 restaurants in New York State alone. We asked "If Food Network's "Diners,Drive Ins & Dives" could visit the Mohawk Valley and Central New York, where should they go?" on social media. The responses were well into the hundreds. What we wanted to do was take the Top 25 suggestions. Here's that list for you to enjoy: