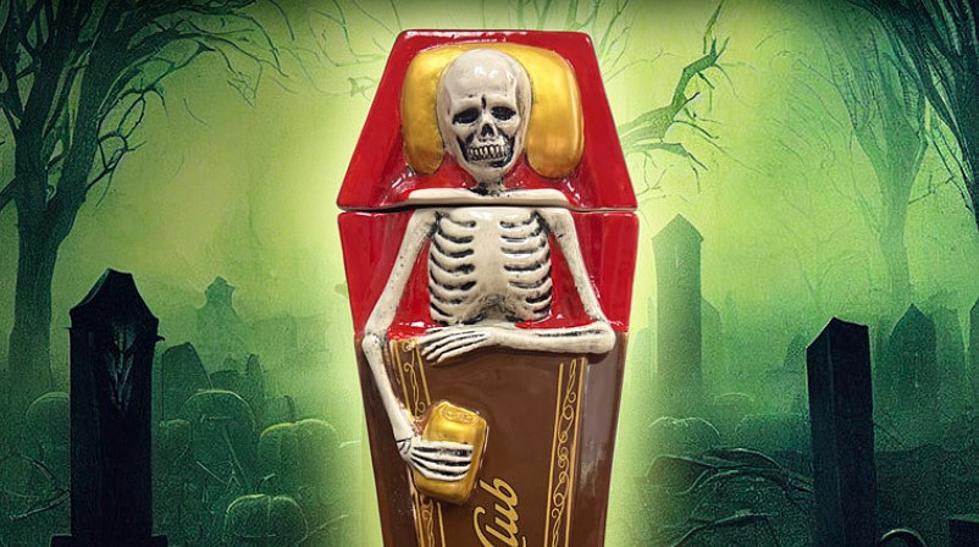 Don't Be Scared Buying This 2023 Utica Club Skeleton Stein
Saranac
This Halloween you'll love the all new Utica Club Skeleton beer stein for your collection. It's a new Central New York tradition.
Saranac announced on Facebook that they will be selling the new Utica Club Skeleton Stein starting October 24th 2023:
The grave can't hold back the spirit of Utica Club! Presenting a chilling portrayal of a skeleton cradling our renowned Utica Club beer. This stein is not just a vessel, but a tale of timeless revelry. Celebrate the shadows and savor the history in every pour.

 
Utica Club beer steins have a rich history that is closely associated with the F.X. Matt Brewing Company. Utica Club beer steins have been part of the brewery's promotional efforts for many years. The F.X. Matt Brewing Company was established in 1888 and has a long history of producing a variety of beer brands. Utica Club was one of their earliest and most iconic offerings.
These Utica Club beer steins have been used by breweries as promotional items for decades. Usually you collect the holiday one though. Now, we have Halloween ones. Over the years, Utica Club beer steins have become collectible items. Collectors of breweriana, which includes beer-related memorabilia and collectibles, often seek out these steins to add to their collections.
These steins hold a special place in the hearts of fans of the Utica Club brand and have become a symbol of the brewery's history and legacy. If you're interested in collecting or learning more about Utica Club beer steins, you can explore collector forums, antique shops, and online resources dedicated to breweriana collecting.
Again, starting October 24th, you can start collecting a new line of Halloween steins.
Rare Schultz & Dooley Stein For Sale At Staggering Price
If you want to buy this, hustle because you never know when they will sell or hit the market again. Check out
this link
for the $2,000 50th anniversary edition.
17 Of New York State's Most Popular Ghost Stories
New York State is obsessed with the paranormal. What are the most popular ghost stories from across the state?
Gallery Credit: Dave Wheeler
8 Of The Most Haunted Bridges In New York State
New York State has several haunted bridges, each with its own ghostly tales and legends. Here are 8 haunted bridges across the Empire State.
Gallery Credit: Dave Wheeler