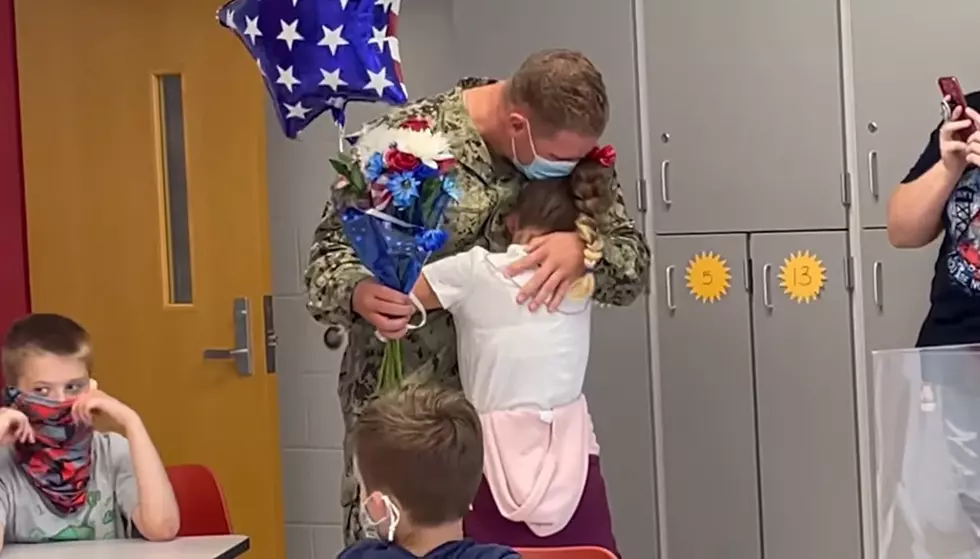 VIDEO: Watch As Binghamton, New York Soldier Reunites With Daughter At School
Chenango Valley Central School District via Facebook
I have two kids that have graduated from the Chenango Valley School District and my youngest, Tara is in 11th grade. They are proud to call CV their school and I love being in the school district.
The pandemic made so many things difficult on every school and CV did what they could to get through the extraordinary times. One of the things that the kids were able to do was the "High School Musical, on Stage" play.
Tara played the part of Taylor McKessie and everyone did an OUTSTANDING job. Being able to get on stage and pull this off is something that the students and community will never forget. They'll be streaming the play soon for everyone to enjoy and I'll give an update on that when it gets closer.
Here is something else that the Chenango Valley Central School District was able to do and this certainly will be remembered forever by this family. Gabrialla Clark is a fourth-grade student at Chenango Bride Elementary School and she was surprised by a very special visitor on Thursday, May 27th.
I'm not crying, you are but that wasn't the only surprise. Shawn was also able to surprise his son, Andrew at the Chenango Valley High School as well. Thank you to the Chenango Valley School District for putting this together and a special THANK YOU FOR YOUR SERVICE to Shawn.
GALLERY: Can You Name These 10 Southern Tier Locations From The Sky? (Answers At The End)
LOOK INSIDE: Couple Transform Old School Bus Into Cozy Home
THEN AND NOW: See the Evolution of the Southern Tier