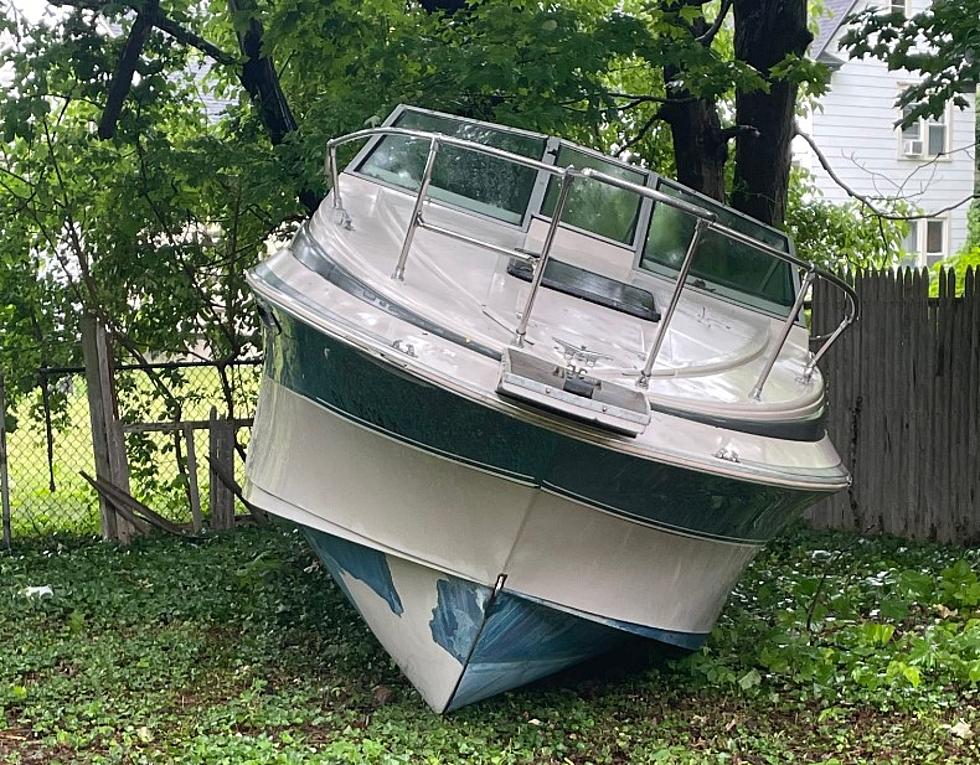 One Rare Legendary Land Boat Leaves Upstate New York Confused
Syracuse Police Department
Just sit right back and you'll hear a tale, a tale of a random ship. It started from this backyard, in some Syracuse neighborhood.
This Is Not A Shipwreck.....But the Syracuse Police Department needs your help. They posted pictures of a boat found in some neighborhood in Syracuse:
Do you know who owns this boat? Some of our Officers discovered it recently abandoned in the backyard of a house in the 100 block of Fitch Street. It was illegally dumped there sometime during the night of June 12th.
If you have any information on who may have dumped this boat or who may own it, please call Syracuse Police at (315) 442-5222. Just a reminder, illegal dumping is against the law and can come with hefty fines. Please dispose of your trash, including boats, properly. Let's all help out the planet.
Some have posted theories of how they think the boat docked in a yard:
Jan Hill: "Maybe a hurricane brought it there you had a lot of north easterners up there."
Tracie Ormsby: "Guy name Noah"
Nate Freeman: "Someone clearly has not watched step brothers. Pure gold right there. Tree house from heaven potential."
If you have any information on who may have dumped this boat or who may own it, please call Syracuse Police at (315) 442-5222.
Dave Portnoy Leaves Stunning Review of Tully's Chicken Tenders
One bite, everyone knows the rules. That's all it took for the Barstool President to make his review on Tully's Chicken Tenders. By now you've probably seen Portnoy's famous Pizza Reviews, where he travels across the U.S. trying different slices from local pizza shops and leaving his honest reviews. He decided to hit up a Syracuse landmark. Read more here.
New York Lottery Scratch Off Tickets With The Most Number One Jackpots Remaining
Here in New York, the time is now to start searching for some amazing jackpots. There are all sorts of different kinds of Scratch-Off tickets offered by the New York Lottery.
While looking at the latest weekly roundup for grand prizes, we counted 59 different tickets that have their grand prizes still on the market. The report was last updated on May 30th 2023, as we publish this article.
Welcome To A New Antique Experience In Upstate New York
Victorian Lady Antiques
held their Grand Opening on Saturday, June 3rd 2023 in Oneida New York. This new shop has two floors of antiques, curios, collectibles and vintage clothing and jewelry.
7 Fabulous Pools You Can Rent By The Hour In Upstate New York
Temperatures are starting to soar and it's officially swim season in Upstate New York. Did you know you can actually rent a pool for the day to use?
There's an app/website called
Swimply
that allows people with private pools to rent them out by the hour to people who want that private pool experience without having to hassle with the maintenance of pool ownership.
Here's 9 in the Central and Upstate New York region: