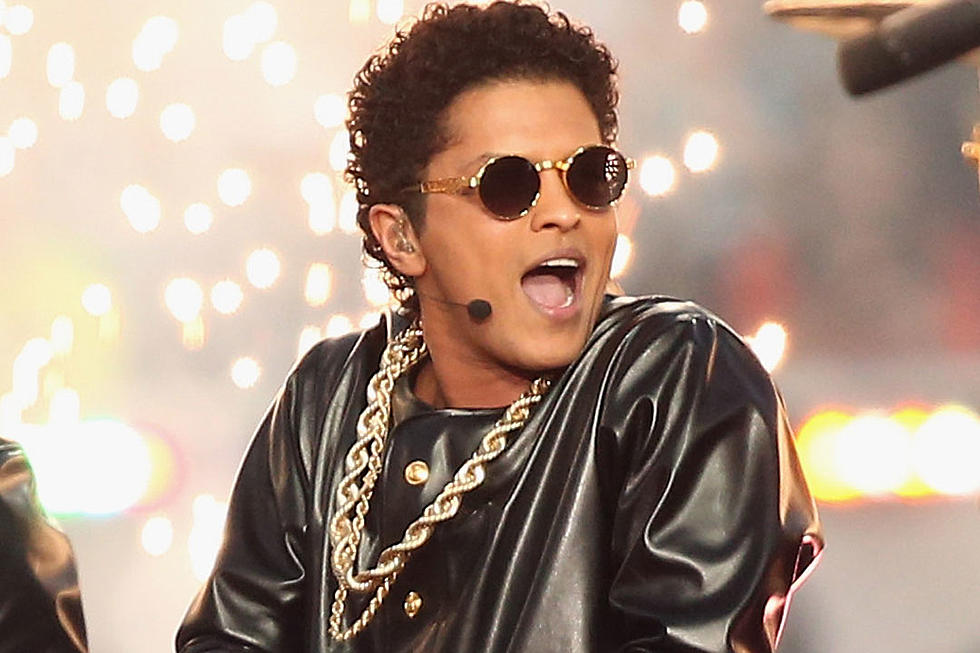 New Bruno Mars Song 'Versace on the Floor' Is A Sensual Slow Jam
Christopher Polk, Getty Images
Bruno Mars is gearing up to save pop music from 2016's lackluster clutches with the release of his forthcoming third studio album. Lead single and title track "24K Magic" offers fans the same kind of retro lean that made "Uptown Funk" a mammoth hit, and judging by his latest release, Mars' new album will be full of decades-spanning throwbacks.
"Versace on the Floor" -- which surfaced online earlier today (November 3) and will hit the U.S. iTunes store later tonight, according to Hip Hop N More -- is an '80s-inspired slow-jam, peppered with synth flourishes reminiscent of Michael Jackson's Off The Wall era. But it didn't always sound that way.
The "Treasure" singer gave Rolling Stone a thorough walkthrough of his recording process in a new profile, detailing the transformative nature of his songwriting.
"Versace on the Floor," he says, went through several iterations before morphing into the explosive ballad that wound up on the album.
The Unorthodox Jukebox singer refers to the track's first incarnation as the "poolside version," and claims it had an entirely different set of lyrics: "fly through a storm on a unicorn…make love on a mountain, bathe in a fountain."
"So I'm smiling at these lines," Mars told Rolling Stone. "I play it for people and they're smiling; it's awesome. But what's the beat doing? We're lounging. I don't want to make poolside music. Let's make it feel like these unicorns we're talking about."
They rearranged the track while keeping the lyrics, but it didn't sound album-ready just yet.
"So we get there with it and it's good, it's about to be on the album. And then it's like ... are you sure?" he continued. "We're painting this picture – both in silk, I'm promising the world. But I'm not singing. This is supposed to be a big ballad on the album, but I'm not giving it to 'em! If we're gonna really, dramatically slow things down, I've got to be singing some sh---t."
After yet another re-working of the melody and a total overhaul of the lyrics, Mars landed on "Versace on the Floor" in its current state -- though he's bummed he had to sacrifice those unicorn lyrics.
"Some of the slickest sh---t we ever wrote," he said. "But I will use that line one day. You're gonna hear that on the fourth album."
Head over to Hip Hop n More to hear Bruno Mars' "Versace on the Floor."
Check Out A Collection of Bruno Mars' Best Live Vocals