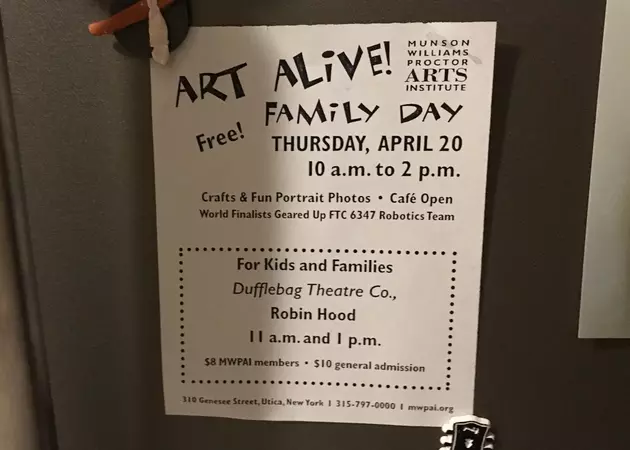 For the Kids: Art Alive at Munson
CJ/TSM Utica
Did you get this flyer sent home with your kids last week? Well, it's almost here. Dufflebag Theatre's performance of Robin Hood at MWPAI in Utica. And the kids are really going to love it.
Munson-Williams really knows how to take advantage of Spring Break to come up with great activities for the kids. The main gallery will be full of activities for Art Alive - lots of stuff to see and do. There's even Robotics demonstrations. But the DuffleBag Theatre Company always brings something extra special to the Sinnott Family-Bank of Utica Auditorium.
We've taken our kids to many DuffleBag performances over the years. It's really just that - 4 actors and a giant dufflebag full of costumes, props and set pieces. They always grab several kids out of the audience to fill in some of the key roles in whatever show they're doing. This time around, it's Robin Hood. So that means your little one's will be probably be waving around a sword or a bow and arrow. All in really hilarious costumes.
The "Nearly World Famous" DuffleBag Theatre Company has been touring since 1992, bringing education and fun to kids around the world. Their take on classic fairy tales still entertains and engages kids, even in a world of Tablets and Smartphones. Their performances at MWPAI are usually geared for younger elementary school aged children, but it's not beyond the attention span of pre-schoolers. They're offering 2 performances this Thursday (April 20, 2017) at 11am and 1pm.
---
BONUS VIDEO