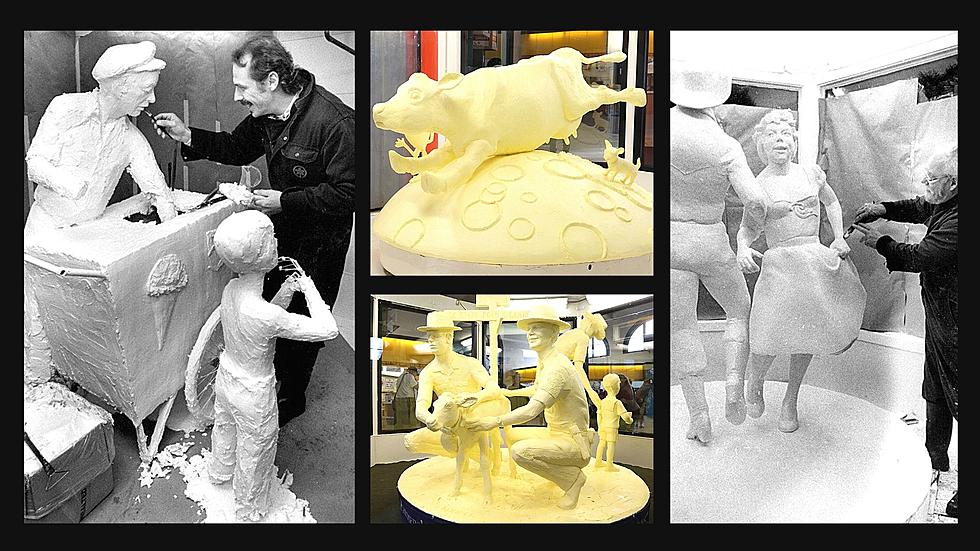 GALLERY: Butter Sculptures Over the Years at New York State Fair
Credit - New York State Fair
Take a walk down memory lane, and look back at the butter sculptures over the years at the New York State Fair.
The annual tradition began in 1969 when William Clements transformed a pile of butter into a cow jumping over the moon. The creators may have changed over the years but the butter sculpture remains.
Jim Victor and Marie Pelton have been carving the butter sculpture every year since 2003. And the 800 pounds of butter have already arrived at the fairgrounds in Syracuse for 2021. It'll take 10 days to create and make its 2021 debut on Thursday, Aug. 19,
The 2020 butter sculpture "Nourishing Our Future" was a virtual event due to the coronavirus pandemic. It honored those who ensure our children are nourished and learning - whether in school or at home - including dairy farmers, school nutrition staff, teachers and parents.
The butter used each year is scrap and unsuitable to sell or eat and underneath are steel rods and mesh welded and bent into the sculpture shape. When the fair is over, the butter is melted and used as compost.
New York State Fair Butter Sculptures Through the Years
Take a look at the Butter Sculptures over the years at the New York State Fair.
Butter Sculptures at NYS Fair
1969: Cow Jumping Over the Moon (William Clements)
1970: Dairy Princess and Butter Churn (William Clements)
1971: Commissioner of Agriculture and Cow (William Clements)
1972: Lifeguard and Girl (William Clements)
1973: Dairy Princess Coronation (William Clements)
1974: Carousel (William Clements)
1975: Juggler (William Clements)
1976: Little Miss Muffet (William Clements)
1977: The Magic Cow (William Clements)
1978: Kids on Skateboards (William Clements)
1979: Disco Dancers (William Clements)
1980: Milk Run Marathoners (William Clements)
1981: The "Real" Seal (William Clements)
1982: Dairy Do-Si-Do (William Clements)
1983: The Fitness Cycle (William Clements)
1984: Milk Bottle Centennial (William Clements)
1985: Soccer Player (William Clements)
1986: Darryl Strawberry (William Clements)
1987: Tom Sawyer (Raymond Mackintosh)
1988: Cow Jumping Over the Moon (Raymond Mackintosh)
1989: Wizard of Oz (Raymond Mackintosh)
1990: Original Fair Arch (Raymond Mackintosh)
1991: Boy with Double Dip Cone (Raymond Mackintosh)
1992: The Olympic Dream (Raymond Mackintosh)
1993: Kids from Camp Good Days & Special Times (Raymond Mackintosh)
1994: Pizza Tosser (Raymond Mackintosh)
1995: Everybody Loves Milk & Cookies (Duke Epolito)
1996: Everything's Better With Butter (Sharon BuMann)
1997: The Ultimate "got milk" Moment (Sharon BuMann)
1998: Milk Memories (Sharon BuMann)
1999: Midnight Snacking (Sharon BuMann)
2000: Little Rascals (Sharon BuMann)
2001: Milk Maid: Queen for a Day (Sharon BuMann)
2002: The Pride of New York (Sharon BuMann)
2003: Mixin' It With Milk (Jim Victor and Marie Pelton)
2004: Love for the Land (Jim Victor and Marie Pelton)
2005: Milk, Moms and Morning (Jim Victor and Marie Pelton)
2006: Healthy Goals (Jim Victor and Marie Pelton)
2007: Dairy Farming Today (Jim Victor and Marie Pelton)
2008: Cow Jumping Over the Moon (Jim Victor and Marie Pelton)
2009: Cow Power (Jim Victor and Marie Pelton)
2010: Dairyville 2020 (Jim Victor and Marie Pelton)
2011: Feeding Our Future (Jim Victor and Marie Pelton)
2012: New York Goes for the Gold with Greek Yogurt (Jim Victor and Marie Pelton)
2013: Getting Fresh with Local Dairy (Jim Victor and Marie Pelton)
2014: The Great American Milk Drive (Jim Victor and Marie Pelton)
2015: Thanks for the Milk, Moo York! (Jim Victor and Marie Pelton)
2016: Milk Life Celebrates The Success of Team USA and the Athletes of New York State (Jim Victor and Marie Pelton)
2017: Dairy Farmers' Tribute to New York State Troopers (Jim Victor and Marie Pelton)
2018: Your Milk Comes From A Good Place (Jim Victor and Marie Pelton)
2019: Milk. Love What's Real. (Jim Victor and Marie Pelton)
2020: Nourishing Our Future (Jim Victor and Marie Pelton)
New Highway Workers Memorial Under Construction at NY State Fairgrounds
memorial to New York highway workers killed in the line of duty
21 Adventures You Need to Add to Your Summer Bucket List