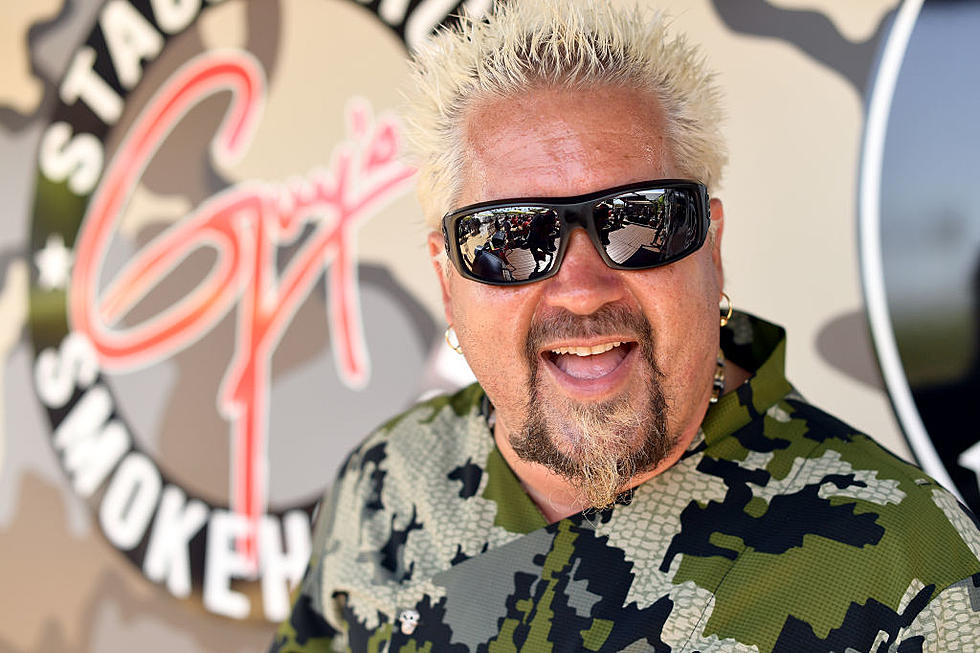 Guy Fieri Cooked Up Delicious Drama With This Upstate New York Dish
Getty Images for Stagecoach
Food Network star Guy Fieri is known for being the mayor of Flavortown. However, some Upstate New York sticklers want him to know he's been wrong for years on a classic dish.
Back in 2010, Guy decided to make a Central New York dish for Upstate New York Food Network star Anne Burrell. Guy called his dish "Turning Greens" to honor Utica Greens. Throughout the clip, which is still posted online here, Guy makes references to our region, Utica, and the Turning Stone Resort Casino by calling his dish Turning Greens. He mentions how he ate a very similar dish while at Turning Stone, and put his Guy twist on it. Here's the ingredients he used:
Ingredients

1/2 cup julienne country ham

1/2 cup julienne spicy capicola

1/2 cup julienne salami

1 tablespoon olive oil

1 cup julienne yellow onion

1 cup julienne green bell pepper

1/4 cup julienne fennel

3 tablespoons minced garlic

3 pounds escarole, cleaned, dried and julienned across the leaf, using only leafy greens

1/2 cup chicken stock

4 tablespoons red wine vinegar

1 tablespoon lemon juice

2 tablespoons butter

1 teaspoon freshly cracked black pepper

1/2 teaspoon granulated garlic

1/2 teaspoon red chili flakes

1/2 teaspoon sugar

1 teaspoon salt

1/2 cup good quality finely grated Parmesan

 
You can watch how to make this recipe online here.
How Did Guy Cause Drama?
By no means did Guy look like he had the intentions of causing drama. But, our region likes to poke the bear. In the comments section of the recipe/video, "Karen's" started calling out Guy for all sorts of things about the recipe. Even though this was from 2010, complaints range up right until 2020:
"These are most definitely not East Utica Greens"

"The recipe is called "Turning Greens" because its where he first ate them, at the Pino Bianco at Turning Stone, where I work, and where I make these greens everyday. He spruced this recipe up quite a bit, as it's not how we make them at the casino."

"This recipe was continually regarded as "Utica Greens" throughout the show. Although this recipe may be good ( I have not tried it yet), it is the farthest from Utica Greens I have ever seen. The Turning Stone is 20 Minutes from Utica. If you want authentic "Utica Greens" please come to the city that created them not a casino that monsterized an amazing dish."
However, not every comment was a complaint:
"This dish is known as "East Utica Greens" in the Utica NY area. I've been looking for the recipe for some time. So I was very excited when I saw the Guy Fieri was featuring it on an episode. I recorded the show and immediately tried the recipe. He nailed it! Its exactly as East Utica Greens should taste."
What Do You Think?
What do you think of his recipe and twist on it? Do you think it was cool? Let us know on our station app.
13 New York Restaurants Make List Of Food Networks Best Pasta In The Country
Food Network recently published a list of the "
98 Best Pastas In The United States
" and honored New York State with 13 shout outs. Even within that shoutouts, Syracuse and Upstate New York had 2 slots.
They broke the list down to specific dishes you can enjoy at these restaurants. Here's those restaurants on the list:
8 New York Restaurants Make List Of Food Networks Best Burgers In The Country
In a recent list of the "
100 Best Burgers In America
" from Food Network, New York made the list 8 times. The list from Food Network highlights over 105 restaurants from across America where you can find the best burgers. To have 8 slots is pretty cool.
Here's a look at those 8:
NY Artist Shows Off Amazing Talent on Food Network's Gingerbread Showdown
A New York artist will show off his amazing talent in a gingerbread showdown on national television.