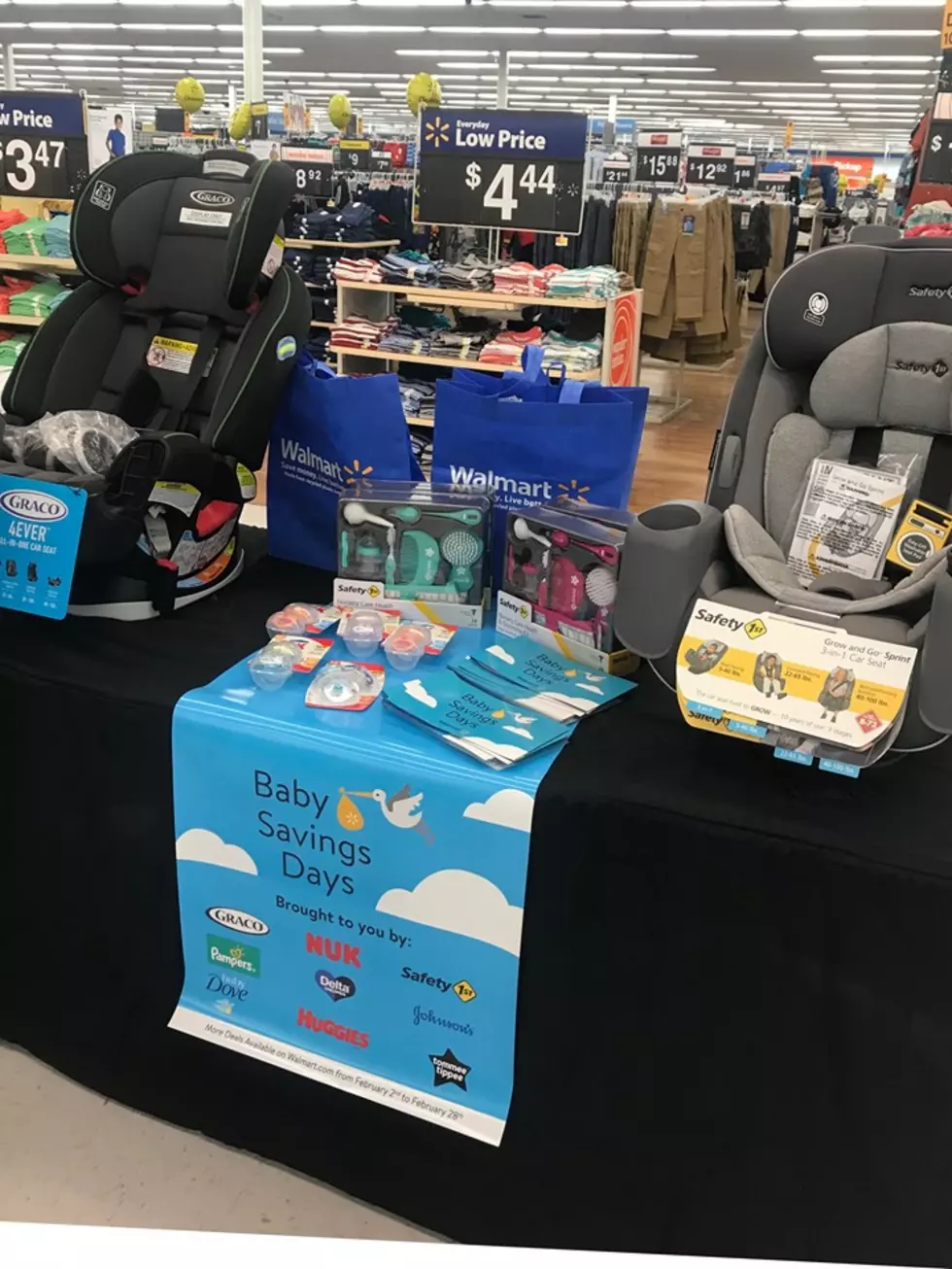 Is Walmart's 'Best of Baby' Savings Event Really What It Seems?
Credit: Kaylin/TSM
Earlier this year, there was a lot of controversy around the 'Baby Savings Day' that happened at Walmart stores across the country. National and local media outlets were reporting that the store was hosting a single day event for new parents to get recommendations, demonstrations, and savings during a 'Baby Savings Sale.'
It turned out to be nothing like customers were expecting. No big rollbacks, not that many samples. It was made to sound like a very large event for parents to save money and take part in.
It was announced by Walmart that it is 'Best of Baby' month, and that stores not only will be having rollback savings, but there's numerous opportunities for parents to take advantage of. Not only another 'Baby Savings Day' esque event (which would be taking place Sept. 19th for all the stores in Central New York,) but also a car seat trade in from Sept. 16th through the 30th.
With rollback deals, demonstrations, coupons, a 'diaper challenge,' the car seat trade in, and more - is this ACTUALLY what it seems like?
If you look at the list of participating stores, many of the ones here in Central New York are on the list. However, this was what we saw in February as well. So, we called the stores locally to check for ourselves, spending over an hour on hold combined between all of the stores trying to confirm the information.
According to management at the Walmart location in New Hartford, they are not participating in any of it. Yet, they are on the list of participating locations.
Management at the Walmart on Horatio Street in Utica said that they are unsure about any of the information on the page above, minus the car seat trade in. They said they will only be giving away giftcards on Sept. 16th only, not for the whole time advertised.
All the stores have different days, at least that's what I see. We haven't even gotten any of the signage yet that we need for any of our rollbacks or anything.
One of the managers of customer service at the Walmart in Herkimer said they haven't heard anything in regards to the specific event, but they are participating in the car seat trade in. I asked if they'd be giving away gift cards for the whole period of time (the 16th through the 30th, since one of the managers in Utica said they are only giving away gift cards for one day.) That information couldn't be confirmed.
A manager at the Rome store said she hadn't heard anything about any of it but gave our contact information to a district manager, who hadn't called to provide information prior to time of publication.
We also reached out to the Media Relations department for Walmart Corporate about all aspects of the savings event- not only the car seat recycling, but the in-store day and rollback savings. They responded with the following:
Thank you for bringing it to our attention that you spoke with some associates who were unfamiliar with the Walmart Car Seat Recycling Event. Would you mind sending us the complete store list you called? We can double-down on communications in that market.
Based on what we've collected, it's safe to say that there is a car seat trade in, but we're weary on what the actual dates are. There are rollback savings, but if this is anything like the 'sale' in February, it's nothing worth getting excited about. And chances are if the special days taking place on September 19th are anything like in February, it's just a third party company coming to hand out a limited number of small, samples of products.
Use this information how you want, but don't be upset if this event isn't what it seems like. If you want more information, we suggest calling your local store. And I suggest you parents, don't get your hopes up too much.