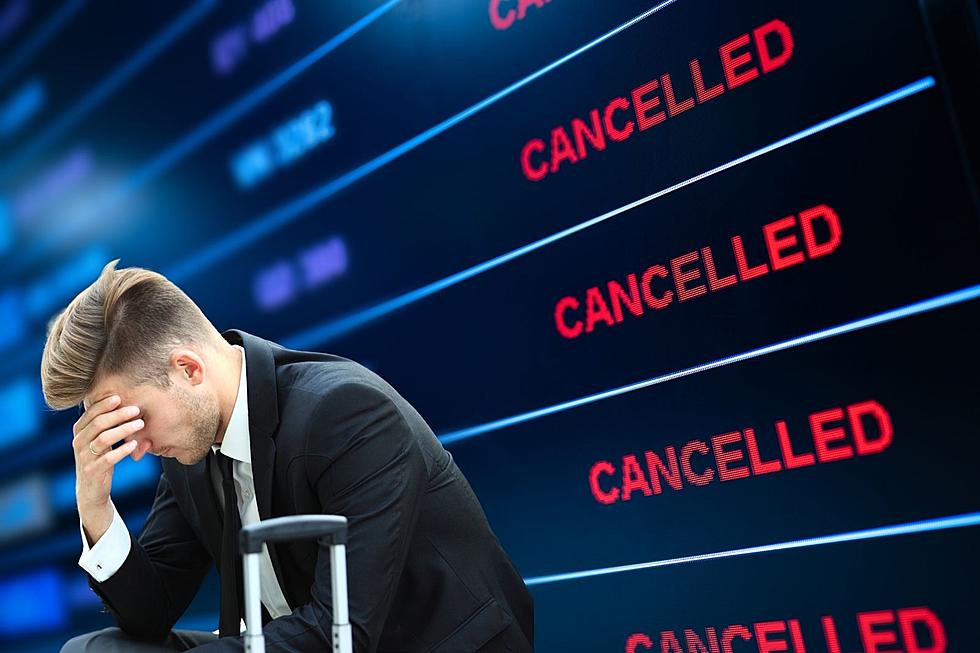 This New York Airport Has The Highest Percentage of Cancellations
(Canva)
Flying is stressful.  Even if you're ok with the flight itself, there's a ton of other stuff to be concerned with.  Having a cancelation is the last thing you want to worry about.
Flying Is Stressful Enough
Whether you're flying for business or pleasure, it's never a good thing when a flight gets canceled.  That normally sends an entire plane full of people into a frenzy of planning nightmares.  Suddenly you have to re-book your flight, rearrange any hotel accommodations you may have had set up, car reservations, pickups from family members, and hopefully not lose any vacation time that you were supposed to be spending on a beach.  You just want to hop on a plane and arrive at your destination safely.
But if you're flying into or out of Buffalo, NY, those plans could be derailed.
Which Airport Has The Highest Cancelation Rate?
The Department of Transportation released the flight cancelation rate for airports all across the United States.  That data was analyzed by InsureMyTrip.com and found which airports had the highest rate.
They looked at the busiest U.S. airports with the most and least percentage of flights canceled. Obviously bigger airports that saw more flights coming in and leaving would see more cancelations.  This is a number that shows the percentage of canceled flights.
These are the top 10 airports with the highest rate of cancelation from January 2022 - December 2022:
Buffalo, NY: Buffalo Niagara International (highest cancellation rate)
Fort Myers, FL: Southwest Florida International
New York, NY: LaGuardia
Newark, NJ: Newark Liberty International
Washington, DC: Ronald Reagan Washington National
Dallas, TX: Dallas Love Field
West Palm, FL: Palm Beach International
Baltimore, MD: Baltimore/Washington International Thurgood Marshall
Chicago, IL: Chicago Midway International
Orlando, FL: Orlando International
How Much Worse Was 2022 From 2021?
In 2021, the Buffalo Niagara International Airport saw a cancelation rate of 1.43%.  In 2022, it was up to 5.55%. That's an increase of 286.77%.
Why Were There So Many Cancelations?
Many of the causes for cancelation are often unavoidable.  In 2022, Buffalo saw some of the worst weather they've seen in decades. Not only was there a storm of a generation that caused a bunch of cancelations, but a deadly blizzard that took the lives of almost 50 people.
Most people agree however that even as inconvenient as it can be to have a flight canceled, it's always better than a flight taking off that isn't safe.  We all just want to arrive at our destination safely.
Why You Need a WNY Travel Agent to Book Your Next Trip
9 Days You Do (And Don't) Want To Travel For The Holidays
There are certain days that are best when you are looking for a round-trip flight from Buffalo Niagara airport, and if you are traveling this holiday season, here are the 9 days you do (and don't) want to travel.
Western New Yorkers Need These Things For Their Winter Vacation