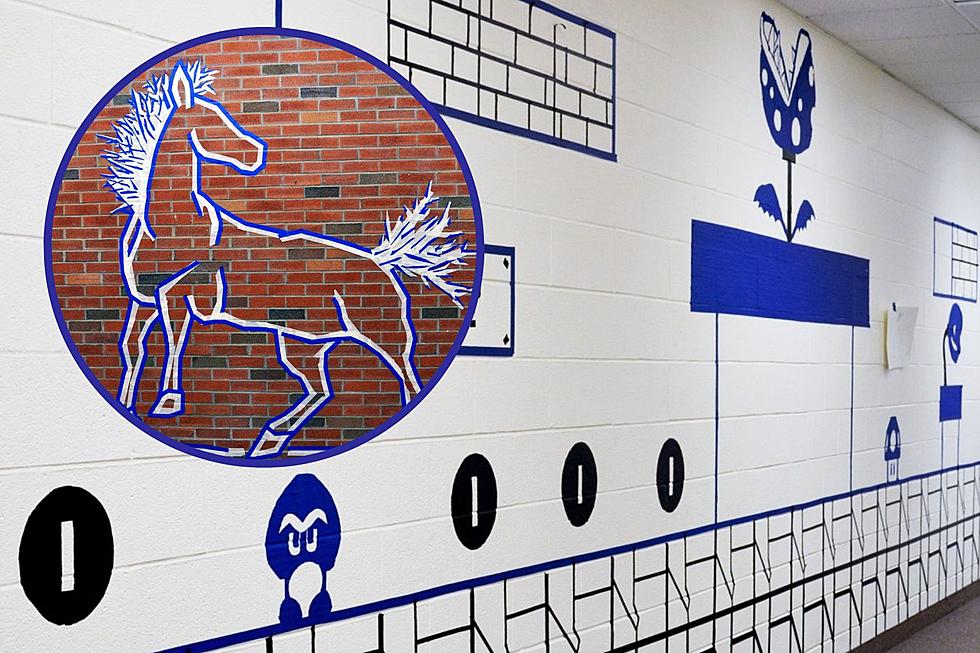 CNY Students Use Tape to Create Unique Artwork on School Walls
Credit - Mount Markham Central School via Facebook
No way these were all done with just tape. Spoiler alert... they were!
It seems in any school you go into, they are trying to find new ways to spruce up their hallways and create a lively atmosphere. If you've visited Mt. Markham's High School in West Winfield, you'd also know how hard that is with how many white walls there are.
But what some would see as just a blank wall, these students see an open canvas.
Terrific Tape Art
Mt. Markham's art department has been hard at work, creating amazing designs all along the hallway. What's even crazier, it's all with tape!
It's a recurring project at the high school, but it seems this year the students have really honed in their talents. The tape designs are extraordinary, ranging from an incredibly accurate school emblem, to an entire brick wall of Super Mario Bros.
What's even more unique about the project is that it's practically mess free.
Like any art supply, there's a cost with all of the tape being used. But the fact these students can decorate the walls surrounding the art classroom without getting paint everywhere is pretty remarkable.
My favorite thing about the tape art is that no design is the same. Every student used their own style, making each outcome just as special as the next.
Inside Abandoned Herkimer Elementary School
Take a step back in time inside an abandoned school in Herkimer, New York where desks and memories are littered with decay.
23 CNY School Mascots That Will Have to Change Name
There are several schools in Central New York that will be required to change their team logos and mascots after the state school board voted to eliminate Native American names.
3 Central New York Schools Among the Worst in the State, 4 at the Top
Here are the best and worst schools in Central New York according to
Niche.com
.
NY Farming Community Rallies Together to Hold Tractor Protest
A line of tractors and lawnmowers rolled through Norwich, New York. The farming community came together to protest the violation of a student's rights after his tractor was impounded.