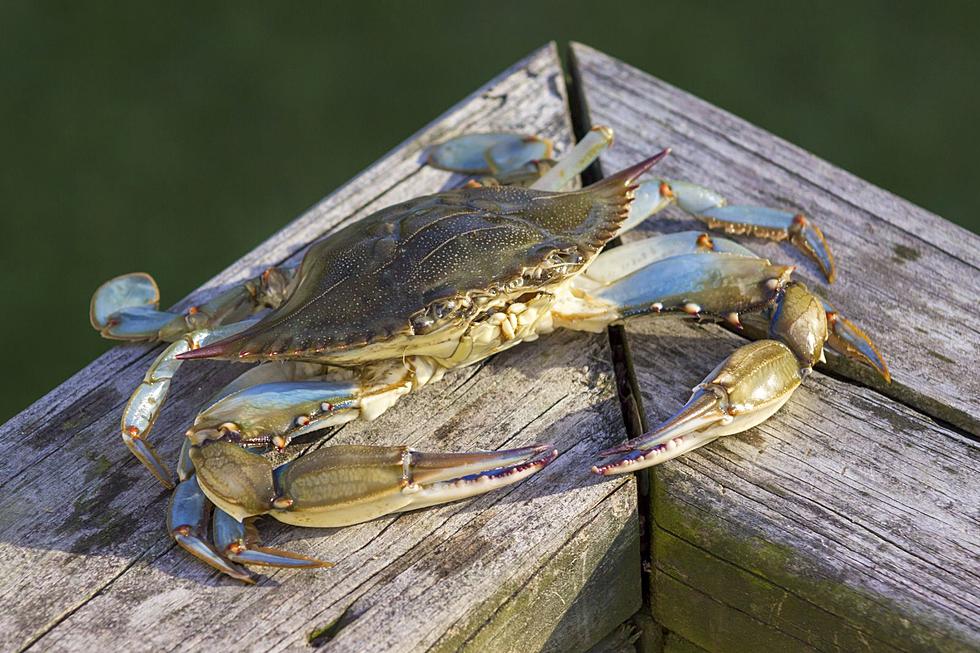 Holy Crab! Huge Record Breaking Crustacean Caught in New York
abriggs21 from Getty Images
Can you believe how big this crab is? What a catch!
It's always surprising to see watch fisherman will find "under the sea". Sometimes it's nothing but a rock or a dinglehopper... But not this time!
One crabber in New York just pulled up a catch of a lifetime, and it looks like Sebastian gained some weight.
Holy Crab... It's a Big One!
The NYS Department of Environmental Conservation is proud to announce there's a new record holder in New York. Hunter Tracy is credited for netting a monster blue crab, measuring 7-3/16" in carapace length.
Take it from us, that's nothing to be crabby about.
Hunter caught the crab in Moriches Bay, on the southern shore of Long Island.
This is a huge feat, considering hard shell blue crabs have to be at least 4.5 inches to take in New York. Soft shell only have to be 3.5 inches. So a crustacean over 7 inches is a great catch for any crabber in New York.
No person shall possess or land any blue crab (Callinectes sapidus) with a carapace width less than four and one half inches in length for hard shell blue crabs, three and one half inches in length for soft shall blue crabs, and three inches in length for peeler or shedder blue crabs.
The NYS DEC wants to congratulate Hunter on his accomplishment and welcome him (and the blue crab) to the history books.
Where there was one, there's sure to be many more like this king crab. You can always get more information about crabbing and other types of fishing in New York on the DEC's website.
If you're interested on other types of fishing and where the best places are to reel in a big one in New York State, we have that answer for you as well.
10 Best Lakes in New York To Reel in the Big One
Tornado Rips Through Upstate New York Ski Resort
See the damage Mother Nature left behind at Snow Ridge Ski Resort in Turin, New York.
Scuba Divers Amazing Finds Under the Sea in Lake George
You won't believe what a pair of scuba divers found at the bottom of Lake George.
Inside Old Water Slide World About to Be Torn Down in Lake George
Go inside the old Water Slide World in Lake George which is about to be transformed from a water park into a housing community.
See Why This Plain House On Lake Delta Is Worth $1.5 Million
This $1.5 million home is definitely something to break the bank for. Two homes on the property AND an incredible view? There isn't much more you could ask for. Well, we will leave whether or not the home is worth its asking price up to you.