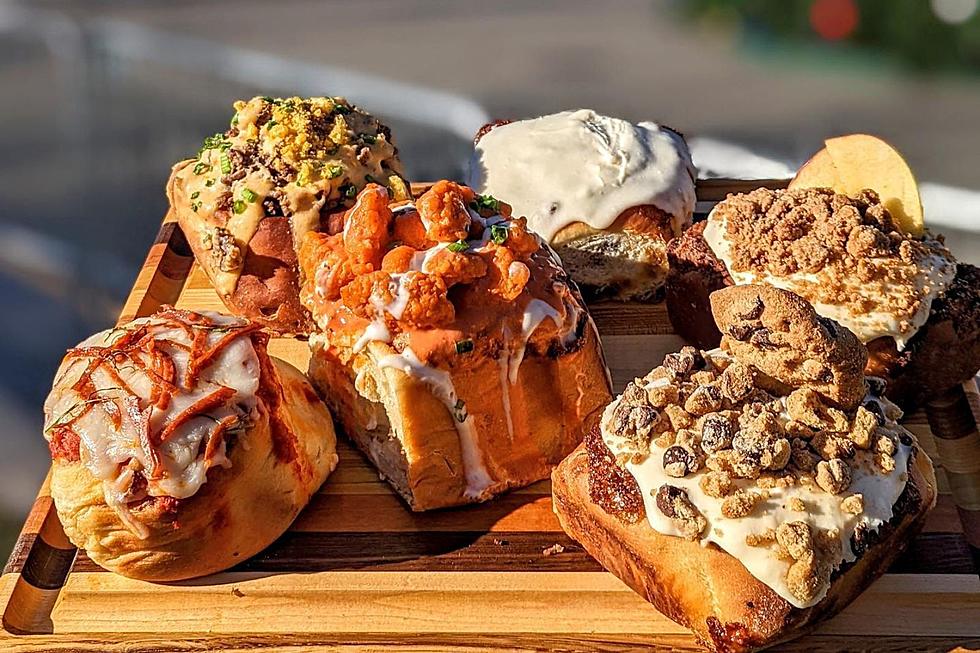 Popular SINBUN Bakery Opening Permanent Location in Central New York
Credit - SINBUN via Facebook
If you thought you missed out on their DELICIOUS creations, we have good news for you.
The owners of SINBUN are proud to announce the opening of their permanent location downtown Syracuse. They've secured a forever home at The Mercantile for both their kitchen and bakery.
Trust us, this place is worth getting excited for.
Get Ready to Sindulge!
Originally founded by Jake and Bri Lastrina in 2022, their goal was to bring their nostalgic cinnamon bun memories back to life... but with a special twist. Their "sinbuns" aren't only sweet, but savory too.
Choose from their wide selection of tasty treats, like "The BLT Bun", "Steak & Cheese Bun", or the fan favorite "Chicken Bacon Ranch Bun". If you have a sweet tooth, grab one of those too! There's everything from churros to cookies & cream to satisfy all your cravings.
At SINBUN there are no cheat days, only treat days. You work hard, and life is too sweet not to savor!
After a strong year in business, they're now ready open their permanent bakery in Downtown Syracuse.
Opening Date
The only thing that's uncertain is their exact opening date.
Their most recent posts on Facebook indicate the bakery will be open sometime during the Fall of 2023. Unfortunately, that is the most information given so far. SINBUN will post on their website and social media the exact date when they have one.
From A to Z: Delicious Food Trucks Worth The Visit in Central New York
Pizza, ice cream, barbeque, hot dogs, sandwiches and more, there's something for everyone. That's what is so great about the food truck rallies we get to enjoy regularly. The best part? They are all locally owned and operated.
From A to Z: here's just a few that were suggested.
Who Got The Title Of Best Pizza For New York?
According to a recent
Lovefood article
, they went on the hunt for the best pizza places in America.
According to this
article
, the experts decided that the best pizza in all of New York State was Rubirosa, located in New York City:
This New York institution was opened by Aj Pappalardo, the son of the founder of iconic Joe & Pat's in Staten Island. It's home to the trademarked Tie Dye pizza, with pesto swirled on top of the tomato, mozzarella and vodka base. There are nine pizzas on the main menu, or you can build your own. Customers love the traditional vintage interior of the small restaurant, plus there is seating available outside on the patio."
Here's some photos from the restaurant:
14 Top Diners in the Adirondack Mountain Region!
The Adirondack Mountains of Upstate New York are the perfect landscape for great, small town diners. Here are 14 from the Adirondacks, North Country, and St. Lawrence Region that are delicious. Notice that ALL of the restaurants on this list actually have the word "DINER" in their name (the only criteria to make this list!).
32 Unique Pumpkin Patches To Check Out This Fall Across New York State
Across New York State, there are plenty of amazing pumpkin patches and farms to check out. Here's a look at 32 unique ones to schedule a fall visit too in alphabetical order:
Why New York State Thruway Was Closed For Nearly 24 Hours In The Hudson Valley