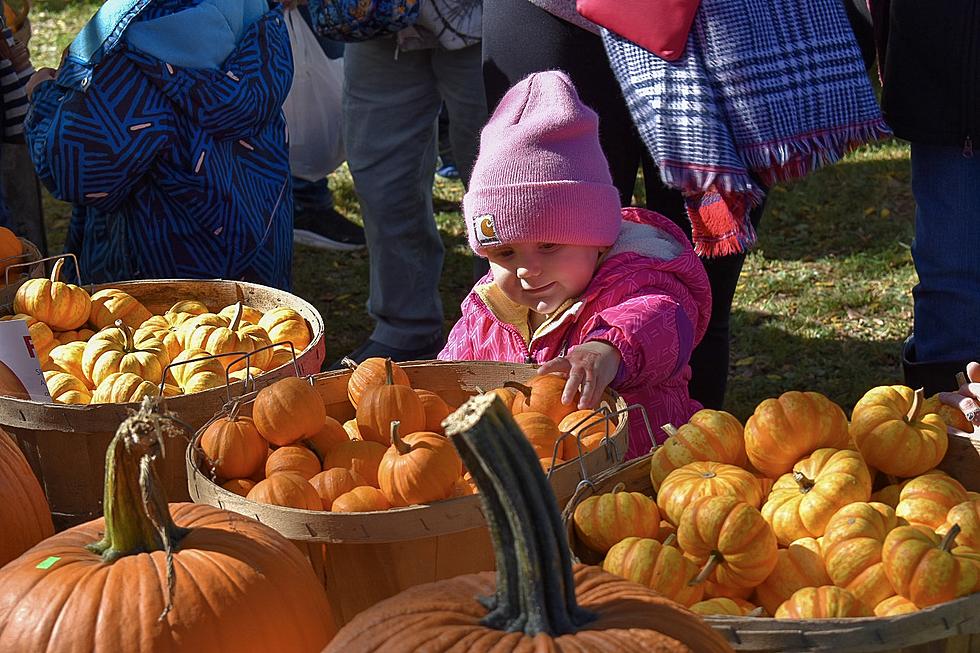 One Upstate New York Fall Festival Ranks Top 10 in the Country
The Great Cortland Pumpkinfest via Facebook
If you're looking for a great fall festival to visit this year, you don't have to travel far to find it.
USA Today is back again with another 10 Best list, ranking the Top 10 "Best Fall Festivals" in the United States. Their team has compiled lists for a number of different themes, including best railways and apple orchards.
This time they're getting in the spirit of the season, highlighting the best fall festivals all around the country.
Fall festivals are a great way to mark the changing of the seasons, celebrate the harvest, enjoy the outdoors, and have some fun with friends and family.
It's impressive that not only did a festival in New York State get nominated for the list, but they actually made it into the Top 10.
#9. The Great Cortland Pumpkinfest - Cortland, NY
A seasonal event like no other is back for it's 26th year. The Great Cortland Pumpkinfest welcomes in craft vendors, artisans and musicians from all over the region to celebrate the fall season. It's fun for the whole family.
This two-day event in early October has been going strong for more than 25 years. Festivalgoers enjoy live performances, festival food, hayrides, a craft market, and a pumpkin patch where they can pick out the first pumpkins of the season.
The Pumpkin Pub is a festival favorite, hosting a wide selection of deliciously local beers to taste. The Kids' Zone also offers games and activities for children of all ages.
Though it is exciting for The Great Cortland Pumpkinfest to even get mentioned in the Top 10, it does make you wonder what events ranked above it.
Here's the full list of USA Today's 10Best Fall Festivals for 2023...
Top 10 Best Fall Festivals in the Country
USA Today has come out with their Top 10 "Best Fall Festivals" for 2023. From massive block parties to floating pumpkin boats, these are by far the coolest festivals you will find this fall in the country.
Gallery Credit: Carl
32 Unique Pumpkin Patches To Check Out This Fall Across New York State
Across New York State, there are plenty of amazing pumpkin patches and farms to check out. Here's a look at 32 unique ones to schedule a fall visit too in alphabetical order:
Gallery Credit: Dave Wheeler
10 Best Towns in in New York State for Fall 2023
We're just about at the fall season, which means festivals, pumpkins, fall foliage and more. Here are the 10 best towns for autumn in New York state.
Don't Overlook These Magnificent Upstate New York Waterfalls!
There are too-many-to-count waterfalls scattered over the vast Upstate New York region. Most of them are hidden in woods and forests which are only infrequently stumbled upon by hikers and explorers. But there are some that need to be noted. Niagara Falls, of course, is the most famous waterfall in the world, so no need to highlight them here. But here is a starter list of a bunch of waterfalls, big and small, that you might want to put on your summer bucket list. They are all fun!
Gallery Credit: Chuck D'Imperio
A 12-Pack of Top Finger Lakes Region Craft Breweries!
While the Finger Lakes Region of Upstate New York is now known nationally for its many fine wineries and vineyards, they also have an impressive line up of craft breweries to enjoy also. Here are a dozen of the best.
Gallery Credit: Chuck D'Imperio
12 Beloved Toys Named Finalists for Upstate NY Toy Hall's Class of '23
Twelve beloved toys were recently named finalists for the Upstate New York-based Toy Hall of Fame's Class of 2023. Which toys do you believe should be inducted?
Gallery Credit: Dan Bahl