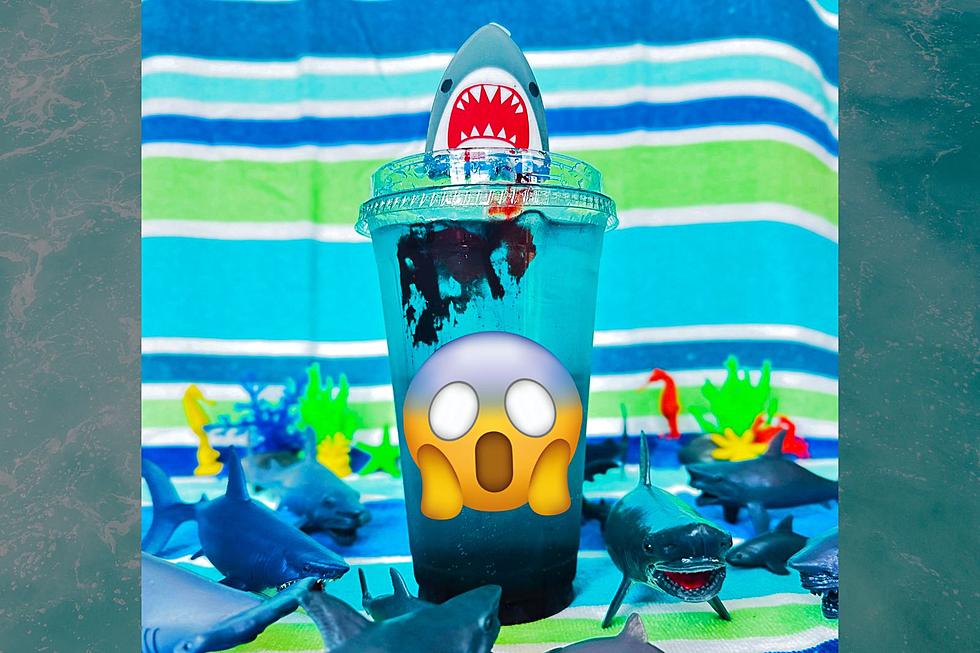 Celebrate Shark Week in New York with a Terrifyingly Tasty Refresher
Credit - Utica Coffee, Canva
Don't be scared! You need to try this exclusive drink in Upstate New York to get excited for Shark Week.
Utica Coffee is known for coming up with a number of unique and fun drink ideas for their menu. Whether it's a seasonal brew, or a new colorful drink concoction, they have anything and everything you could possibly imagine.
But wait until you see their newest addition!
Shark Drink Lotus
Don't you wanna try it just from the picture alone? Us too!
The refreshing Shark Drink Lotus mixes the delicious flavorings of blue raspberry, green apple, and strawberry for one unforgettable experience. You can see the drink get darker the farther you look down the cup... as if you're plunging deep into the depths of the ocean.
The splash of "blood" may be terrifying for the shark's victim, but not for you! That's just even more to look at while you sip away.
Grab one all week long in both café locations... this drink [is] pretty FIN-credible!
All of the shark toys are pretty cool too... but they are NOT included. Guess we will have to bring our own instead!
Grab a Shark Drink Lotus today for yourself and see what's really down deep in the water. Trust us, you won't be disappointed.
After 60 yrs Upstate NY Diner & Ice Cream Spot For Sale Including Home & Property
Cappie's Drive-In has been family owned and operated for 60 years. It is located on Route 67 in Amsterdam and consists of 6.4 acres. Not only is the diner for sale, but the home, a rental building, and the entire property are on the market. The home has three bedrooms and one and a half baths. Cappie's is a turnkey operation and the family would love for it to continue. It can be yours for $799,000.
Looking For A New Place For Coffee? Try Wonder Coffee
Top 7 Places To Get Gourmet Coffee Around Utica
National Gourmet Coffee day is January 18th. You can celebrate by getting your own cup of gourmet coffee from a local shop. Here's a list of the top rated coffee shops in Utica.
Which NY Lottery Scratch-Off Games Have the Most Top Prizes Left?
There are plenty of NY Lottery scratch-off games that have big jackpots left. If you are feeling lucky, try your luck at one of the New York Lottery scratch-off games. According to the
New York Lottery
, these are the scratch-off games that still have jackpots to be won to make you become an instant millionaire.
LOOK! $25 Million Silvernails Farm in Upstate New York For Sale
This property located in Columbia County is on the market for twenty-five million dollars. It's the priciest residential listing in the Hudson Valley. There are four old Dutch barns with one dating back to the mid-1700s. The other barns date back to the 1920s. The estate's main house is 7500 square feet with four bedrooms, five bathrooms, and floor-to-ceiling windows. The primary bedroom has a yoga deck that overlooks the property. The kitchen has three-inch limestone countertops and a commercial stove.
The outside is just as impressive featuring a 60-foot pool, an outdoor kitchen with radiant floor heating, and overhead heaters for cooler nights. There is also a full question operation. It isn't active but has been maintained. There is a caretaker's apartment above the barn.
According to the
Albany Business Review
, if this property sells for $25 million, it will be the most expensive home sale ever for Columbia County.