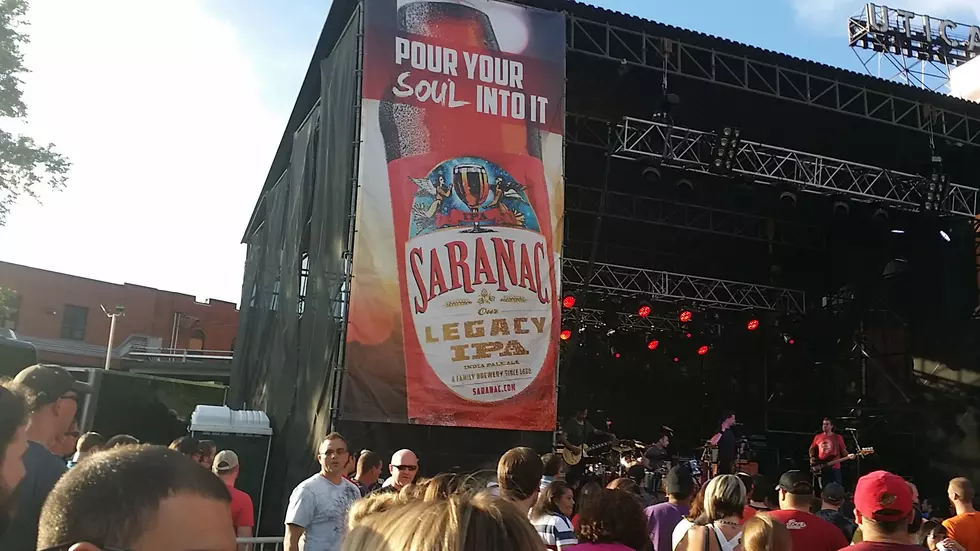 What Happened to Saranac Thursdays at FX Matt Brewery
Credit: Cindy McMullen/TSM
What happened to the annual Saranac Thursday summer concert series in Central New York?
For years, Central New Yorkers looked forward to Thursday night. That's the night everyone gathered at FX Matt Brewery for beer and live entertainment. But not this year. Saranac Thursdays have changed.
The Biergarten
The Biergarten is now open at the Brewery. You can enjoy a cold beverage, play games and even bring your dog.
Come relax with a cold beer in our family and dog-friendly atmosphere and enjoy the lawn games and weekly new pilot beers.
Saranac Concert Series
There will still be music at the Brewery. Moe has been announced as part of the Saranac Concert Series on June 9 and 10. Collective Soul will perform on August 18.
While you're there be sure to take a picture with the UC letters. They are the same ones that used to be on top of the brewery and light up at night.
Varick Street Thursdays
There will still be music every Thursday too, it's just moving down the Street. The Celtic Harp is keeping the tradition alive with "Varick Street Thursdays," a summer full of entertainment.
Varick Street Thursday Entertainment
May 25 - Last Left
June 1 - Handsome Bob
June 8 - Tom Nitti
June 15 - Masonville
June 22 - Soul Injection
June 29 - Last Left
July 6 - Nervous Rex
July 13 - Showtime
July 20 - Simple Props
July 27 - Beadle Brothers
August 3 - Gridley Paige
August 10 - Soul Injection
August 17 - Showtime
August 24 - Annie In The Water
August 31 - Last Left
September 7 - Handsome Bob
FrogFest 34
The longest-running outdoor concert series in Central New York continues. Russell Dickerson headlines FrogFest 34 at the Herkimer County Fairgrounds on June 17. Enjoy a day of live music from local bands, Nashville newcomers before Dickerson hits the stage.
Looking Back at More Than Three Decades of FrogFest Concerts
FrogFest started on a slab of concrete over three decades ago. It's grown into an all-day festival with top-notch Nashville talent. Take a look back at FrogFest concerts in Central New York.
21 Adventures You Need to Add to Your Summer Bucket List
18 Kid Friendly Day Trips to Fight Boredom This Summer in Central & Upstate New York
Now that school is out for the year it won't be long before the kids are bored. Here are 18 kid-friendly day trips to keep them entertained this summer.