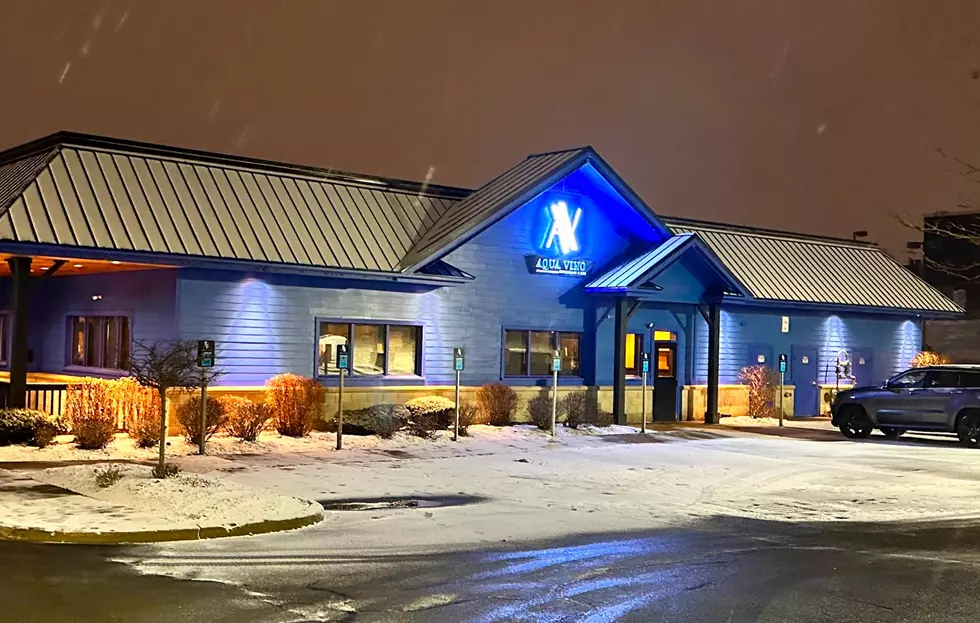 A+ Reviews as Aqua Vino Restaurant Opens in New Hartford
Aquavino Restaurant in New Hartford holds soft opening, Friday, January 20, 2023. Photo by Bill Keeler / TSM)
My wife and I had an awesome experience on Friday night at the soft opening of the new Aqua Vino Restaurant at the former Outback Steakhouse at The Orchard in New Hartford. I have to say, this is a great addition to the New Hartford lineup of restaurants.
There were four of us and we went in with a plan that no one would touch their dishes until I was able to take the "glamour shot" photo for this story (I'll explain how that plan worked out in just a moment). A little hint, it didn't work out.
This was not your typical soft opening for a restaurant. While it did feature a new menu and some new staff members, it also carried over many of the wait, bar, and kitchen staff from the North Genesee Street, Utica location, which closed at the end of 2022. As a result and despite being packed, the food was phenomenal, the wait time was minimal, the drinks came quickly, and Beverly Esche was able to focus on meeting and greeting familiar faces through the night.
The new restaurant was set up and decorated beautifully. The floor plan was similar to the Outback for the most part, with the bar in the center, and table seating on either side, but it was clean, modern, and comfortable. I love it when restaurant owners take the time to make sure everything is decorated properly, including comfortable seating, and a color scheme that works along with lighting that's dimmed just low enough to be inviting. The restaurant is also set up perfectly for workflow making it easier on the kitchen and wait staff to make sure your drinks and food get out on time.
We also loved the new menu which has more steak and meat options than the Utica menu, but holding on to the big staples that made the restaurant popular like their Filet, the Tomahawk, the Steakhouse Salad, Veal Saltimbocca, and awesome pasta dishes, many featuring Michael Geno's signature Marinara Sauce. New items include a Denver Steak, Kansas City Steak, Shrimp and Crab Bisque (which comes with a delicious crab cake), and a clever addition, the Cipolla Fritter. The Cipolla Fritter, paying homage to the Outback Steakhouse, is really just the amazing, calorie-filled Blooming Onion which was an Outback staple. It served as the perfect conversation starter at the opening.
The appetizers include their famous Fried Meatballs, the amazing Geno's Greens (Utica Greens Morelle), and some new items like the AHI Tuna Tartare', and a really spectacular Loaded Carpaccio with thinly sliced filet mignon served with fried capers, Kalamata olives, caramelized onions, basil pesto, and Romano Cheese. Utica's favorite Chickarina Soup is also a regular menu item, along with Soup Du Jour.
The dessert menu featured plenty of after-dinner drinks, Espresso, a spectacular chocolate tart, and Beverly's incredible homemade Carrot Cake, among other choices. None of it was on my diet.
The other really cool aspect of the new AquaVino in New Hartford is the fact that waiters are boasting the best wine list in the area. Rare and unique wines from around the world and some very special California reds make this a very special red and white lineup. The bar also has a machine that keeps open bottles of wine fresh for more than a month, allowing people to enjoy some real high-end wines by the glass.
Overall, if the soft opening at AquaVino is any indication of what's to come, there will be some very happy culinary arts fans spending time at The Orchard in New Hartford. The Chefs were top-notch, the staff was friendly and efficient, and most importantly, the food was excellent.
On a side note, was that Georgio I saw leaving the kitchen after dinner service?
The all-new Aqua Vino Restaurant and Bar is located at 8655 Clinton Street in New Hartford. The ribbon-cutting grand opening was Monday, kicking off their hours- open 7 days a week for lunch and dinner. Reservations can be made via RESY or by calling 315-732-0116.
Oh, and that plan to not eat until pictures are taken went out the window. Below is our plate of Geno's Greens. We couldn't wait. We should have ordered two.
AquaVino Restaurant and Bar Opens in New Hartford. Check Out These Amazing Dishes
One of Utica's most popular restaurants has just moved into the former Outback Steakhouse in New Hartford. The new restaurant has an awesome menu featuring great food and drink. Check out these dishes we enjoyed during the soft opening.
Utica's NEXUS Center Preparing for Grand Opening
With hockey tournaments on the schedule in just a matter of hours, workers scramble to prep Utica's new NEXUS Center for its opening on November 9th.
Check Out These 43 Amazing Classic Custom-Made Neon Signs
There are very few authentic neon sign companies left in America. One of the coolest is located in Upstate New York where neon artist and craftsman Howie Cohen repairs, restores and creates some of the most amazing neon signs and clocks in the country. Here are 43 beautiful neons from the Just Neon Sign Company in Utica, NY.