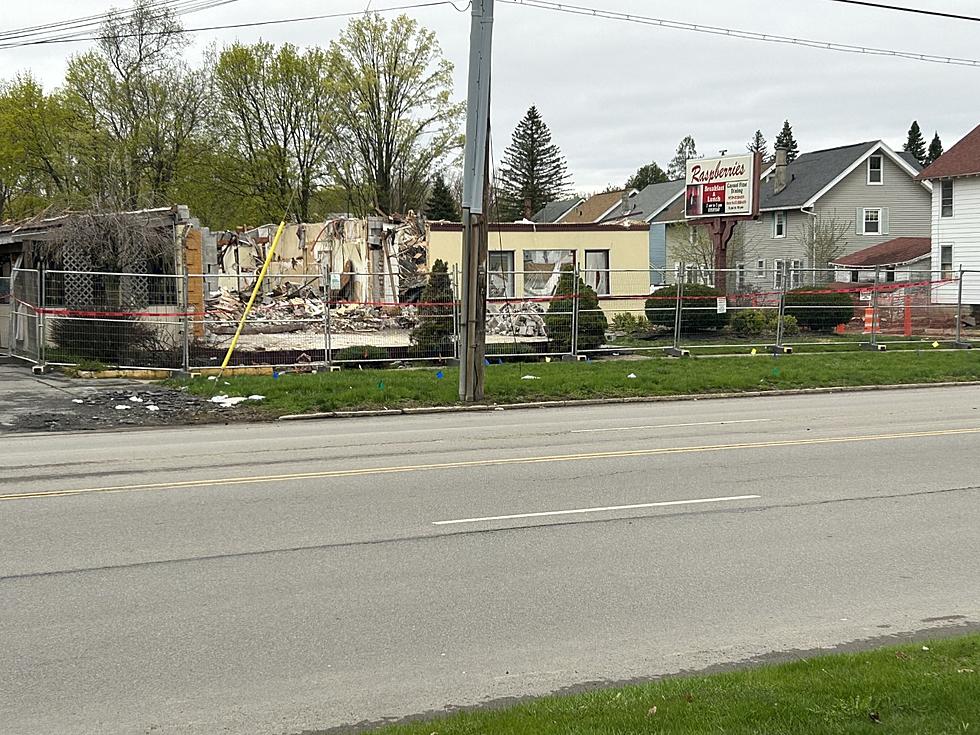 As One Utica Eatery Closes For Good, Another Prepares Grand Opening Next Week
Demolition underway at former Raspberries Cafe of Utica at 2634 Genesee St. Site will be home to a Stewart's Shops (April 19, 2023)
Downtown Utica's ongoing facelift is just days away from welcoming new food option to the city; while in South Utica, a longtime restaurant is being demolished to make way for its new tenant.
Brooklyn Pickle makes its Utica debut this coming Monday morning, opening at 10:00 a.m. to the public for the first time with an official grand opening and ribbon cutting ceremony set for 11:30a.m. It is located at 600 State Street in the former Utica Steam Cotton Building, in the shadow of the new Wynn hospital downtown (still being constructed).
The specialty sub shop's menu "will be very similar to our three Syracuse locations. In addition to giant sandwiches, subs, soups and desserts, customers will enjoy daily specials including Friday mac-and-cheese and, of course, Brooklyn Pickle's signature pickles," says owner and President Craig Kowadla.
One difference, however, is that Utica's Brooklyn Pickle location will be their first shop to also sell beer, Kowadla said.
In South Utica, demolition has begun at the former Raspberries Cafe of Utica, located at 2634 Genesee Street. In the included photos of the ongoing demo-work, you can see the building roof has been entirely ripped off and some of the walls torn down.
The property was purchased by Stewart's Shops and will soon be home to a new Stewart's Shops gas station and convenience store.
Those who loved to grab a meal at the once popular Utica Raspberries location can still enjoy their food as Raspberries Cafe of New Hartford, at 4784 Commercial Drive, remains open daily from 7:00 a.m. to 3:00 p.m.
10 Of The Best Calzones In The Utica Rome Area Of New York
Are you looking to order calzones in the Utica Rome area of Upstate New York? Here's some of the best places to check out.
A post on the
315 Menus Facebook Group
caught our attention. Here's the top 10 choices from that post to consider. If you have others you think we should add, consider texting us on our app.
New Photos of the new Downtown Utica Wynn Hospital (February 2023)
Just eight months before it's scheduled to open, MVHS officials took WIBX's Bill Keeler and Jeff Monaski, along with Photo Journalist Nancy L. Ford through the new Wynn Hospital in Utica. The new downtown hospital is expected to open in November.