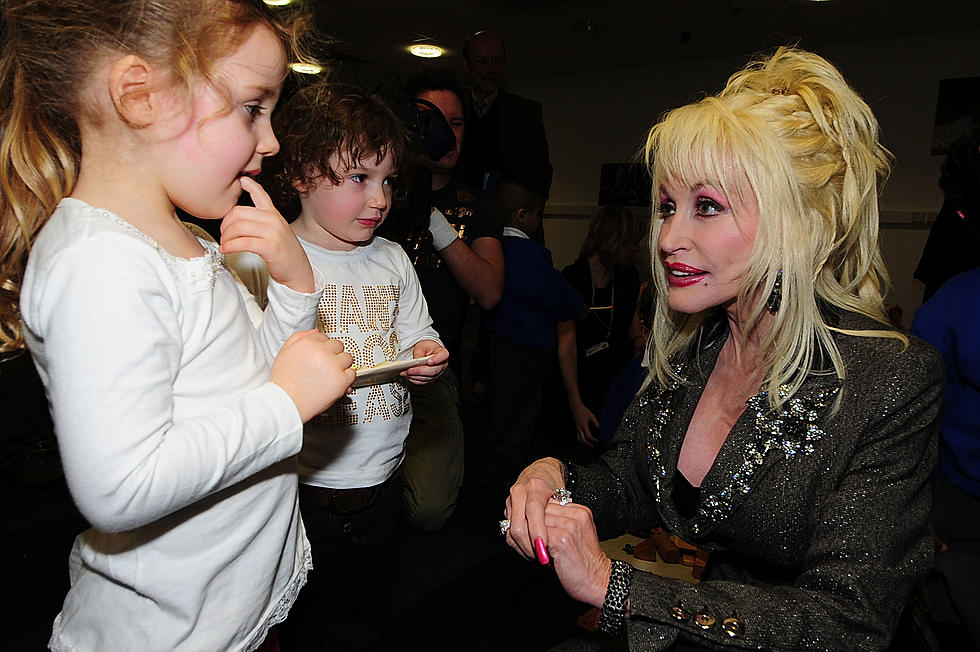 Dolly Parton's Imagination Library Expanding in Central New York
Pool/Getty Images
Even more of Oneida County's youngest book enthusiasts can now embark on an enchanting journey with none other than Dolly Parton.
The Imagination Library is chugging along, expanding to a new group of local children who  will now receive a brand new book in the mail every month from the Grammy-winning artist herself.
Dolly Parton's Imagination Library has partnered with The Genesis Group of the Mohawk Valley and R4K, a Ready for Kindergarten "A Birth to School" program.
The move now further expands her love of reading across Central New York.
The Gift of Imagination
Utica and Camden children under the age of five can now enroll in the national program. 
Judeanne Rockford, director of early childhood education at the Utica City School District, hailed the program as an important tool in engaging the area's youngest readers.
Rockford added that reading helps children feel more confident and successful, because it helps them come to school prepared.
Roxanne Mutchler and John Reale, Jr., Co-Chairs of the Genesis Group Literacy Education Program, also celebrated in a joint statement:
We are honored to create a new partnership with R4K and the Dolly Parton's Imagination Library to put more books into the hands of children. By supporting Imagination Library in Oneida and Herkimer counties, we can work together to help create a culture of reading for all children across the region.
Added Robin Robinson, President of the R4K Program,"Children who are read to early in life are better prepared for learning and school. The gift of literacy inspires children to love language and books while supporting parents' positive interactions with their children."
Eligible children, who are under the age of 5 and live in the Utica and Camden school districts, will now receive a free, age-appropriate book in the mail every month.
View this post on Instagram
Robinson added the exciting partnership with Parton "fosters our children's success."
Added Lauren Wirt, Regional Director of the Dollywood Foundation:
Simply getting books into children's hands changes the trajectory in life for the child, their family, and the community." Since launching in 1995, Dolly Parton's Imagination Library has become the world's preeminent early childhood book gifting program. The Imagination Library mails more than 2.4 million high-quality, age-appropriate books each month to registered children from birth to age five.
Rockford announced that the Utica district will install a Family School Navigator to help pinpoint eligible children and help sign them up for the Imagination Library mailing list.
What is the Imagination Library?
Parton launched her ambitious program in her East Tennessee hometown back in 1995 to honor of her father, who was illiterate.
The effort was designed to encourage young children to fall in love with reading and learn that dreams written in the pages of a book can truly come to life.
When I was growing up in the hills of East Tennessee, I knew my dreams would come true. I know there are children in your community with their own dreams. They dream of becoming a doctor or an inventor or a minister. Who knows, maybe there is a little girl whose dream is to be a writer and singer.

The seeds of these dreams are often found in books and the seeds you help plant in your community can grow across the world.
Parton's program now reaches more than 2.5 million children across five countries and has gifted over 216 million age-appropriate, high quality books.
It's said that 1 in 10 children in the United States receive a monthly book from the Imagination Library, which she says inspires them to "Dream More, Learn More, Care More and Be More."
Those eligible for the program are newborns to 5-year-olds. It is free to join, as it runs off the generous funds provided by Parton and local community sponsors.
You can learn more about the program by watching the video below.
Dolly Parton's Imagination Library is already up and running in the Vernon-Verona-Sherrill Central School District, Madison County, as well as those with a Kenwood zip code.
Those interested in joining can visit the official Imagination Library website to get the process started.
Read More: 15 Page Turners: Are These Upstate's Best Independent Bookstores?
Spend The Night In This Book Lovers Dream Historic Library In Utica New York
If you love books and just want to unwind, this East Utica AirBnB has everything you need. According to
AirBnB
, it only books for $139 a night:
Tiny But Awesome Book Stores In Upstate New York!
With Independent Book Store Day now in the rear view mirror, this gallery looks at a collection of the best (and smallest) of them all in Upstate New York. We have looked at the large indie book stores in Buffalo, Albany, Rochester, etc. in previous galleries'. But this one is for the little guys. The book stores range in communities with a high population of 17,000 to a hamlet with a teeny tiny population of under 400 residents. And they are all great!