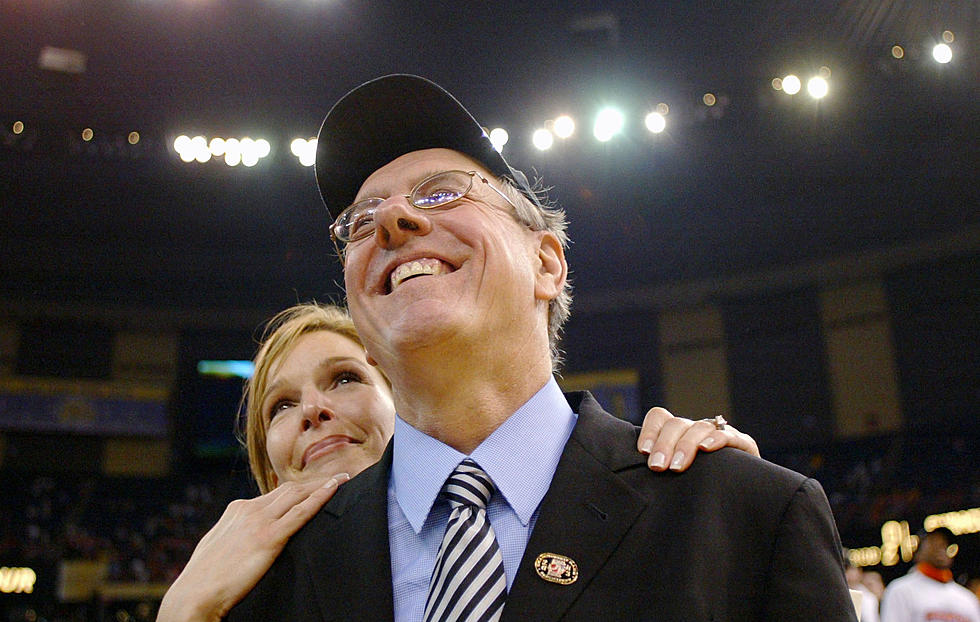 Opinion: Something Fishy In Boeheim's Retirment; Legendary Coach Out, Adrian Autry Taking Over
Julie and Jim Boeheim. Getty Images
Did he quit, get fired or retire?
After almost 50 seasons as the coach of Syracuse University men's basketball, Jim Boeheim's reign is over, but the official SU statement lacks a few things that you'd typically find when a legend of the game steps away.
After scattered reports that Boeheim was hinting at retirement, then the legendary coach himself saying he'd already given his retirement speech, the University released a statement on Wednesday afternoon thanking the Hall of Fame head coach for his service and elevating assistant Adrian Autry to head coach.
"There is no doubt in my mind that without Jim Boeheim, Syracuse Basketball would not be the powerhouse program it is today," Chancellor Kent Syverud said in a statement. "I extend by deep appreciation and gratitude to an alumnus who epitomizes what it means to be 'Forever Orange'."
However, in reading through the release, something isn't adding up.
First, the official statement from the SU does not say that the coach had made a decision to retire. It just says that, "Today as his 47th season coaching his alma mater comes to an end, so too does his storied career at Syracuse University."
It certainly doesn't say he was fired, but it does not state that he'd made up his mind to call it a career. It also does not include a quote or comment from Boeheim, and focuses a lot on his replacement, Adrian Autry.
Boeheim leaves on a very low note - missing the NCAA tournament in each of his last two seasons - after building the program into what was a perennial powerhouse for decades. He won one National Championship in 2003, is second all-time in wins, amassing a record of 1,015 wins (excluding 101 he had taken off his record for NCAA violations in 2015) against just 441 defeats, and lead the Orange to the Sweet 16 round of the Tournament a staggering 18-times.
World's Largest Dish of Pasta, and a Wedding - Utica, NY, Feb 14, 2004
The Guinness Book of World Records affirmed in 2004, that the World's Largest Dish of Pasta was made in Utica, NY with the Keeler Show. Now with WIBX, Keeler worked with Tony's Pizzeria and other to create a dish of pasta weighing over 7,000 lbs. and the event included an actual wedding. The dish of pasta weighed 7,355 lbs. (3,336 kg) and lasted in the Guinness Book for several years. The dish was assembled and the wedding was held at Sangertown Square in New Hartford, when Keeler was hosting a 6 night a week television show, The Keeler Show, on FOX 33 TV in Utica and FOX 68 in Syracuse.