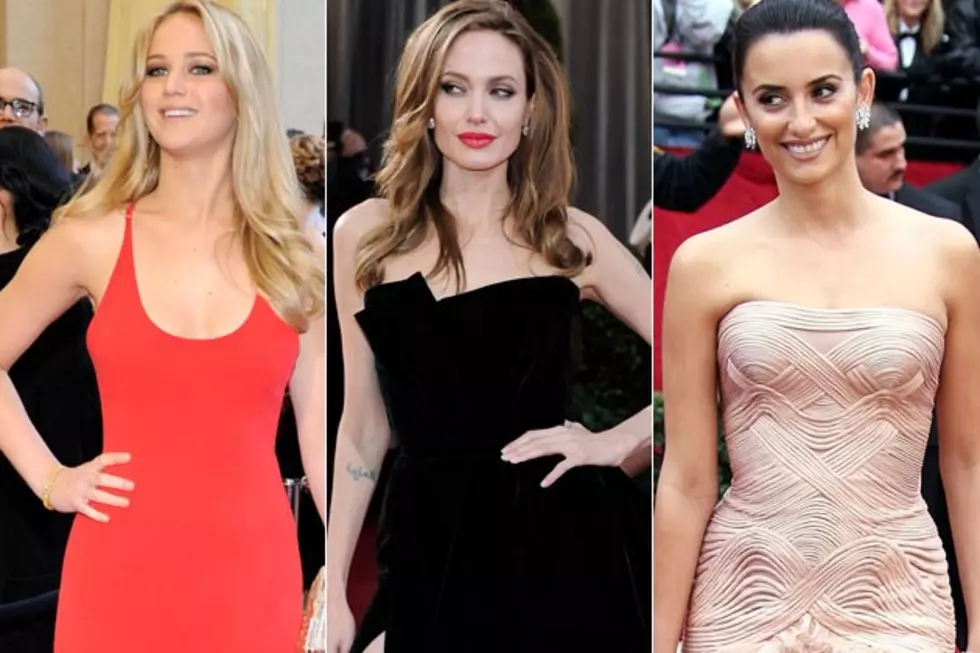 Most Memorable Oscar Dresses [PHOTOS]
Ethan Miller (2) / Frazer Harrison, Getty Images
With the 2015 Oscars this weekend -- Sunday, Feb. 22, to be exact -- we're all excited to see who takes home the gold. However, we're going to lay it all out there and say that we're even more stoked about the couture dresses that will be waltzing up and down the red carpet.
What will J. Law wear? And Amy Adams? We're getting goosebumps just thinking about it! In honor of Oscar glam and gowns, we're taking a look back at the most memorable dresses in recent years.
Reese Witherspoon's regal purple, tiered Nina Ricci by Olivier Theyskins gown (2007) was divine. The strapless spiral shape, the rich hue and the actress' bangs made her a total vision. But the fabric looked so delicate, paper-light and airy, even with the dark hue.
Although Lupita Nyong'o stunned on red carpet after red carpet during the 2014 awards season, the Oscars proved to be her most jaw-dropping look yet. The gown's ice-blue color looked fabulous on the actress, who was glowing from within. She won an Academy Award -- and a permanent place in Oscars red carpet history.
There are mermaid silhouettes, and then there are mermaid silhouettes. French actress Marion Cotillard gave new meaning to a mermaid gown with her Jean Paul Gaultier design (2008), which came complete with scales. It was a polarizing look since it was so literal. But it didn't matter. She nabbed the Best Actress award for 'La Vie en Rose,' and we're still talking about her textured, fish scale dress.
Angelina Jolie's black Atelier Versace gown (2012) remains memorable because of the slit. She showed some serious leg. She looked hotter than a furnace and she knew it.
Hilary Swank's dusty, stormy blue body con Guy Laroche gown (2005) was clingy and she was covered up. It showed off her body, but it was mostly memorable due to...
...the back! Swank brought sexy back, literally. It dipped really low, and that made it so sexy and chic.
Jennifer Aniston's black Rochas gown (2006) was deceptively simple, thanks to the sheen of the fabric. She dressed it up with ice, but it was a classic color, a classy cut and a modern presentation.
Kate Winslet was quite the English rose in her scarlet Ben de Lisi dress (2002). The column shape, crimson color and the delicate floral strap allowed it to be simply stunning.
Adele is a plus-sized stunner, and she favors black. Her beaded Jenny Packham gown (2013) rendered her largely covered up, but the presentation mimicked a starry night sky.
Today, J. Law is a Dior gal, donning the designer on every red carpet. But back in 2011, her tomato red, body con Calvin Klein tank dress was, like Aniston's 2006 Rochas dress, deceptively simple. It clung to every curve, but the color highlighted her porcelain skin and natural beauty. It was unfussy and unforgettable.
Sandra Bullock was a golden goddess in Marchesa (2010) when she picked up her Best Actress Oscar. With her ruby-stained lips, side part and the frock's clingy shape, she was the girl-next-door-gone glam. We're still wowed.
Penelope Cruz's powder pink Atelier Versace confection (2007) was luxe and princess-like. The constricting, corset-like, ribbed bodice contrasted with the fluffy, feather bottom. It was a gorgeous study in opposite extremes.
Michelle Williams wore a canary yellow Vera Wang dress (2006) with an embellished bodice, which she paired with deep, scarlet-stained lips. She was one of the most talked about style mavens of the ceremony, and it was this dress that launched the ex-'Dawson's Creek' star's reputation as a fashionista.
Halle Berry's maroon Elie Saab (2002), with its strategically placed applique, was one of her most memorable looks ever. It was elegant and edgy at once.
Gwyneth Paltrow's cotton candy pink, belle of the ball gown by Ralph Lauren (1999) would be out of character for the goop guru today, but back then? It was innocent and sweet. We're still enamored by it.
A very pregnant Natalie Portman wore a purple, off the shoulder, drapey and ruched Rodarte gown that showed off her new assets (2011) when she pocketed her Best Actress Oscar. It screamed young, modern, stylish mom-to-be.