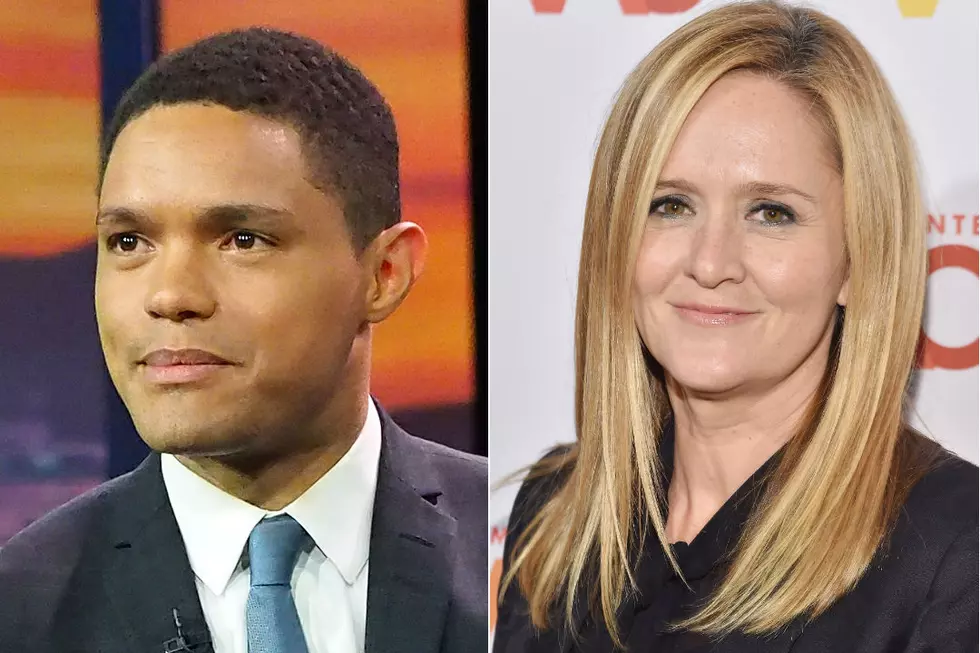 'Samantha Bee,' 'Daily Show' + Late-Night TV Reacts to 2016 Election Results
Mike Coppola/ Paul Zimmerman, Getty Images
(Well, the good late-night television took a remarkably different turn; the rest continued to treat the real danger a Trump Cabinet poses to many disenfranchised communities as no big deal.)
Viewers who flipped between channels (or, in Chelsea Handler's case, leapt to Netflix) noticed a handful of approaches to the election's result, an unthinkable upset by most media accounts. Stephen Colbert refused to sit down as he spoke to the event, partially because results were still rolling in. He brought some levity to a looming sense of Democrats' anxiety, but (if a little too impartially) noted seriously "How did our politics get so poisonous?"
Others, like Seth Meyers, appealed to viewers by pushing for a sense of unity — on one hand, encouragement and hope seemed appropriate now that the ballots have been cast, and the decision cannot change. On the other hand, the approach kind of dismissed any anger to which many of the perpetually oppressed are rightfully entitled.
Thankfully, the reliably tone-aware Samantha Bee tackled the news on Full Frontal with equal parts fearless guile and humor that supported her case instead of making it baser. More impressively, she confronted the notion that a Trump presidency will mean JOKES! JOKES! JOKES! will write themselves for comedians.
"No, Jews write jokes," she said. "And they are scared s---less."
Lastly, we're choosing to ignore Late Night With Jimmy Fallon post-election coverage, and not just because the production neglected to upload any to YouTube (virtually all of his contemporaries have). His wishy-washy treatment of the campaign season and failure to acknowledge Trump's real danger to many oppressed communities has insulted many, normalized a demagogue's hateful rhetoric and made Fallon complicit in Trump's fear-mongering. Fallon abandoned and betrayed many of his guests, viewers and employees with his decision to engage with Trump genially, and all would be remiss to forget this.
Jimmy Fallon: If this election — and the nationalist movement it has emboldened — leads to any sort of bloodshed (some reports are saying a handful of trans teens have already killed themselves for fear of a Trump presidency), more than a drop will be on your hands.
Full Frontal With Samantha Bee:
The Late Show With Stephen Colbert:
Late Night With Seth Meyers:
The Late Late Show With James Corden:
These Celebrities Supported Hillary Clinton in the 2016 Presidential Election: