States with the Most Domestic (and Foreign) Cars of 2019
Photo by Luemen Carlson on Unsplash
Are the all-American sweethearts of car brands actually all American?
Whether it's #CrestvsColgate or #DCvsMarvel, people can have brand loyalty over just about anything. However, buying a car is often the single largest brand investment that a person makes, bar none. With this in mind, it's not shocking that people can become pretty attached to their choices. When these inclinations are strong enough, they can be passed down in families across generations; and if there are regional differences in which makes were first available or preferable, real statewide trends can emerge. Though they may be the United States of America, they are pretty divided in terms of loyalty to foreign or domestic car manufacturers.
The brand of a car can have a major financial impact in terms of insurance, with some makes being priced much higher than others for the same policy. That's why it's always important to compare auto insurance quotes before purchasing – the cheapest insurance company for another make may not be the most affordable for yours.
To get to the bottom of which states bleed red, white, and blue, and which set their sights overseas for vehicle purchases, the data science and research team at Insurify analyzed the spending patterns of America's car owners. These are the top 10 states with the highest percentage of domestic and foreign cars in the country.
Insights
Patriotism in the heartland.

It takes just one glance at this map to notice that domestic car ownership is concentrated in the Midwest while foreign car ownership is far more common on the coasts. Stereotypes would have you believe that residents of the East and West coasts have more cosmopolitan commercial habits, while shoppers in the middle of the country have more American loyalty in their spending. In the case of driving preferences, it appears they're right!
Chevrolet is king.

The number one most popular brand of car in the country is Chevrolet, and it doesn't get much more domestic than that. Founded in 1911, Chevy manufactured over 200 million cars to be enjoyed by American drivers in its first 100 years of existence.

Georgia is on the fence.

The Peach State is the closest in the nation to a 50/50 split, with

50.1 percent

of cars hailing from domestic manufacturers and

49.9 percent

from foreign ones. Pennsylvania and Oregon were also narrowly divided on their loyalties.

U.S. brands are preferred — but just barely.

Despite today's global economy, the United States still sources the majority of its vehicles from the Land of Opportunity, but not by a wide margin. On average, only

54.49 percent

of cars on the road in the U.S. have an American make, while a full

45.51 percent

hail from overseas. How can we expect this breakdown shift in the years to come?
Methodology
The data science and research team at Insurify, a platform to compare auto insurance quotes, identified the states with the highest shares of both foreign and domestic vehicles. To do so, they analyzed their database of nearly 2 million American car owners. By determining the percentage of cars in each state with either a domestic or foreign make, they were able to rank the top 10 states with the most American and the most international vehicles. Data on the most popular brand in each state also originates from Insurify's proprietary database, and the number of registered vehicles per state is from the 2017 Highway Statistics report of the Federal Highway Administration.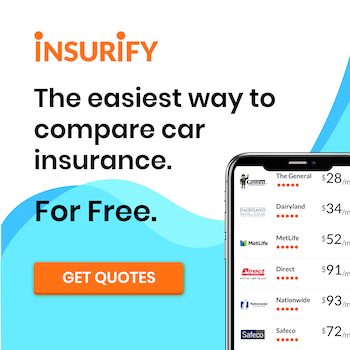 States with the Most Domestic Vehicles
10. West Virginia
Percentage of domestic makes:

67.58%
Most popular brand:

Chevrolet
Number of registered vehicles:

550,117
9. Missouri
Percentage of domestic makes:

68.51%
Most popular brand:

Chevrolet
Number of registered vehicles:

2,122,581
8. Montana
Percentage of domestic makes:

68.7%
Most popular brand:

Chevrolet

Number of registered vehicles:

440,809
7. Indiana
Percentage of domestic makes:

69.13%
Most popular brand:

Chevrolet

Number of registered vehicles:

2,258,547
6. Wyoming
Percentage of domestic makes:

69.3%
Most popular brand:

Ford

Number of registered vehicles:

190,149
5. Nebraska
Percentage of domestic makes:

69.39%
Most popular brand:

Chevrolet

Number of registered vehicles:

662,491
4. South Dakota
Percentage of domestic makes:

69.81%
Most popular brand:

Chevrolet

Number of registered vehicles:

347,216
3. Iowa
Percentage of domestic makes:

71.62%
Most popular brand:

Chevrolet

Number of registered vehicles:

1,257,304
2. North Dakota
Percentage of domestic makes:

72.97%
Most popular brand:

Chevrolet

Number of registered vehicles:

272,290
1. Michigan
Percentage of domestic makes:

79.5%
Most popular brand:

Chevrolet

Number of registered vehicles:

3,233,241
States with the Most Foreign Vehicles
10. New Hampshire
Percentage of foreign makes:

55.96%
Most popular brand:

Ford

Number of registered vehicles:

502,617
9. Florida
Percentage of foreign makes:

56.14%
Most popular brand:

Toyota

Number of registered vehicles:

7,670,861
8. Maryland
Percentage of foreign makes:

59.78%
Most popular brand:

Honda

Number of registered vehicles:

1,977,742
7. Rhode Island
Percentage of foreign makes:

63.23%
Most popular brand:

Toyota

Number of registered vehicles:

413,227
6. New Jersey
Percentage of foreign makes:

64.34%
Most popular brand:

Honda

Number of registered vehicles:

2,774,916
5. New York
Percentage of foreign makes:

64.68%
Most popular brand:

Honda

Number of registered vehicles:

4,541,749
4. California
Percentage of foreign makes:

64.97%
Most popular brand:

Toyota

Number of registered vehicles:

14,615,499
3. Connecticut
Percentage of foreign makes:

65.88%
Most popular brand:

Honda

Number of registered vehicles:

1,301,153
2. Hawaii
Percentage of foreign makes:

67.68%
Most popular brand:

Toyota

Number of registered vehicles:

504,605
1. Massachusetts
Percentage of foreign makes:

70.74%
Most popular brand:

Honda

Number of registered vehicles:

2,204,455