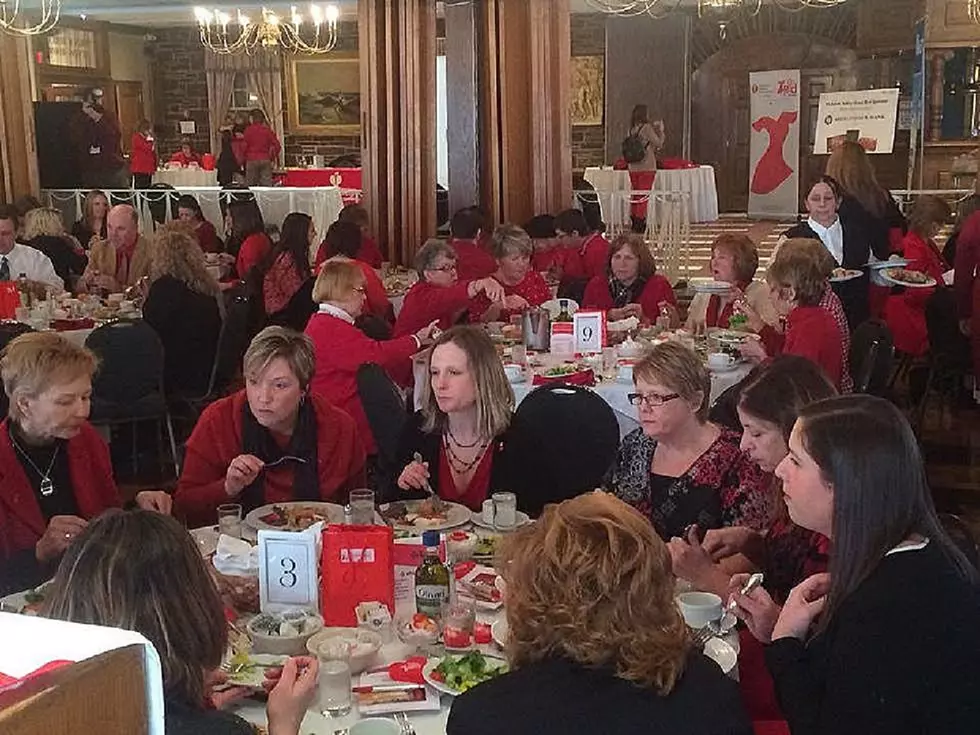 THROWBACK THURSDAY: Go Red For Women Survivor Class 2017
Naomi Lynn/TSM
Today, we want to take a look back at the eight women who shared their survivor stories with us last year: Sarah Milograno, Riya Burke, Patricia Cummings, Nickie Stillwell, Elvira Marotta, Debbie Kryczkowski, Catherine Pillmore, and Angie Pavlovski. Each one of these wonderful women shared with us how heart attack, stroke, heart disease, or other heart conditions affected them firsthand.
ANGIE PAVLOVSKI
You probably know Angie Pavlovski from WUTR, but did you know she is a heart survivor? Angie was only 21 when she was diagnosed with a major heart issue: Cardiomyopathy. Not only was she so young, but she was also a healthy adult. One day she found herself on the bathroom floor, with no idea what had happened. She shares her scary story in the video below:
CATHERINE PILLMORE
Cathy's story is similar to a lot of women who have gone through heart attacks, she ignored her symptoms. She was 55 when she had her heart attack, but she actually started having signs that something was wrong a few years earlier. Her first symptom was she kept losing her breath (which would make even walking difficult at times)...
DEBBIE KRYCZKOWSKI
Debbie is also a heart attack survivor. She tells us about the symptoms she experienced the day of her attack. She wasn't feeling good when she woke up in the morning, but something told her not to stay home. She went to work and figured if she still didn't feel well, she would head to the doctor's office afterwards. She ended up leaving work early, though...
ELVIRA MAROTTA
Elvira's story is a reminder that it's SO important to have regular check-ups, and see your doctor even if you don't feel like anything is wrong. Seeing your doctor regularly can prevent heart problems and help detect any concerns before they become major issues. Elvira wasn't feeling sick, but went to her physician for a regular check-up. That's when they noticed a narrowing of a heart valve.
NICKIE STILLWELL
Nickie Stillwell was diagnosed with high blood pressure at the age of 40, which she believes was brought on by stress from work. That high blood pressure would end up causing another problem in her life... A stroke. Nickie shares her scary story, and the day her life changed, in this video:
PATRICIA CUMMINGS
Patricia admits she lived a very stressful life before her heart attack: she had stressful relationships, she smoked, and she worked in an office where she sat behind a desk. She says she didn't exercise, didn't eat well, and didn't really pay much attention to her health. Patricia started feeling bad about a year before she actually had her heart attack.
RIYA BURKE
Riya shares her story with us because she wants people to realize that even though someone is young, they can still have serious heart (and lung) issues, but they can also still live a healthy life. She was just 8-years-old when she was diagnosed with a heart issue dealing with an artery that connects the heart to the lung.
SARAH MILOGRANO
Sarah was born with four different heart defects. At two-years-old, Sarah had a hard time sleeping. In the video (below), she explains that her parents thought she was having night terrors, but then she started having problems breathing and that's when her parents knew something wasn't right. They didn't realize just how serious it was, though.
First of all, we want to thank all these wonderful women for sharing their heart stories with us and bringing awareness to women's heart health.
We will be keeping you updated on Go Red For Women events coming up in Central New York, like the Go Red For Women Luncheon. That special event is coming up on May 2nd at Hart's Hill Inn. You can get more details on the luncheon at the link below:
And make sure you follow Lite 98.7 on Facebook, and continue to check back, as we bring you more stories from local heart survivors, all while helping to bring awareness to women's heart health and the Go Red For Women Campaign.
---
BONUS VIDEO: