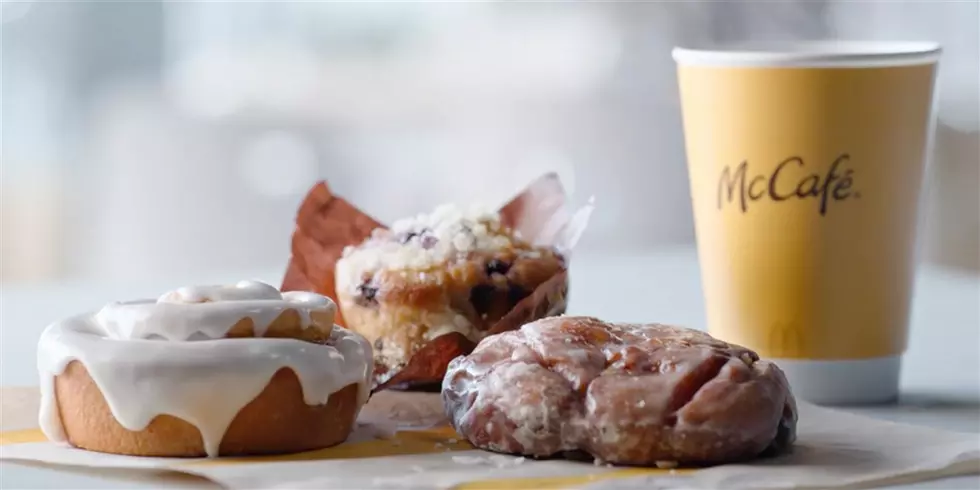 Utica-Rome Area McDonald's Now Offering Dessert For Breakfast
Photo via McDonald's
Do you love pastries? You can now order them for breakfast at Utica, Rome, and Syracuse area McDonald's locations.
McDonald's is inviting customers to sample free apple fritters, blueberry muffins and cinnamon rolls November 3rd through November 9th. How do you grab this deal for free? Today.com reports that you need to purchase a hot or iced coffee of any size on the McDonald's app.
You can redeem the offer once per day, which means you could theoretically get a free pastry seven days in a row.
Though McDonald's eliminated All Day Breakfast options shortly after the U.S. outbreak of coronavirus, the apple fritter, blueberry muffin and cinnamon roll is available morning, noon and night.
New Hartford Panera Bread Now Offering Flatbread Pizza
You often times see food chains making decisions to update what they serve to attract more customers. That's exactly the plan that Panera Bread has in mind, adding a few different kids of flatbread pizzas to their menu.
According to Food Business News, it's been just over a year since they added a new item. Back in September of 2019, warm grain bowls were added to their menu as the chain took on a new initative to introduce more grains, plants and proteins on its menu. Now, the flatbread pizzas are the latest addition.
Panera said new flatbread pizzas feature "extra finely ground flour for a delicate yet crisp crust, topped with hearty ingredients, including fresh mozzarella and fresh cilantro and basil." The pizzas cost $7.99 comes in three different flavors: cheese, Margherita and chipotle chicken and bacon.
SWEET: Here are the most popular Halloween candies