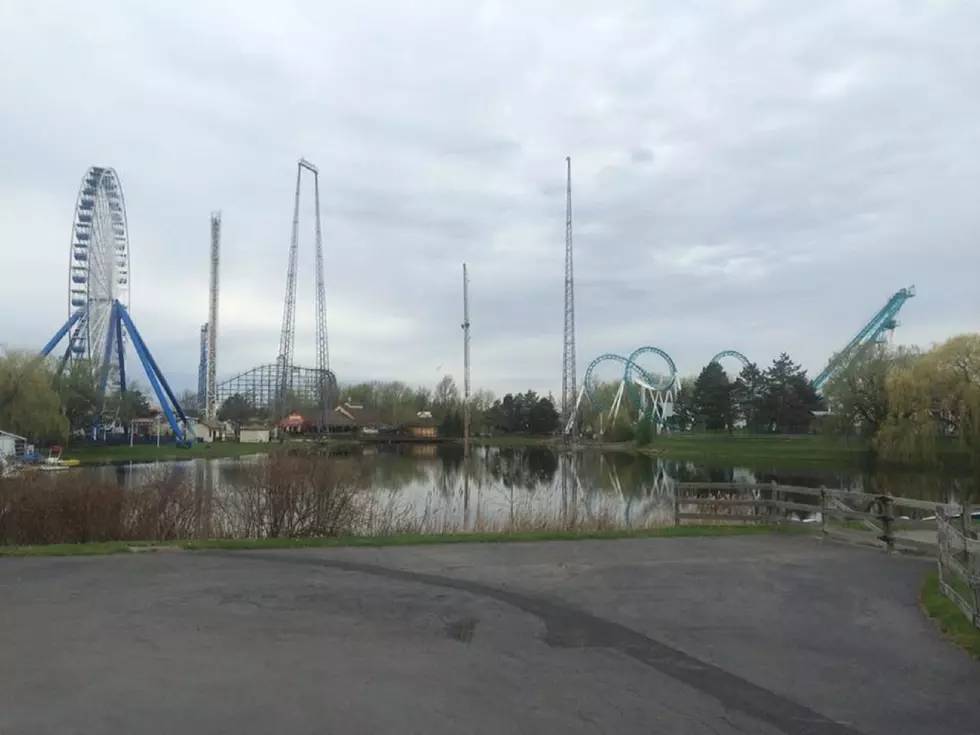 5 Reasons Why You Should Definitely Make Your Way to Darien Lake This Summer
Naomi Lynn/TSM
Darien Lake is officially open for the 2018 season! Whether you're looking for some quality family fun or you just want to get away with your friends or significant other, Darien Lake is the place to go.
Between the fun and high-thrill coasters and amusement rides, the delicious carnival-type foods (and restaurants if you prefer to go that way), to the water slides and attractions, to camping or staying in a hotel... Darien Lake has pretty much everything you could want. Well, they have everything you could want when it comes to an amusement park in New York. Here's just a few reasons why you should make your way to Darien Lake AT LEAST once this summer:
1 - You Can Ride the Tallest AND Fastest Coaster in New York
In case you didn't know, the "Ride of Steel" at Darien Lake is the biggest coaster in our entire state. This ride takes you up over 200-feet in the air before dropping you at a steep angle where you pick up some serious speed. Serious, as in faster than 75mph, according to the Darien Lake website. And this ride doesn't just take you up and drop you, there's loops, curves, hills, and more to keep the thrills coming. This is definitely a high-thrill coaster if you're looking for one.
2 - Darien Lake Isn't Too Far Away
One of the best things about heading to Darien Lake is the fact that you don't have to drive that far. Yes, it's a few hours away from the Central New York area, but you can still make it a day trip. You don't need to fly across the country, you don't need to be in the car for 8 hours... It really isn't that bad of a drive either. Make sure you have the vehicle loaded up with snacks and drinks and you'll be there before you know it. Oh, and don't forget a few bucks for the tolls. That's probably the worst part.
3 - There is a New Coaster for This Summer
We're sure you've heard the news about "Tantrum," the newest coaster to open at Darien Lake. Now, the coaster isn't open just yet, but it's scheduled to be up and running for Memorial Day weekend. Check out the photo (above). This was taken Sunday, May 13th. Looks like they're well on their way to opening up this coaster. And just look at that climb - Straight up! Then the ride drops you at a 97-degree angle. That means the track goes inward. Pretty cool, right?! This is another high-thrill coaster that you'll get to experience without having to leave the state.
4 - You Get Water Slides and Coasters in One Place
Compared to many other amusement parks and theme parks, Darien Lake lets you enjoy the best of both worlds. You can go on some coasters, then cool off at the water park, all for one price. Bigger parks charge you for both attractions. And if you're not getting charged for both "parks," the place is usually pretty small (with only two or three coasters, and only a few water slides).
5 - You Have Plenty of Food Options Including Unique Food Combinations
Sure, you can get all your favorite fair-like foods, from cotton candy to popcorn to those delicious cups of fresh-squeezed lemonade. But you can also sit down and have a meal in one of their restaurants. You can get Italian food, tacos and burritos, or enjoy some chicken tenders and fries. If you're looking for the "unique," we suggest you head over to Potato Works and try their "Poutine Burger." Yum! And don't forget to have a few drinks at the Tim Horton's Cafe and Bake Shop. An Iced Cap is a great way to cool off when it gets hot.
Five reasons already?! Wow, we didn't even get to camping at the park so you can go in and out as you choose, or the other amusement rides you can enjoy if you're not interested in the high-thrill coasters. Oh, and we didn't even get to mention all the side attractions like the go-karts, rock-wall or any of the games and activities throughout the park. But that's okay, that just means you'll have to experience those things for yourself instead of just reading about them. Make your way to Darien Lake this summer - You won't be disappointed.
---
BONUS VIDEO: